New York State
The other voting option for November
Early voting provides an alternative to New Yorkers weary of both absentee ballots and voting in person on Election Day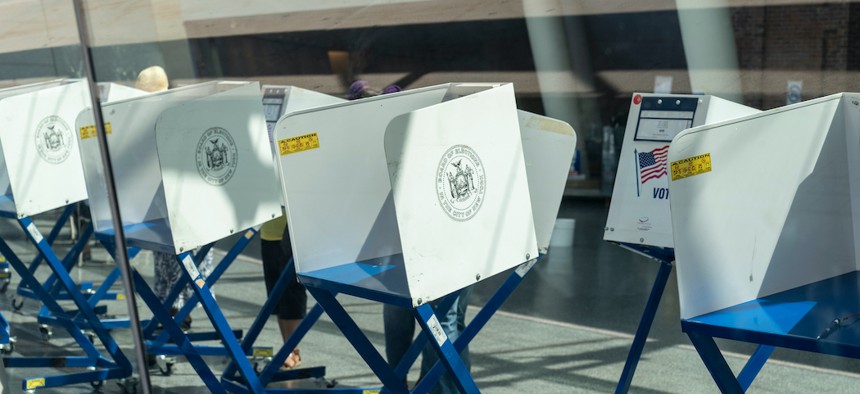 As the coronavirus pandemic raged during primary season, eyes turned to mail-in voting as a safe alternative to voting in person on Election Day. But with New York's massive disenfranchisement of prospective primary voters due to the state's failure to send absentee ballots in time and post office delays and errors – now with additional concerns that President Donald Trump is deliberately disabling the US Postal Service – voters may be looking for other ways to safely cast their ballots for the November election.
Those voters are in luck. Despite the relatively little attention given to the option, as much of the discussion focused on mail-in voting expansion in the state, New Yorkers are able to vote during the nine early voting days prior to Nov. 3. Lawmakers and Gov. Andrew Cuomo have at this point missed the opportunity to expand early voting by adding extra days or requiring more poll sites. But early voting could provide some New Yorkers with a fairly safe and easy way to vote, avoid lines and ensure that their ballot has been cast and counted.
This year, New Yorkers can head to early voting sites in their counties from October 24 through Nov. 1. That's nine days, including two full weekends, during which voters can vote at any early polling place in their county – with the exception of New York City, where early voting sites are assigned – to cast their ballot. Those sites and their hours will be made available on local boards of elections' websites once they finalize that information.
The extra days and ability to go during off-hours reduces the likelihood of encountering crowds, according to Vote Early New York founder Jarret Berg, and gives voters the chance to return at a different time if there is a line. Although it still requires physically visiting a polling place, a prospect that some may still feel uncomfortable with, it provides convenience and – compared to voting on Election Day – may decrease the risk of contracting the coronavirus. And for those worried that their ballot may be lost in the mail, thrown out on a technicality they can't fix or invalidated because of a missing postmark, early voting provides assurance their vote was counted.
Voting rights advocates recently achieved early voting victories in the counties of Westchester, Albany and Orange. In the 2019 general and 2020 primary elections – the first two in which early voting was available in the state – those counties assigned early voting sites, rather than allowed people to vote at any site in the county. After receiving letters threatening legal action from the groups Vote Early New York, Common Cause New York and the Lawyers Committee for Civil Rights Under Law, each of those three counties announced they would do away with assigned poll sites during the early voting period.
"I would call it putting down a marker on the path toward more convenient and accessible voting," Berg said of the recent victory. "We basically affirmed that voting in New York – which is brand new – means voting anywhere in one county during the early voting period." Berg said the boards of elections involved in those decisions had claimed making the change was always their intention, but he believed his and others' pressure ensured officials made good on the promise in time for November. 
While Berg celebrated the win, he said that the time to make more sweeping reforms that could have helped make early voting even more accessible during the pandemic has passed. "Now, in late August, is probably not the point where we should be making major changes to how we do elections," Berg said. "If they start playing around with deadlines and stuff, it breeds misinformation, it breeds contempt and confusion." He added that major changes like adding extra days would place an extraordinary burden on already-struggling boards of elections.
But at least the boards of election could be proactively educating the public about early voting options. "There's so much changing, there are so many practices and protocols, people are considering voting methods and voting ways they haven't in a while, or haven't at all," said Myrna Pérez, director of the Brennan Center's Voting Rights and Elections Program. "Affirmatively providing voters that information instead of making them hunt for it when… there's a lot of misinformation and disinformation out there, (it) is an incredible public service." 
State Sen. Zellnor Myrie, the sponsor of the early voting bill signed into law last year and chair of the Elections Committee, said that right now, there is not enough education about early voting in New York, unlike the recent focus on absentee ballots. "I don't think that it has been an ill-intentioned omission… but not enough voters have taken advantage of the early voting period," Myrie said. "I think this should be of paramount importance for every elected official, and certainly every board of elections, to push this out." Although Myrie said he would like to see early voting improved and expanded, he didn't think that lawmakers missed an opportunity to expand early voting earlier in the year in light of the pandemic. "The nature of the Legislature is such that you can't get everything done all at once," Myrie said. "The most important thing for us is to educate folks on (early voting's) existence."
A recent executive order from Cuomo requires local boards of elections to send out a mailer to all registered voters by Sept. 8 with information on every voting option available to New Yorkers, including on early voting sites, dates and times. Berg said the newly required mailer is a prime opportunity to raise awareness about early voting. And while Myrie agreed, he also expressed concern about boards' financial constraints during the pandemic in complying with the order, which did not include extra funding. 
Knowledge of early voting also helps people who want to vote absentee, but also want to avoid using postal service as much as possible. Those ballots, which voters can request now as opposed to a month before the election, thanks to a recent change in the law, can be dropped off at early voting poll sites, just as they can be delivered to your poll site on Election Day. With discussion of setting up absentee dropboxes, this option provides something of a drop box lite – one must still go to a poll site, but the variety of locations still provides a degree of convenience and a level of security in knowing your ballot has been hand-delivered.
Although lawmakers would need to change the law to set up drop boxes at non-polling locations, Berg said that boards of elections would be within their authority to place boxes at early voting poll sites for absentee ballots to make that process easier. But he suggested that at the very least, boards would benefit from uniform regulations on poll-site drop boxes, which don't currently exist.
Powered By
NEXT STORY: New York's moment of fiscal truth is nigh