New York State
Why Reps. Stefanik and Zeldin spoke to the RNC
Some NY GOP congress members see Trump as advantageous in their district.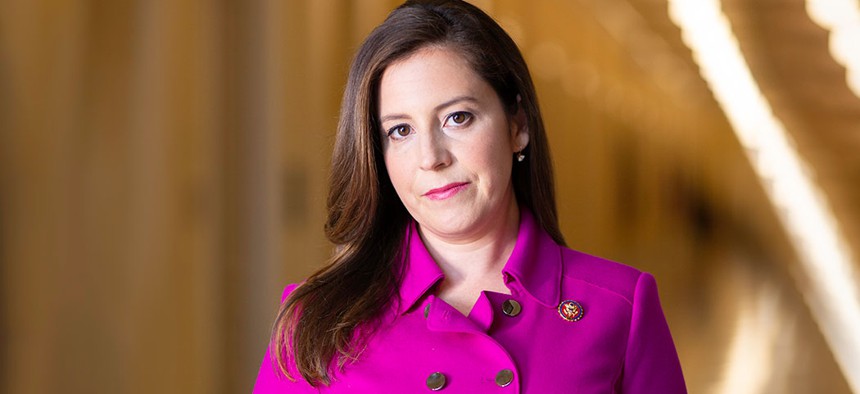 President Donald Trump may have changed his official residency from New York to Florida, but he still seems to have a soft spot for his home state. In a largely virtual Republican National Convention that featured a number of high-profile Republicans and Trump loyalists, two New York Congress members took to the podium on the third night of the convention to praise the president. Reps. Elise Stefanik and Lee Zeldin represent a third of the GOP congressional delegation from a state that hasn't voted for a Republican president since Ronald Reagan in 1984.
It might be a sign of the president trying to live up to a far-fetched prediction he made earlier this month. In an interview with the New York Post Trump said he is "putting New York in play" in the presidential election. While the latest poll shows Trump trails former Vice-President Joe Biden by 31 points in New York, showcasing two rising stars from a Democratic stalwart state like New York shows the Republican Party has support in even the most progressive states. And while Zeldin's and Stefanik's primetime speeches won't flip the state, they may help rally Republicans in tough congressional races this year, like the challenge Zeldin himself is facing. 
2020 is a sharp contrast to 2016, when many of New York's prominent Republicans largely avoided backing Trump during the Republican primary and attempted to distance themselves from the man leading their ticket. The most notable exceptions were former Rep. Chris Collins, one of Trump's earliest and staunchest congressional supporters – who is now in prison for insider trading – and former New York City Mayor Rudolph Giuliani, who now is considered by many New Yorkers one of the president's most unhinged surrogates.
But now New York Republicans – including relatively moderate ones like Stefanik, with a record of crossing party lines for votes – loudly and proudly support the president, appealing to bases in their districts that decisively backed Trump, often by double digits, in 2016. Trump won Zeldin's eastern Long Island District by 12 points, and Stefanik's North Country district by 14.
The 2018 blue wave that flipped several congressional districts and the state Senate has left the state Republican Party bruised and on the defensive, with more tough races ahead for incumbents and attempts to win back seats. Stefanik's and Zeldin's presence at the convention, speaking to an audience of millions, could help to rally that Trump-supporting base that remains present in New York to turnout for down ballot races in November. "I think seeing New York Republicans on a national stage would be a boost to the Republican Party in New York," Basil Smikle, a Democratic political consultant in New York, said. "I think it helps with the fundraising, I think it helps with their GOTV efforts." However, Smikle doubted that their presence would have any major lasting impacts on the party in the state, and certainly won't help deliver the state in the presidential election.
Republican consultant Bill O'Reilly said that, at this point, support for Trump won't hurt any Republicans in the state because it's "already baked into the cake," and that giving the two New York Republicans a national stage certainly serves as a reminder to their constituents that they have consequential elections coming up. Zeldin himself is facing a potentially tough challenge in November after winning by four points in 2018. His RNC speech seemed to reflect that, as he recounted how he and the president helped provide for his district during the pandemic. "Jared Kushner and I were on the phone late into that Saturday night," after Zeldin learned Suffolk County was running low on personal protective equipment, he said. "The very next day, President Donald Trump announced he was sending us 200,000 n95 masks." He spent the rest of his speech praising Trump's pandemic response. 
Assembly Member Nicole Malliotakis is another Republican facing a tough election – she's attempting to unseat freshman Rep. Max Rose and reclaim his Staten Island-based district for the GOP, running on a law-and-order platform. A one-time Marco Rubio supporter who once notably said she wished she hadn't voted for Trump, Malliotakis has now fully embraced the president, who has also endorsed her. She said that Zeldin's and Stefanik's invitation to the RNC show that Trump hasn't forgotten his roots and is a great way to showcase conservative voices in a state under one-party rule. "It's nice for New York to have a bench for once," Malliotakis said. "We have a lot of young Republicans who are getting involved, running for office, and Lee and Elise are leading the way." 
Other prominent congressional races for Republicans include the one to replace the retiring Rep. Peter King on Long Island's south shore and Rep. John Katko's second challenge from Democrat Dana Balter. Former Rep. Claudia Tenney is also attempting to win back her seat from Rep. Anthony Brindisi in the Mohawk Valley, while Stefanik is fending off a repeat challenge from Tedra Cobb, whom she handily beat in 2018.
Certainly, Stefanik and Zeldin are both young rising stars in a party that has been struggling with younger voters. The RNC had a focus on showcasing the diversity of a party overwhelmingly led by old, white men, though the delegates' roll call vote was far less diverse than the speaking line up. The two New Yorkers were both part of demographic groups with which the GOP struggles. Though he didn't mention it in his speech, Zeldin is the only Jewish Republican member of Congress, and he has been vocal about anti-Semitism the past. And Stefanik is a young woman – the youngest Repbulican woman ever elected to Congress, as she noted in her speech – who has made it her goal to recruit more women into the party. "Congresswoman Stefanik brings three things to the table: her youth, her gender and her willingness to read the Trump script aloud when the camera lights are the brightest," O'Reilly said. "Those attributes (are) in high demand with this administration."
That these lawmakers, who Smikle said could be viewed by Republicans as the future of their party, are from New York is significant as well. "I think it's important to remember that New York is a big state, and we have congressional districts that overwhelmingly voted in support of the president," Stefanik told City & State before her speech aired. "(Zeldin and I) both flipped districts from blue to red, and it shows that focused, strong Republican candidates with an effective message of delivering results for their districts can win in New York state."
In her speech, Stefanik spent about the first minute speaking about the district she represents in the North Country, from the Battle of Saratoga during the Revolution to the "Miracle on Ice" at Lake Placid in the 1984 Winter Olympics to the modern Fort Drum.
Zeldin's and Stefanik's high-profile speaking slots could also be viewed as a reward for loyalty to the president during Trump's impeachment. Both lower-profile representatives suddenly found themselves shot into the national spotlight when they took on starring roles in Trump's defense during those hearings late last year. "A star is born" Trump tweeted of Stefanik's questioning of Marie Yovanovitch, and he has since become even more enamoured with her. Stefanik was one of the only people to bring up impeachment at the RNC, calling it a "baseless, illegal… sham" from Democrats. "I was proud to lead the effort standing up for the Constitution, President Trump and most importantly, the American people," Stefanik said during her speech.
Zeldin also rose to national prominence thanks to impeachment, emerging quickly as a key public defender of Trump who tried to steer questioning in his favor during depositions. Like so many Republicans in New York, he wasn't always the staunch Trump supporter he is now, although he embraced the president in 2018 when seeking reelection during a Democratic wave year, a strategy that seemed to work well enough to win by four points.
Trump also invited other lower-profile loyalists, including Rep. Jeff Van Drew from New Jersey, who abandoned the Democratic Party and joined the GOP after opposing impeachment, and Georgia state Rep. Vernon Jones, a Black Democrat bucking his party to support Trump – despite the Georgia GOP reportedly hating him.