New York City
Can NYC beat the clock to count immigrants and the absent rich?
Here's how city officials and nonprofits are trying to reach the hard to count.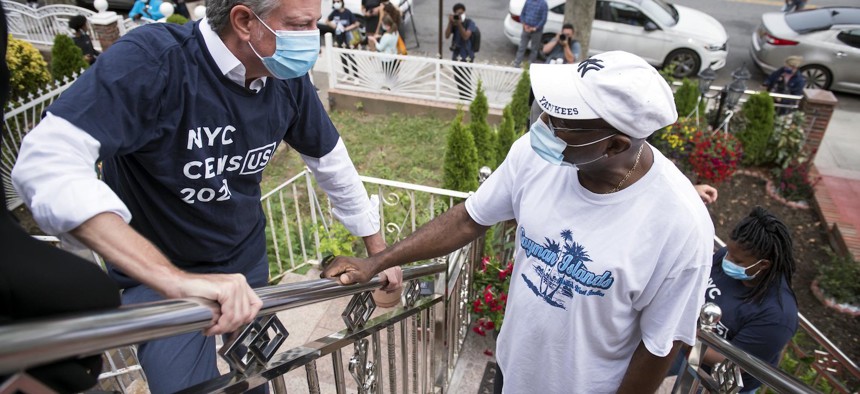 Local officials and community organizations face extra challenges to get New York City residents counted in the decennial census before the looming Sept. 30 deadline which was abruptly – and possibly illegally – imposed by the Trump administration. The new deadline is a full month ahead of schedule, making it even harder to ensure that New Yorkers are not undercounted. Last-gasp campaigns will be particularly important to reach two very different demographics that are most in danger of being undercounted this year: immigrant New Yorkers and wealthy Manhattanites.
Response rates in rich Manhattan zip codes such as the Upper East Side and SoHo typically fall between 40 percent and 68 percent, some of the lowest self-response rates in the city, due to an exodus of residents during the coronavirus outbreak. Some immigrant-heavy neighborhoods, including Queens' North Corona and East Elmhurst and Brooklyn's East New York and Cypress Hills, are also seeing similarly low response rates, largely due to intimidation tactics by the federal government.
Complications caused by the COVID-19 pandemic, which has 240,456 confirmed infection cases in New York City, and efforts from the Trump administration to exclude undocumented immigrants from the population count have forced the city to creatively recalibrate its outreach efforts. 
State Sen. Zellnor Myrie, whose Brooklyn district includes parts of immigrant-heavy neighborhoods such as East Flatbush and Sunset Park, described the toll of the pandemic as "disastrous" for outreach efforts."We have had to get very creative," Myrie said, "it's been really tough." The senator has been particularly concerned about getting his constituents properly counted since two-thirds of the census tracts in his district were undercounted – meaning 73% or fewer residents responded – in the last census 10 years ago.
An undercount of New York's population would mean that the city and state hit hardest by the pandemic could end up with fewer funding from the federal government. "As one of the epicenters of the epicenter (of COVID-19), we were disproportionately affected and we're going to need a disproportionate amount of recovery," Myrie said referring to public funds that will be allocated based on the population count. 
Elected officials and community organizations working to make sure the city doesn't suffer an undercount have found that one way to reach New Yorkers during the pandemic is to find them where relief is being distributed across the city. Food and back-to-school supply distributions have become census outreach spots where informational materials are handed out and census workers are available to help residents fill out the survey on the spot. 
As one of the most diverse cities in the country, there are some 640 languages spoken in the New York metro area, making it essential to reach non-English speakers. NYC Census 2020, the city's census affairs office, has run 34 media campaigns in 26 different languages. Local organizations such as the New York Immigration Coalition, which advocates for the rights of immigrant residents, have also made language accessibility a key part of their census outreach. "Right now, we're really focusing on making sure everything is in [their] language," said Meeta Anand, the Census 2020 senior fellow at the New York Immigration Coalition. "This is particularly important because with COVID a lot of outreach activities ended up moving online. We're really making sure that all of our social media campaigns are in at least five or six languages."
The organization has also equipped partner members under the New York Counts 2020 Coalition – an initiative encompassing nearly 200 community organizations, local associations, and non-profit agencies working together to support census outreach – with training guides to help volunteers answer sensitive questions related to the census. Many immigrant residents are still reluctant to share their information because they are worried it could jeopardize their status or the safety of their family. 
New York City faces an uphill battle to count immigrant residents, largely due to tactics by the Trump administration to suppress census participation among undocumented immigrants, despite the fact that all residents are legally required to be counted in the census regardless of legal status. 
Following the government's failed attempt to include a citizenship question on the 2020 census to deter undocumented residents from responding, Trump declared a memorandum in July to exclude undocumented immigrants from the census count data, which is used to allocate federal funds and congressional representation for each city and state. The move – which will soon be examined by the Supreme Court – is described as a "patently unconstitutional … attempt to weaponize the census for an attack on immigrant communities," by Dale Ho, director of the American Civil Liberties Union's Voting Rights Project.
The city's immigrant neighborhoods aren't the only ones facing hurdles with census participation, however. In a break with historical patterns, in which wealthier New Yorkers are more likely to answer the census, the city has been dealt the unexpected challenge of counting absent Manhattanites, primarily those in ritzy areas who fled the city following the coronavirus outbreak. 
Response rates in Tribeca and the Upper East Side are both 54 percent, compared to the 64 percent response rates in both neighborhoods in 2010, while Midtown currently has a 45 percent response rate, down from 53 percent in 2010. "Those individuals are, frankly, pulling the overall city number down," said Julie Menin, the director of the city's census affairs office. "So we need them to go online and take the 10 minutes it takes to fill it out."
According to Manhattan Borough President Gale Brewer, whose office has been working with Menin's to get absent Manhattanites to fill out the census, confusion over census rules may have caused out-of-town residents to complete the survey incorrectly. "It's a big problem," Brewer said. "I think they thought they needed to fill it out at a different location where they are temporarily – wrong. You're supposed to fill it out where your permanent address is."
If a long-time resident of Manhattan temporarily relocated to Florida, for example, they should submit their census form with the address of their regular residence in New York. Those who filled out the survey with the incorrect permanent address should retake the survey using the correct information. The Census Bureau has a system to identify duplicate forms by the same respondent so that the incorrect address can be rectified.
Following low response rates in the borough, city officials turned to an unconventional approach to reach Manhattanites who skipped town: a mailer campaign sent to residents based on absentee ballot requests from the Board of Elections. Postcards were mailed to 35,000 Manhattanites currently outside the city, based on the address from their absentee ballots. This was in addition to the 280,000 census outreach postcards that were previously sent out to households in Manhattan by first-class mail over the summer. 
Information retrieved from absentee ballots was also used to reach absent residents in the outer boroughs, though the numbers aren't as high as those who've left Manhattan.
The good news for New York City is that the census response has fared better than anticipated, given the challenges with COVID-19 and federal attempts to instill fear of responding among immigrants. Over 190 neighborhoods in NYC have either beaten their 2010 self-response rate or are within "striking distance" of their 2010 self-response rate, according to the city's census affairs office. 
Based on the Census Bureau's live count, as a whole, the city's response rate has reached 60.1 percent as of this writing – slightly lower than the 61.9 percent response rate in the 2010 Census and New York state's current rate of 63 percent. "If you put that into context, we are right around close to where the city was in 2010," Menin said. "We are also six points behind the nation. In 2010, we were 14 points behind the nation, so we've significantly closed the gap by more than half between the city self-response rate and the country."
An estimated $8 trillion worth of federal funding will be doled out to city and state governments based on the 2020 census data. The appropriated funds support services such as school programs, senior citizen services, public housing, and even wastewater treatment. 
Menin declined to give a specific target number to reach by the Sept. 30 deadline – which could still be extended to the original October deadline – but she's positive about New York City's performance so far. 
"New York was the epicenter of COVID, with no in-person contact in March, April, May and June, and yet the majority of neighborhoods in New York City have indeed reached their 2010 number, and the city is about to beat that number very shortly," Menin stated. "With that said, we're not going to stop. We just got to get every New Yorker counted."
Editor's note: To fill out the 2020 Census, visit www.my2020census.gov.
Powered By
NEXT STORY: NYC has been classified as an 'anarchist jurisdiction'