Bill de Blasio
De Blasio's about-face on reopening schools
A temporary setback could help the mayor in the long run.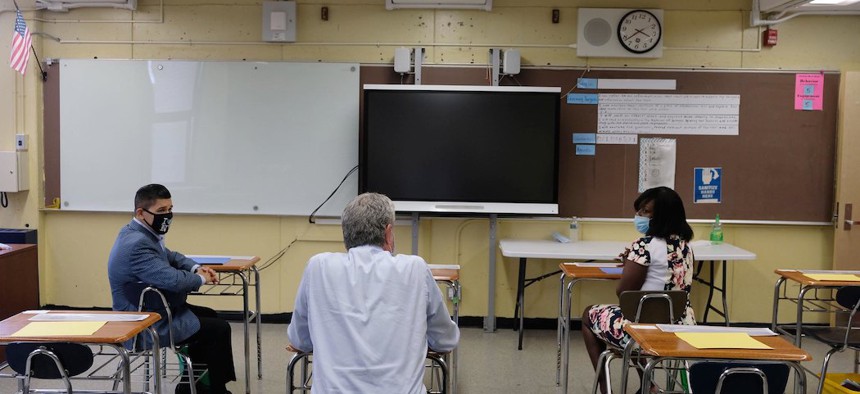 New York City public schools are not all going to reopen this upcoming Monday after all, Mayor Bill de Blasio announced Thursday morning. 
Instead, only students in 3-K and pre-K – as well as one school district serving special education students – will start in-person learning next week. Schools that have students in kindergarten through either fifth or eighth grades follow on Sept. 29, and middle and high schools reopen on Oct. 1. 
The change follows reports about a litany of problems afflicting de Blasio's effort to become the first big city mayor in the country to reopen classrooms to in-person learning. These include staffing shortages, ongoing safety concerns and new cases of the coronavirus at 56 schools. Some students were not even going to have teachers in person during the days they were scheduled to be physically at school. None of that suggested success was awaiting if the mayor had stuck to his plan to reopen classrooms – despite the political pressure to do so. 
"Doctors and scientists (the American Academy of Pediatrics, for example) stress that the benefits of in-person school outweigh the dangers of COVID," the New York Post Editorial Board wrote Wednesday. "For the sake of the kids, parents – and science – he best not buckle again." And it's not just conservatives advocating for the return of in-person learning. Yet limiting the spread of the coronavirus is tricky, especially in a school system where hundreds of thousands of students were planning to head back to school. 
NY1 reports that an hours-long meeting with the leaders of the United Federation of Teachers and the Council of School Supervisors and Administrators appeared to convince de Blasio of the ongoing logistical challenges and dangers of reopening all the schools next week. "Real concerns have been raised by my colleagues," de Blasio said. "They acknowledged that real progress had been made, but not enough and more needed to be done."
This marks a big shift in strategy from the city's original insistence on opening all public schools on the same date. It also gives the city Department of Education some breathing room to address outstanding concerns about how well it can control the spread of the coronavirus. There is even a silver lining for de Blasio, despite the short-term political blowback of the delay. 
De Blasio has been criticized many times over his two terms in office for stubbornly sticking to his plans and habits despite the ways they might undermine him politically. Not so this time around. Instead, the mayor gets to display some uncharacteristic flexibility and avoid whatever political fallout that might have accompanied a hurried reopening, while at least moving the reopening of schools one small step forward.