Campaigns & Elections
How Michael Caputo learned the dark art of politics
The Western New York operative turned Trump appointee is embroiled in a Washington coronavirus scandal.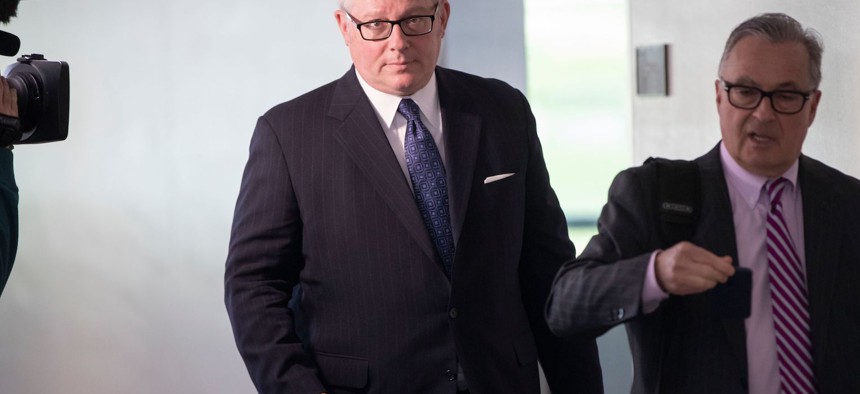 Michael Caputo, a Western New York Republican political operative turned top Trump appointee, has made headlines in recent days for his falsehood- and conspiracy-filled Facebook video and ongoing meddling into the work of the traditionally apolitical Centers for Disease Control and Prevention. While he subsequently walked back recent remarks suggesting agency scientists were part of a shadowy cabal out to hasten the destruction of the country, the list of his controversial actions during the pandemic hardly end there. 
As the assistant secretary of public affairs at the Department of Health and Human Services, Caputo is playing a leading role in the Trump administration's efforts to curb testing for the coronavirus and present the pandemic as being in the country's rear-view mirror despite its mounting impact nationwide. Beyond aligning official agency reports with Trump's rhetoric and spreading conspiracy theories about purportedly seditious federal officials, Caputo has also come under fire since taking on the role for sexist and racist remarks. 
Yet Caputo has been a magnet for controversy long before Trump summoned him to Washington. If his political mentor and fellow New Yorker Roger Stone is the "malevolent Forrest Gump," then Caputo is a bomb-throwing Waldo whose actions in government are a natural outgrowth of the combative, conspiracy-driven brand of politics he cultivated in New York and is now carrying out in Washington, D.C.
New York's 2010 gubernatorial campaign is a good place to start in understanding just how important Caputo has been in the recent history of the state party. As campaign manager for Buffalo businessman Carl Paladino, Caputo and his candidate tried a new strategy to winning over two-thirds of the GOP electorate in the gubernatorial primary. "Stone was a mentor to Mr. Caputo, who had once served as his driver, and told Mr. Paladino that his protégé understood that successful campaigns involved making politics entertaining," The New York Times wrote in a 2010 profile of Caputo.
A campaign defined by controversial remarks certainly got plenty of headlines. Paladino dismissed climate change as a "farce" and called Sheldon Silver (the Jewish speaker of the state Assembly at the time) the "Antichrist." While Paladino lost the general election in a landslide to then-state Attorney General Andrew Cuomo, his campaign was a forerunner of Trump's incendiary and climate science-denying approach as a presidential candidate.
Trump, a fellow New Yorker, was making his name in national politics at that time as a leading promoter of the debunked conspiracy theory that President Barack Obama was not born in the U.S. and thus ineligible to serve as president. Caputo, who unsuccessfully tried to get Trump to run for governor in 2014, was hired the same year by Trump to help with his unsuccessful effort to buy the Buffalo Bills.
Yet earlier on in his career, Caputo worked directly with establishment Republicans. After starting out as a staffer for longtime Rep. Jack Kemp of New York, Caputo joined the Reagan administration and helped craft the administration's anti-communism propaganda in Central and South America. He also worked in the administration of George H.W. Bush before becoming an advisor to Russian President Boris Yeltsin after the fall of the Soviet Union.
In 2000, Caputo began consulting for a state-owned energy firm with deep ties to President Vladimir Putin and was a person of interest in the investigation of former Special Counsel Robert Mueller III. Caputo was never charged with a crime but was suspected, along with Stone, of serving as a link between the campaign and a person representing Russian intelligence officials who had hacked the email accounts of people affiliated with the campaign of Democratic presidential nominee Hillary Clinton.
As Trump was struggling to clinch the Republican nomination in 2016, Caputo joined now-GOP State Chair Nick Langworthy and other political operatives over Heinekens and nachos to figure out how to get Trump over the finish line. "We're building a wall here," Politico reported Caputo, then an advisor to Trump's 2016 campaign, as saying about the April New York primary. "And it doesn't have a damn door." Caputo would later lose his job on the campaign after tweeting "Ding Dong the witch is dead" in celebration of the ouster of former Trump campaign manager Corey Lewandowski.
While Caputo did not join the administration in its first three years, he remained a prominent player in Republican politics in New York. He was a leading figure in convincing Trump to support the ouster of former GOP state Chair Ed Cox, who represented a genteel brand of Republican politics that has been increasingly replaced by Trumpism at the state level. After considering a congressional run of his own to replace Chris Collins, who resigned after pleading guilty to federal charges related to insider trading, Caputo was directly involved in the Republican primary that eventually resulted in the nomination of state Sen. Chris Jacobs, who won the June special election to replace Collins.
Caputo also stayed in the president's good graces by parroting some of the president's more controversial claims, including a 2020 book that claimed the Mueller investigation was part of a plot to "enrich global insiders like Hunter Biden, George Soros, and more." His role in promoting conspiracy theories about the son of Democratic presidential nominee Joe Biden and the longtime Jewish philanthropist raised eyebrows when Caputo was appointed to his current role at the Department of Health and Human Services just as the pandemic began to reach its peak.
Caputo's meddling with public health guidance and urging Trump supporters to buy ammunition to combat impending violence from the political left are hardly the only controversial statements he has made over the years, but they are arguably the most consequential. "You understand that they're going to have to kill me, and unfortunately, I think that's where this is going," Caputo said of CDC scientists in the Facebook Live. "They're going to attack Donald Trump next."