New York City
Rochester police killing sparks outrage and Trump threatens New York City
Rounding up the week's political news.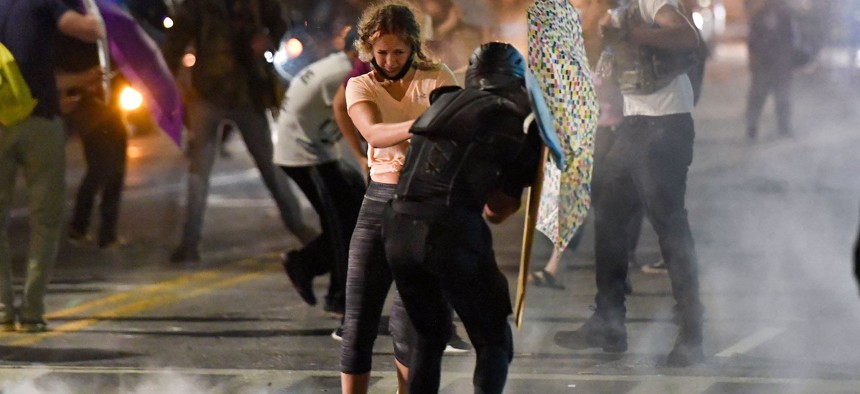 As if there's not enough already happening this year, 2020 took another unexpected turn. In a sequel to the Rachel Dolezal story, another white woman admitted that she had pretended to be Black for much of her adult life after having built an academic career influenced by that false identity. And there's a local political angle to the shocking twist. It turns out that the woman, Jessica Krug, testified about police misconduct at a New York City Council hearing in June. Ironically, she admonished white New Yorkers for not yielding their time to Black and Indigenous New Yorkers while pretending to be Black herself. 2020 just never quits. Keep reading for the rest of this week's news.
Police killing in Rochester sparks outrage
Another instance of a civilian death in police custody emerged in Rochester after the family of the victim released body camera footage of the deadly encounter. Daniel Prude, a 41-year-old Black man, died on March 30 of asphyxiation, two months before the police killing of George Floyd, whose death shares similarities with this case and sparked nationwide protests. Prude's death came seven days after a police encounter that left him brain-dead and on life support. On March 23, Prude had been experiencing a mental health crisis, which prompted his brother to call 911 for help. The police officers who responded placed a bag over Prude's head in an apparent attempt to prevent him from spitting on them. As Prude struggled, an officer pushed his head against the pavement while another kneeled on his back. After several minutes, Prude stopped moving and paramedics were called to perform CPR before he was taken away in an ambulance. Both the Rochester Police Department and the state attorney general's office are investigating the death. The seven officers involved in Prude's death remain on the force, but have been suspended after the case gained widespread attention.
Trump threatens the Big Apple
President Donald Trump has once again taken aim at New York City, his birthplace and longtime home, where Democratic leaders have been a thorn in his side since becoming president. Trump is threatening to withhold federal funding for New York and other Democratic-controlled cities including Portland and Seattle that he said have devolved into "anarchy" during recent protests against police brutality. In a memo, Trump directed federal agencies to detail all funding they give to the cities, and told U.S. Attorney General William Barr to create a list of "anarchistic jurisdictions," with reducing police funding as one of the qualifying factors. The memo described at length New York City's recent uptick in violent crime and the recent $1 billion cut to the New York City Police Department's budget. The very same night the news broke, Gov. Andrew Cuomo held a press call firing back at the president with some inflammatory language. He said that Trump "better have an army if he thinks he's going to walk down the streets in New York," although he later walked back the vaguely threatening comment slightly by saying that he meant simply that Trump is "persona non grata" in the city. Cuomo said that he doubts the "maniacal" move will amount to anything, calling it an "illegal stunt." De Blasio took a similar stance, saying at a press conference that if Trump persists, the city would take him to court and win like it did when Trump attempted to withhold funding from so-called sanctuary cities.
NYC delays start of school
After weeks of uncertainty around reopening schools and threats of a strike from the New York City teachers union, de Blasio made a last-minute announcement that the Department of Education will delay the first day of school. Originally set to reopen on Sept. 10, the new first day of school is Sept. 16 for remote learning, with students who opted for blended learning not returning to the classroom until Sept. 21. The announcement took parents and teachers by surprise, although United Federation of Teachers President Michael Mulgrew, who joined de Blasio in making the announcement, praised the decision for giving teachers more time to prepare for the unprecedented school year. However, the move was met with mixed reactions from teachers and other educators, since the extra 11 days may not be enough time to address all the outstanding issues they have regarding preparation and safety.
Powered By
NEXT STORY: NYC institutions could close permanently