New York City
Rochester upheaval continues and indoor dining returns in NYC
Rounding up the week's political news.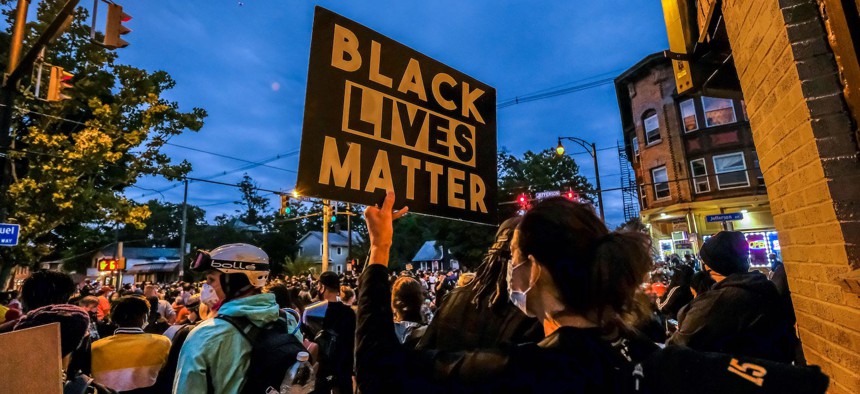 You think your week/month/year has been weird? Imagine finding an escaped prisoner hiding in your home. Terry Pierson of Brooklyn found himself in that unusual situation after a young man escaped federal custody, leading to an hourslong manhunt. Pierson said he saw an "odd lump" under a sheet covering his looms, and was greeted with a person when he lifted the cover. The prisoner was quickly arrested and Pierson said he would recover from the nerve-wracking incident with a stiff drink. Keep reading for the rest of this week's news.
Upheaval in Rochester continues
Protests have continued in Rochester after police body camera video was released of Daniel Prude's arrest in March, which led to his death a week later. State Attorney General Letitia James announced that she will empanel a grand jury to consider evidence in the case of Prude's death after Rochester police for months treated it as a drug overdose rather than a homicide as the medical examiner determined. James' office had already begun investigating the incident well before the grand jury announcement. Soon after that, Rochester Police Chief La'Ron Singletary and the rest of the command staff announced they were retiring. Singletary denied any wrongdoing by the officers involved in Prude's death, who have been suspended, and said he would not sit "idly" as people attempted to "destroy my character." When she announced the retirements, Rochester Mayor Lovely Warren did not say whether she asked them to resign. Meanwhile, protesters have marched every night since Prude's family released the body camera footage. Two protesters are now facing federal charges after being accused of attacking police officers.
Indoor dining to resume in NYC
At long last, struggling restaurateurs in New York City have been thrown a lifeline by Gov. Andrew Cuomo when he announced that he would allow eateries to reopen for indoor dining on Sept. 30. Until now, Cuomo and New York City Mayor Bill de Blasio have resisted permitting indoor dining, even though it has been allowed in the rest of the state for weeks – if not months – without causing a spike in coronavirus cases. The city has long met the necessary criteria that theoretically should have allowed for limited indoor dining. Both officials argued that the city is different from other areas in New York, and therefore indoor dining posed a greater risk. Just the day before his announcement, Cuomo said it would be "negligent and reckless" to allow indoor dining in New York City before ensuring compliance mechanisms were in place. However, he posed a theoretical situation where city restaurants would be allowed to open with 25% capacity, half that of the rest of the state. The next day, that hypothetical became reality when he announced the city's indoor dining plan.
NYC relocates homeless people
After an intense backlash from wealthy Upper West Side residents, de Blasio decided to relocate 300 homeless men from the Lucerne Hotel on West 79th Street to midtown Manhattan. The men had been moved to the hotel to help alleviate crowding at homeless shelters, where coronavirus outbreaks were a large concern, and provide the men with a safer alternative. Like many hotels that are being used to temporarily house homeless people, it was empty due to a lack of tourists during the pandemic. However, the decision to house the homeless men in the neighborhood led members of a neighborhood typically considered one of New York City's most liberal to threaten to sue the city. Although de Blasio said conditions at the hotel were not up to snuff, advocates for homeless people and Upper West Side lawmakers lambasted the mayor for apparently giving in to NIMBYism.
2021 election moves
There's still plenty of time before the 2021 New York City election cycle truly ramps up, but several candidates have begun making their moves. City Comptroller Scott Stringer made his run for mayor official, launching his campaign with a slew of support from lawmakers, including progressives like state Sen. Julia Salazar and Assembly Member Yuh-Line Niou. Stringer will try to establish himself in the ever-growing pack of candidates as the progressive choice with a multiracial coalition behind him. City Sanitation Commissioner Kathryn Garcia, de Blasio's go-to problem solver, announced she's resigning from the administration. Although she said her decision was due to recent budget cuts, Garcia is also considering a run for mayor herself, so the resignation could be a sign that she's getting more serious. Tiffany Cabán, who made headlines last year when she almost won the Queens district attorney race and has since become something of a progressive celebrity, also announced that she is running for City Council in Astoria, Queens.