Campaigns & Elections
Will de Blasio ties haunt a trio of mayoral candidates?
Maya Wiley, Kathryn Garcia and Loree Sutton have already begun to distance themselves from the mayor.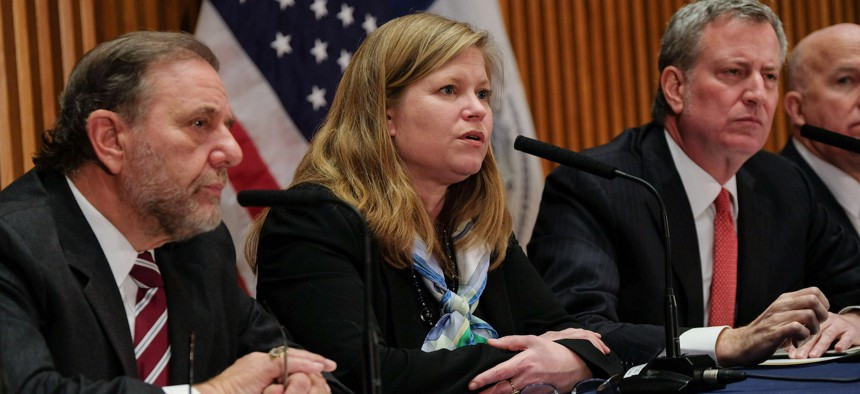 With Kathryn Garcia resigning as New York City's sanitation commissioner to mull a mayoral bid, there are now three de Blasio administration veterans in the mix to replace their old boss. Former Department of Veterans' Services Commissioner Loree Sutton has been in the race since last fall, and Maya Wiley, a political commentator who served as counsel to the mayor, now shows signs of building up a campaign as well. 
Coming from varied backgrounds and political perspectives, they all share one possible liability in 2021: ties to a comparatively unpopular Mayor Bill de Blasio. For example, while 75% of New York City adults surveyed by Marist College in July approved of the governor's pandemic response, only half said the same for the mayor.
All three mayoral hopefuls have already been making a point to distance themselves from de Blasio. Positioning herself as a moderate, Sutton has opposed efforts to defund the police, questioned the mayor's push to increase the city's borrowing authority to fill its budget gap and has been critical of the city's mental health initiative, ThriveNYC. When asked what she would do differently than de Blasio as mayor, she told City & State in November, "We're definitely two very different people." Garcia's resignation letter sent this week pointed to disagreements with the mayor's recent budget cuts, writing that, "If, as is often said, budgets are a statement of values, my values require me to resign in the face of these cuts, which will harm New Yorkers." And Wiley has called for the resignation of Dermot Shea, the city's police commissioner who was appointed by de Blasio. 
But it's unclear whether that will be enough to fully separate each candidate from de Blasio's legacy. Garcia's reputation has been as de Blasio's go-to crisis manager, who also had held roles leading the New York City Housing Authority, overseeing initiatives to reduce lead poisoning and exposure among children and, most recently, heading the city's COVID-19 hunger initiatives. Sutton helped expand what was the Mayor's Office of Veterans' Affairs into a full-fledged agency. Wiley may be able to more easily set herself apart given that she enjoys national name recognition as a commentator on NBC News and MSNBC. But her stint as a top lawyer to de Blasio for more than two years could connect her to certain scandals that plagued the mayor, including his unsuccessful attempt to conceal conversations with outside advisers from the public view. Her campaign adviser, Jon Paul Lupo, worked with de Blasio in City Hall and on his presidential campaign, while several former and current de Blasio staffers have gravitated toward her potential candidacy. 
The length of time each spent in the administration and when they served will also play a part in how much their connection to de Blasio will be a challenge on the campaign trail, said Christina Greer, a political science professor at Fordham University. "I don't think folks will be necessarily penalized for working with first-term de Blasio. I think second-term de Blasio, when he's running for the presidency, ostensibly checked out of the mayoralty, then you may have to justify that relationship and sort of carve a path as to what you were doing in that administration."
All three mayoral contenders started in the de Blasio administration at the start of his mayoral tenure in 2014. Wiley had the shortest tenure at City Hall among them, serving for two and a half years as his chief legal counsel before resigning in 2016. Sutton stepped aside last year to pursue a mayoral bid, while Garcia is resigning this month to explore a possible campaign. Each candidate will likely make the case that they should be judged on the merits of what they've achieved, Greer said, rather than on their work with one person. 
"I think the public is going to judge me on what I've accomplished and not by association," Garcia told City & State, noting that her work in both the de Blasio and Bloomberg administrations differentiate her from just serving under the current mayor. She pointed to several highlights in her numerous roles in city government, including ramping up the city's emergency food distribution in response to COVID-19 and expanded curbside collection of electronics and organic waste.
Political consultant George Arzt said Sutton's experience leading veteran's services was unlikely to be much of a hindrance, and both Wiley and Garcia have compelling reasons to highlight to overshadow any de Blasio ties. "Garcia has some real strengths, especially among insiders in government, is well-regarded as someone who can get things done," he said, noting that the degree to which that helps her is dependent on her resources to promote that narrative. Wiley's strong speaking abilities and experience in a media environment will also help her, Arzt said. 
Several mayoral candidates in a similar position as these three haven't had much success historically in New York City. Joe Lhota, who once served as a top aide in former Mayor Rudy Giuliani's administration, only won 24% of the vote in the 2013 mayoral race. Jerome Kretchmer began his mayoral candidacy in 1973 by trashing his former boss, then-Mayor John Lindsay, who he served under as the city's environmental protection administrator, but didn't find electoral success either. Garcia also isn't the first sanitation commissioner in the city to pursue a campaign to become mayor: Paul Screvane attempted the same in 1965, but lost in the Democratic primary. 
Other challenges remain for each candidate which may prove to be larger obstacles from the outset. In a crowded field, they need to build up stronger name recognition among city residents – particularly Garcia and Sutton, who have largely operated within city government. Wiley's TV appearances and large social media following – with close to 350,000 followers on Twitter – may set her apart, though her presence has been more on a national stage. Fundraising will also be important as they face off against career politicians like New York City Comptroller Scott Stringer and Brooklyn Borough President Eric Adams, who have had more time to amass hefty war chests. As the only officially declared candidate of the three, Sutton's campaign is about $4,455 in the red, according to the campaign's most recent financial disclosures. 
It is still early into the 2021 mayoral race, especially for Wiley and Garcia, so it remains to be seen how much their work in City Hall will affect their campaigns. 
"I think the question everyone is asking is, 'Does a de Blasio endorsement hurt or help?'" Greer said. "So it'll be interesting to see how far away they want to distance themselves from de Blasio."