New York City Council
Top council speaker staffers lead the pack in fundraising
Erik Bottcher, Council Speaker Corey Johnson's chief of staff, raised more money than any council candidate who isn't an incumben, while Lynn Schulman, a senior liaison in Johnson's office, also raised an impressive sum.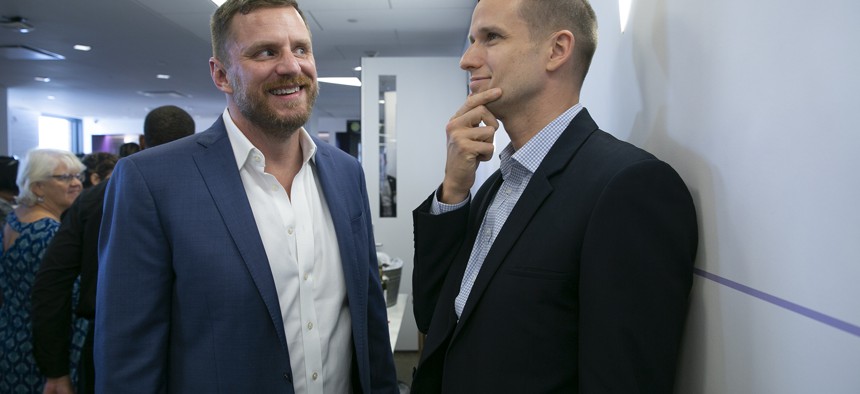 When running for a seat in the New York City Council, it pays to be close to the speaker. In fact, two of Council Speaker Corey Johnson's staffers are among the top fundraisers of all the council candidates running in 2021 – with some of the influx coming from donors with business before the legislative body. 
Erik Bottcher, Johnson's chief of staff, has raised more money than any other City Council candidate who isn't an incumbent, bringing in $114,356 as of the most recent filing deadline in July. And Lynn Schulman, a senior liaison in Johnson's office, has raised $71,067. Schulman's total is more than any other non-incumbent except Bottcher and Eric Dinowitz, a teacher and the son of Assembly Member Jeff Dinowitz, who had raised $73,550 through July. 
Amassing that amount of campaign cash is remarkable. With the expected June 2021 Democratic primaries still nine months away, few of the more than 200 candidates have even broken the $50,000 mark – if they have started raising money at all. 
More than $4,000 of Schulman's haul came from registered lobbyists, including some donors that have reported lobbying Schulman directly. Schulman is running in the 29th Council District, which is centered on Forest Hills, Queens, and is currently represented by the term-limited City Council Member Karen Koslowitz. But Schulman is currently the senior community and emergency services liaison in the speaker's office, a role in which she meets with lobbyists pushing their clients' interests. 
Schulman's campaign donors include James Capalino, who gave her $250 in November 2018. Capalino's firm reported lobbying Schulman between July and November of 2019 on behalf of Birch Family Services, Inc., which provides services for those with developmental disabilities and received $85,000 in City Council discretionary funding in the fiscal year 2021 budget. Capalino employees Mark Thompson and Travis Terry also donated to Schulman in December 2018 and January 2019, respectively. Terry told City & State that he and his colleagues had known Schulman for more than 15 years, and that she's "an exceptional public servant." The lobbying the firm reported on behalf of Birch Family Services was "simply to get a clarification on the process for funding these much-needed services."
Schulman also received campaign donations from Lisa Constantinople and Tena Vallone on the same day, June 24, 2019. Their husbands are partners of Constantinople & Vallone Consulting, a firm which reported lobbying Lynn Schulman directly soon after the donations came in, between July and December 2019. The client was You Gotta Believe, an agency that finds permanent homes for young adults in foster care. Constantinople & Vallone did not respond to a request for comment.
Schulman has also taken money from many other City Council lobbyists that haven't reported lobbying her directly, including Chris Coffey of Tusk Strategies and George Arzt. At least six different lobbyists at Bolton-St. Johns have given to Schulman's campaign. 
Schulman isn't breaking any rules, however. None of the lobbyists who donated exceeded the $250 limit for people doing business with the city, and Schulman's campaign is hardly being fueled exclusively by lobbyists. According to the New York City Campaign Finance Board, she received a total of $7,145 from people doing business with the city so far, or about 10% of her total haul. Schulman brushed off any concerns that campaign donations might be used to open doors at the City Council, with either her or with Johnson, her boss. 
"I'm proud of the grassroots support our progressive agenda continues to receive. I am honored to have the broadest coalition, with the most in-district support, of any insurgent candidate in Queens," Schulman told City & State in an email. Although, as a council staffer who is running for an open seat with the support of the incumbent and other elected officials, calling herself an "insurgent" is a stretch.
Running for office while working in government always creates a "potential conflict," said Blair Horner, executive director of the New York Public Interest Research Group. In any case, people in government jobs who are running for office "must ensure that the work of the office is conducted impartially." High-level city government employees are even required to take leave of absence when they're running for office. For example, Kathryn Garcia just resigned from her post as sanitation commissioner in order to explore a run for mayor. Yet most City Council employees are allowed to launch campaigns while keeping their jobs.
To avoid such conflicts – and to align himself with the latest progressive orthodoxy – Johnson pledged to decline donations from any lobbyists as he considers running for mayor. He's also rejecting money from real estate developers or any corporate political action committees and limiting all donations to $250, well below the legal limit for citywide candidates. Schulman has not agreed to do the same, though she said she would not accept donations from law enforcement unions. 
Bottcher, however, has pledged to decline the same kinds of donations as Johnson, saying no to lobbyist, real estate developer or corporate PAC money. In fact, when City & State pointed out a $200 donation from William Gilbane of real estate developer Gilbane Inc., Bottcher campaign treasurer Mark Robinson said he would send it back. "Each of our over 700 individual contributors was vetted, but one slipped through, and a refund was immediately issued," he wrote in an email. 
Bottcher is running for the 3rd District, which covers much of the West Side of Manhattan. Johnson currently holds the seat, but will be term-limited out at the end of 2021. A number of Bottcher's donors work for organizations that receive city funding. That includes Luis Freddy Molano, a vice president at the Community Healthcare Network, which got more than $500,000 in City Council discretionary funding in this year's budget, and Robert Hammond, co-founder and executive director of Friends of the High Line, which got $110,000 in the budget. But like Schulman, only a small percentage of Bottcher's donations come from those with business before the city. According to the NYCCFB, those donors have given him $6,880 so far, or about 6% of his total haul. 
Still, some of those contributions may raise eyebrows. Bottcher got $1,000 from the United Federation of Teachers, and the union named him as one of its three 2021 City Council endorsements so far. The other two are Eric Dinowitz, a teacher and UFT member, and Briget Rein, who has worked at the UFT for more than a decade. Bottcher has never worked in education, but he does work for Johnson, whose office the union frequently lobbies. Bottcher earned the UFT endorsement himself, a spokesperson told City & State, and the union was impressed with his understanding of the issues and commitment to equity for students.
Another high-level Johnson staffer, City Council Director of Administrative Services Jenny Low, is also running for City Council, seeking a seat in Lower Manhattan. Low started fundraising after Bottcher and Schulman, and has not yet filed with the NYCCFB, but a spokesperson for her campaign said she isn't accepting donations from lobbyists, real estate developers or corporate PACs. 
Bottcher and Schulman have worked in and around city politics for a long time, and their long lists of donors reflect the personal and professional connections they've cultivated. Some of those individuals have business before the city that might be helped along if the candidates win office – or potentially even sooner, since they already have some pull in government. Of course, taking money from people they might also meet with in a professional capacity for their government job is something that elected officials running for re-election do without blinking an eye. Bottcher and Schulman's jobs at City Hall may simply be giving them some of the benefits of incumbency without having ever held office before. 
Johnson's campaign told City & State that contributions to employees didn't have any impact on policy. 
"The Speaker makes decisions based on the merits and what's best for the city," Johnson spokesperson Jen Fermino wrote in an email. "Any implication otherwise is false."