Donald Trump
Trump: New York could be last in line for a vaccine
Who are the federal officials making sure the coronavirus vaccine is safe and fairly distributed?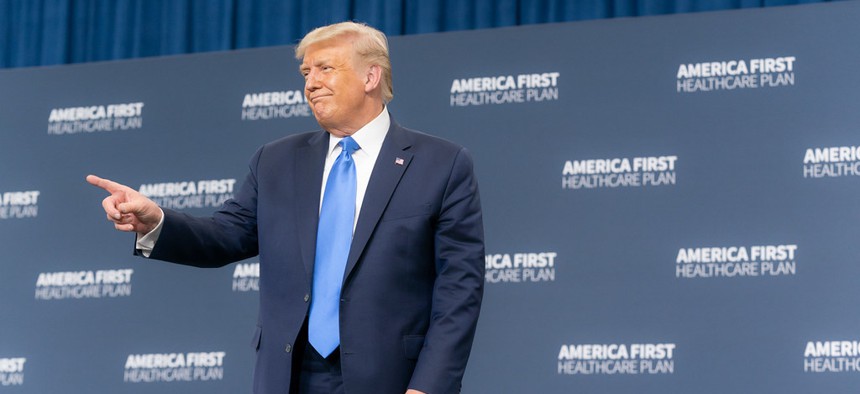 President Donald Trump suggested Friday that New Yorkers will be at the back of the line for any future coronavirus vaccine thanks to Gov. Andrew Cuomo. The president objected to a new task force of longtime political allies and health care industry leaders named by the governor that will review vaccines approved by the federal government.
The state has a role in the vaccine distribution process, but a few federal public health officials stand in the way of any efforts by the Trump administration to hastily approve a vaccine or limit its distribution. That could make it easier said than done for Trump to meddle in the vaccine approval process, according to Stat, a health news website.
A newly revealed leadership chart for Operation Warp Speed, the federal effort to develop and distribute a vaccine, showed that Nancy Messonnier, director of the National Center for Immunization and Respiratory Diseases, will play a key role in coordinating with states on the distribution of a vaccine.
In February, her warnings about the community spread of the coronavirus nearly got her fired by Trump, which suggested she wasn't doing the bidding of the president. Her work within Operation Warp Speed will be overseen by the Department of Defense, though they will defer to her on public health matters, according to Stat. Leading the department is Defense Secretary Mark Esper, who has a mixed record when it comes to indulging some of the president's more controversial decisions in recent months.
Any effort by the Trump administration to interfere in the vaccine approval process before the election would likely hinge on replacing Dr. Robert Redfield, the head of the increasingly embattled Centers for Disease Control and Prevention, with Dr. Scott Atlas, a Trump administration official known for promoting herd immunity as the best way forward. "Everything he says is false," Redfield said Friday of Atlas in remarks overheard by an NBC News reporter. If Redfield leaves or is forced out, it will mean one less person stands in the way of Trump getting a vaccine approved in the coming weeks despite any lingering concerns about its safety and efficacy.