New York State
6 takeaways from Cuomo's new book
'American Crisis: Leadership Lessons from the COVID-19 Pandemic' offers a collection of the governor's favorite talking points.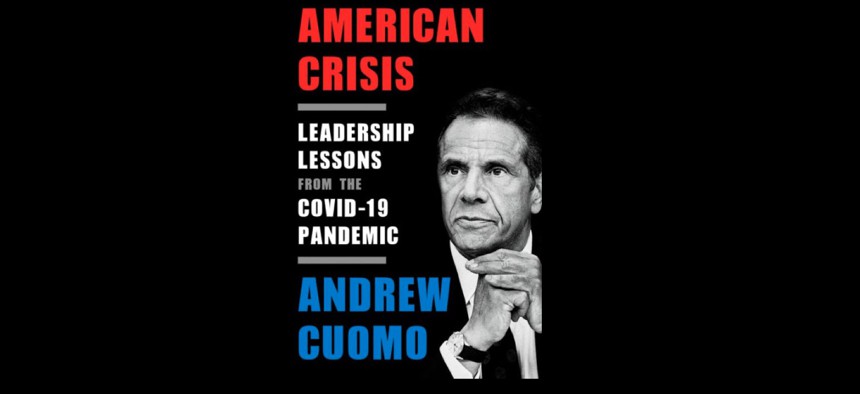 New Yorkers have not been lacking in chances to hear from Gov. Andrew Cuomo over the past eight months. During the onset of the coronavirus pandemic, he held press conferences for 111 consecutive days. And there were his dozens of appearances on national television. The 62-year-old governor even became a social media sensation at times.
Yet, the governor still has plenty to say in "American Crisis: Leadership Lessons from the COVID-19 Pandemic," a 320-page book released Tuesday. While officially billed as "a revealing behind-the-scenes account" of the state's response to the pandemic, the book is also a collection of the governor's favorite talking points about just who is to blame for the pandemic that has killed more people in New York than any other state.
City & State read the new book and had six takeaways.
People had to die to get people to take the virus seriously
Cuomo was one of many elected officials who downplayed the severity of the coronavirus early on despite the warning signs coming from China, Italy and public health officials in February. The state's first coronavirus deaths were reported on March 14, and it was around that time that the governor wrote that he began accepting the enormity of the growing crisis. "This was about life and death," he wrote. "No one knew the future and no one knew how many would die." Yet, the state would not announce a stay-at-home order until March 20. Evidence would later show that delaying the order by just a few days likely led to thousands of additional deaths in New York.
While the governor expressed regret in the book about not acting earlier to promote wearing face masks, he argued that New Yorkers would have to see the crisis unfold before they would accept any type of sweeping public health restrictions already seen in countries like China and Italy. "There are a lot of people who love the parade," he wrote, as evidence of the blowback he felt to actions like canceling the St. Patrick's Day parade. "I wanted to be aggressive in combating the virus, but we could not get ahead of the degree of public acceptance and compliance," he wrote. "If the public refused to follow an executive order, it would all be over."
Cuomo blames economic inequalities for making the pandemic worse
There has been a lot of research since early April that has shown how the coronavirus has infected and killed people of color at much higher rates than white people for reasons ranging from being a higher proportion of essential workers to implicit bias in the health care system. While the governor discussed in the book racial inequalities in the context of the protests that rocked the state in late May and June, he argued that economic class rather than race was the reason behind the disproportionate costs suffered by Black and Latino New Yorkers. "Whatever the situation, it seems working families get the short end of the stick," he wrote. He later discussed efforts to promote testing and social distancing in New York City's public housing.
The state Legislature was a minor player
Cuomo barely mentioned state lawmakers in the book. Without mentioning her by name, he cited Assembly Member Amy Paulin of Westchester County as an example of a posturing politician. "Most local politicians seek to make people happy," he wrote. "One Democratic assemblywoman who represents Westchester came to my office demanding a meeting, then she simply sat in the second row at a press conference and scowled at me." The governor later praised state Senate Majority Leader Andrea Stewart-Cousins and Assembly Speaker Carl Heastie as "good politicians" and "responsible government leaders" for granting him expansive new emergency powers in early March.
He also noted that the two legislative leaders were by his side when he signed new police reform bills over the summer. An unnamed "young state assemblyman" meanwhile reached out one "afternoon" to find out just how Cuomo was connecting with people through his daily press briefings. "I said it can be simply stated," Cuomo wrote. "If you want people to open up to you, you open up to them first. Open your heart."
Cuomo wants human recognition
The book was filled with anecdotes about how the gubernatorial full house upended his lonely bachelor days in the state Capitol in the Before Times. He tells us the inside scoop of his fatherly concern for one daughter's COVID-19 quarantine and all the fun he had when his three daughters came to stay with him – along with "the boyfriend" and ex-Secretary to the Governor Larry Schwartz – at the Executive Mansion in Albany later on during the pandemic. They even helped change his 100-pound dog into a giant puffball. "Captain was a 'dog's dog,'" he wrote. "Now … all he does is walk over to the girls and put his head on their laps." This appears to be part of a wider effort by the governor to soften the image he developed over the past 30 years as a tough-talking political knife-fighter. While talking to his dead father while lying in bed does not make Cuomo look necessarily like a big softy, it certainly showed a side to him that is much less dependent on cold hard facts.
Cuomo the artist becomes Cuomo the historian
The governor has downplayed the idea that he was trying to write the first draft of history to his liking, an idea belied by the book he actually published. There are all sorts of allusions to World War II and how the coronavirus exposed President Donald Trump as a leader more concerned with how he looked than with saving lives. "For them, every issue was just another public relations issue," Cuomo wrote of the Trump administration. "(But) Donald Trump did not have the only microphone. I had one too." The governor wrote that he found it easier to communicate to Trump via television than speaking directly to him by phone. This secured a few wins for the governor, including federal help in setting up temporary hospitals at the Javits Center in Manhattan. While the book goes on to criticize Trump as a historically unfit leader whose decisions made the pandemic worse than it should have been, Cuomo still had plenty of praise for one much-criticized member of the Trump inner circle. "I saw him as the key to New York getting anything from the federal government," Cuomo wrote of presidential son-in-law Jared Kushner. "Jared was the person who eventually produced the (personal protective equipment), ventilators, and military personnel for New Yorkers and I am grateful on their behalf."
There are plenty of pages left for Cuomo's outstanding grievances
Cuomo appears to believe that any criticism over his handling of nursing homes was the result of a right-wing conspiracy. "By early spring, Republicans needed an offense to distract from the narrative of their botched federal response," he wrote. "So they decided to attack Democratic governors and blame them for nursing home deaths." While he later justified a controversial order to move recovering coronavirus patients from hospitals to nursing homes as a necessary decision to expand hospital capacity at the peak of the pandemic, he also denied that it had any effect at all despite months of criticism from the media, Democratic lawmakers and public health experts who said that there was much more to the story.
The political left also aroused the ire of the governor, who devoted more than a few pages to claiming that he was the real "progressive" in politics. "My definition of 'faux progressives' is officials who believe being a progressive is merely a function of advocacy and posturing," he wrote. If you thought so-called progressives and Republicans were the only people angering the governor, keep in mind all those "nasty" questions he thought he got from the press at some of those briefings!