Campaigns & Elections
EXCLUSIVE: Carlos Menchaca confirms mayoral campaign
The New York City Council Member wants to ride the progressive wave to Gracie Mansion.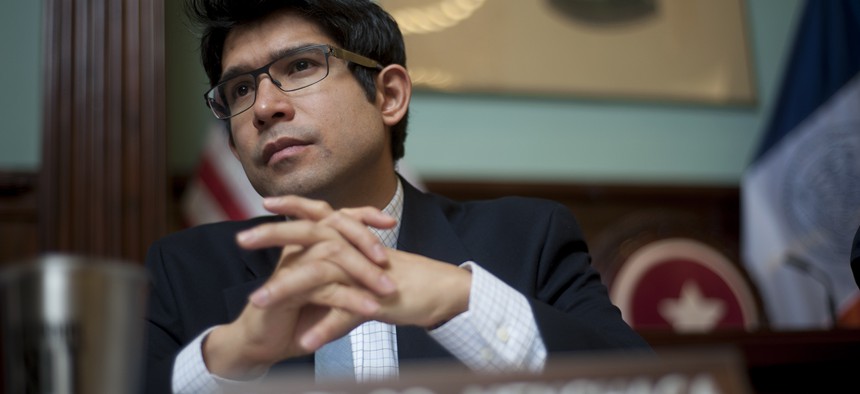 New York City Council Member Carlos Menchaca confirmed to City & State that he is running for mayor in the 2021 Democratic primary and will officially announce his candidacy on Thursday. As has been previously reported, Menchaca has filed with the New York City Campaign Finance Board, and the announcement has been widely anticipated since Menchaca hinted at it on Twitter earlier this month.
Menchaca, who has recently drawn attention for defeating a proposed rezoning of Industry City, represents a diverse, largely Latino district spanning Sunset Park, Red Hook, Greenwood Heights and slivers of Windsor Terrace, Dyker Heights and Borough Park. He is the first Mexican-American elected official in New York state and, according to his website, he is also the first openly gay elected office holder from Brooklyn.
In an interview, Menchaca said hopes to build off the progressive momentum of the Rep. Alexandria Ocasio-Cortez era to become mayor. "I think New York City is demanding a progressive mayor," Menchaca, 40, told City & State. "You're seeing it now as incumbents, Democrat incumbents, are being removed in the state… So many people have lost their positions because they have not figured out how to listen to the people who are demanding that kind of change." He added, "What I want to do is reflect that momentum."
Menchaca, 40, grew up in El Paso, Texas. He lived in public housing, one of seven children of a single mother who had been raised in Mexico. In 2004, after graduating from the University of San Francisco, he moved to New York and interned for then-Brooklyn Borough President Marty Markowitz. The next year, he began working for Markowitz as a capital budget and policy coordinator. He later became LGBTQ and AIDS/HIV liaison to then-City Council Speaker Christine Quinn.
Menchaca's own political rise as a first-time candidate taking on an incumbent foreshadowed the ascent of figures such as Ocasio-Cortez. Building on his popularity as an organizer in the aftermath of Hurricane Sandy, he ran for City Council in 2013 against Sara Gonzalez, who had represented District 38 for almost 12 years. He beat her in the Democratic primary just hours before his 33rd birthday, making him the only City Council candidate to unseat an incumbent that primary.
Menchaca chairs the Council Committee on Immigration and his biggest legislative achievement was cosponsoring the legislation for IDNYC, an identification card available to New York City residents regardless of immigration status. More than one million people have enrolled in the program.
More recently, in September, developers pulled their application for the rezoning of the Industry City warehouse complex in Sunset Park, after Menchaca opposed the $1 billion plan. The effort was reminiscent of Ocasio-Cortez and other progressives in western Queens such as Council Member Jimmy Van Bramer killing the Amazon second headquarters planned for Long Island City.
On issues such as defunding the police and opposing U.S. Immigration and Customs Enforcement activities in New York City, Menchaca is a staunch progressive. Although he is not a member of Democratic Socialists of America he considers his and the group's views "aligned."
Those stances and efforts have earned him opponents, including the Real Estate Board of New York, whose political action committee has spent tens of thousands of dollars campaigning against him. He has occasionally clashed with fellow Democrats, including over the Industry City proposal and the amount the New York Police Department budget would be cut in the most recent city budget. After Menchaca tweeted in June that funneling $1 billion from the police to other areas wasn't a "real cut," Councilman Daniel Dromm tweeted, "This is simply not true…. Not sure where you are coming from on this. You were in the room."
In 2017, he beat out four primary challengers, including an attempted comeback by Gonzalez. The following year, the Council member drewnegative press for firing three staffers right around Christmas.
His two terms as city councilman have "put my values to the test," Menchaca said. "How do you maintain that integrity? That is not easy. I came in with so many colleagues that were progressive that now I would never call progressive… These institutions of power, like real estate, have an impact on you. And it's hard to hold the flag."
Now facing term limits, Menchaca said another crisis has convinced him to run for mayor, just as Hurricane Sandy got him to run for City Council years ago: COVID-19. Sunset Park, an immigrant-heavy area, has been among hardest-hit neighborhoods, according to city data.
"It just changed the way that I understood my role in the future of this city," he said of the pandemic. "The courage that is needed, the courage that is required, the courage that is being asked of by the people of this city who are on the streets right now, must be met, and I can do that."
With the primary just eight months away, Menchaca joins an already crowded field of at least 24 candidates who have officially filed for mayor, including Commissioner of New York City Department of Veterans' Services Loree Sutton and outgoing Citigroup executive Ray McGuire. Among the top contenders, Menchaca will have to compete with Brooklyn Borough President Eric Adams for support in his home borough and New York City Comptroller Scott Stringer for the hearts of progressives, whom Stringer has courted. There are other Brooklyn progressive candidates of color in the race, including Maya Wiley, the former counsel to Mayor Bill de Blasio, and Dianne Morales, the CEO of Phipps Neighborhoods. He'll also face Kathryn Garcia, the former city sanitation chief, and Shaun Donovan, the former HUD secretary.
If elected, Menchaca would be the city's first non-white mayor in almost 30 years and its first Latino mayor in at least a century. (John Purroy Mitchel, who served from 1914 to 1917, was of partially Venezuelan ancestry.) He would also be the first openly gay mayor. "I think the city is ready for someone that reflects who they are," he said. However, he added, "I don't just bring my identity. I bring my values."
Making the leap to mayor from being just one of 51 City Council members is uncommon. In the past century, it appears that only two former Council members became mayor – de Blasio and Ed Koch – and both held higher offices in between. A third, Vincent Impellitteri, was City Council president, the separately elected forerunner to today's public advocate.
The promotion would come at a tumultuous time, in light of the ongoing pandemic and its dramatic economic fallout and budgetary consequences.
"It is exactly the right time for me to be mayor. I want this exact challenge," Menchaca said. "I think about these last seven years, and I didn't know what they were going to prepare me for," he said. "But I now know that every single moment has prepared me for this moment, to be able to step into this office, understand how it works, understand how it doesn't work, to be able to fix it and reconnect it back to its source, which is the people."
Editor's note: This story has been updated to mention more challengers Menchaca will have to face in the race for mayor.
Correction: Menchaca was a cosponsor of the IDNYC bill. 
Powered By
NEXT STORY: The truth about these 2020 campaign ads