New York City
New York City sues to prevent loss of federal funding
A new lawsuit aims to stop the Trump administration from withholding money over "anarchist jurisdiction" classification.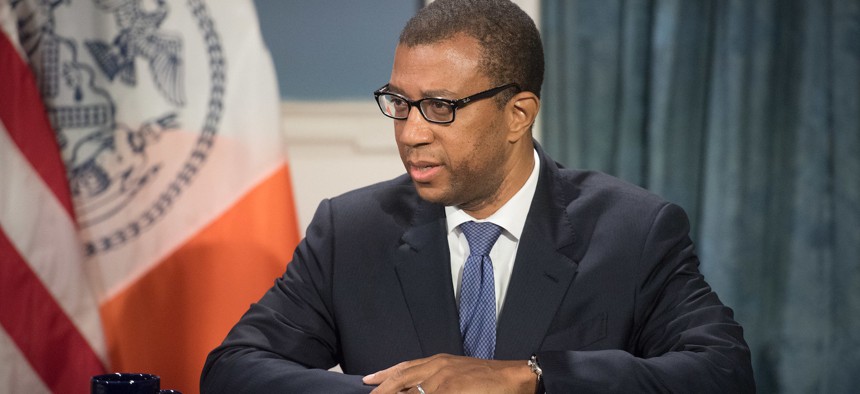 The Trump administration's move last month to classify certain cities as "anarchist jurisdictions" may sound like a joke, but it's no laughing matter for the cities that could lose federal funding because of the distinction. New York City, along with Seattle and Portland, Oregon, filed a lawsuit on Thursday in an attempt to prevent a withholding of federal funds because of the U.S. Justice Department's classification.
The threat to withhold federal funds goes back to the Trump administration's broad disapproval of the protests against police brutality and systemic racism this summer, his attempts to suppress them and his characterization of places like New York City as "lawless." In an early September memo, President Donald Trump directed U.S. Attorney General William Barr to identify jurisdictions that "permitted violence and the destruction of property to persist and have refused to undertake reasonable measures to counteract these criminal activities." According to the memo, areas that receive that designation would then have their access to federal grants restricted. "My Administration will not allow Federal tax dollars to fund cities that allow themselves to deteriorate into lawless zones," according to the memo.
Later in September, three cities were identified as anarchist jurisdictions: New York City, Seattle and Portland, Oregon. In justifying New York City's inclusion on the list, the Justice Department cited a rise in gun violence, cuts to the New York City Police Department's budget and four city district attorneys' decisions to not prosecute protest-related charges. Federal funding accounts for billions of dollars of the city's budget and the potential cuts could have a particularly large impact on city agencies like the Department of Housing Preservation and Development and the Administration for Children's Services.
But while both New York City Mayor Bill de Blasio and Gov. Andrew Cuomo quickly threatened to sue over the "anarchist" classification when it was first issued, the threat to withhold federal funds had not been realized, and no action was taken. But part of what sparked New York City to follow through on its threat to sue this week was that the anarchist designation put in jeopardy New York's access to one type of federal grant. "We're bringing this action because they have taken concrete steps – they have actually taken this 'anarchist' designation and started to include it in applications for federal grants," New York City's Corporation Counsel James Johnson said Thursday.
Earlier this month, the Federal Transit Administration announced that it would consider applications for a COVID-19 public transportation research grant "in accordance" with Trump's anarchist jurisdiction memo, implying that those jurisdictions would be excluded from the grant. The Metropolitan Transportation Authority, which is projecting a deficit of roughly $16 billion through 2023, has been begging the federal government for relief for months.
With the lawsuit now filed, it remains to be seen whether New York City and its co-plaintiffs will be successful in preventing having federal money withheld. The lawsuit asks the court to rule that the designation and the threat to withhold funds are unlawful on several fronts, including by infringing on Congress' authority to dictate how federal funds are spent. It also argues that it's in violation of the 10th Amendment, which outlines the concept of federalism, reserving powers not granted to the federal government for the states.
Law experts have weighed in on the question of constitutionality regarding these anarchist jurisdictions, with some expressing doubt that they could hold up under scrutiny if the courts follow existing law. "The president obviously has no power to pick and choose which cities to cut off from congressionally appropriated funding," Laurence Tribe, a professor of constitutional law at Harvard University, told The Guardian in September.