Donald Trump
New York political leaders react to Trump's COVID-19 test
Most wish the president well on his recovery, while others note his lackluster response to the pandemic.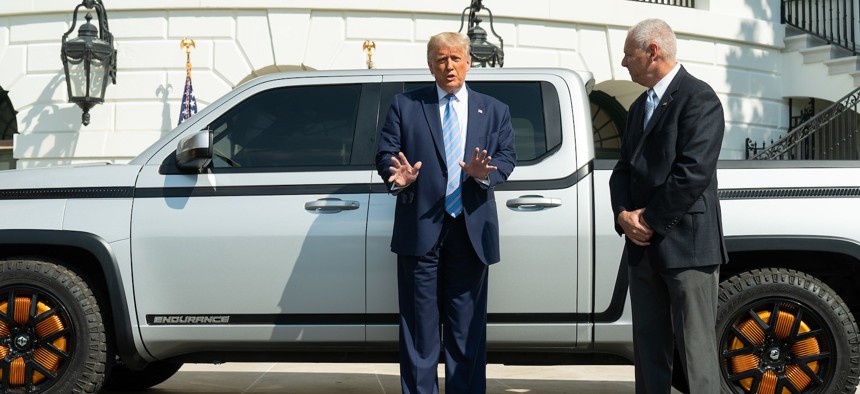 On Friday, New York City and state political leaders sent their best wishes to President Donald Trump and first lady Melania Trump after it was confirmed that they both tested positive for the coronavirus and will go into quarantine.
This announcement came after it was reported that one of the president's senior aides, Hope Hicks, had tested positive for the virus after traveling with the president this week while not wearing a mask. Whether or not the president will be able to continue on the campaign trail, or attend the next debate on Oct. 15, remains unclear as Election Day approaches.
Gov. Andrew Cuomo and a slew of other New York officials tweeted sympathetic messages to the president, despite the frayed relationship between the state and the White House throughout the pandemic. Here are some of the reactions to the president's positive COVID-19 test from high-profile political figures in New York.
My thoughts are with President Trump and the First Lady and I wish them a full and speedy recovery.

This virus is vicious and spreads easily.

Wear a mask. Let's all look out for each other.

— Andrew Cuomo (@NYGovCuomo) October 2, 2020
I hope that Donald Trump and his staff recover fully. Compassion isn't meant to be partisan, even though he's never set the example himself.

— Senator Brad Hoylman (@bradhoylman) October 2, 2020
I offer my best wishes to the President and First Lady for a speedy, symptom free recovery from COVID-19.

This is another example of how the Coronavirus/COVID-19 is a non-discriminatory illness that can strike anyone. We are all human. No one, even the most powerful, are immune.

— Mark Poloncarz (@markpoloncarz) October 2, 2020
However, some Democrats and activists did not shy away from taking their own jabs at the president, who previously claimed that the virus was a "hoax" being politicized by the Democrats.
COVID-19 is not a hoax.

Best wishes on a swift recovery to the President, First Lady and every single American infected by the coronavirus.

Wear. A. Mask.

— Hakeem Jeffries (@RepJeffries) October 2, 2020
I hope that Covid does not stand back and stand by

— RespekMyPoliticks (@StanFritz) October 2, 2020
Despite the outpouring of support for the recovery of the president and first lady, officials also commented on how the Trump administration has consistently downplayed the virus and not followed the health recommendations from the Centers for Disease Control and Prevention. and impact of testing positive for the virus. Cuomo and New York City Mayor Bill de Blasio took this opportunity to remind people to continue wearing their masks, something the president's family refused to do during this week's debate.
"Look, I think it's another reminder of why what I'm saying is right: wear masks, practice social distancing, take it seriously. And of course, this president didn't do that, unfortunately, and we've all paid the price, but look I wish him a speedy recovery, obviously, for the good of all," de Blasio said on WNYC's "The Brian Lehrer Show" on Friday. "But it is clear that people need to follow (public health) guidance for everyone to be safe. I mean this is just the object lesson of it."