New York State
Previewing the 2020 state Senate elections
Will Democrats maintain and grow their majority?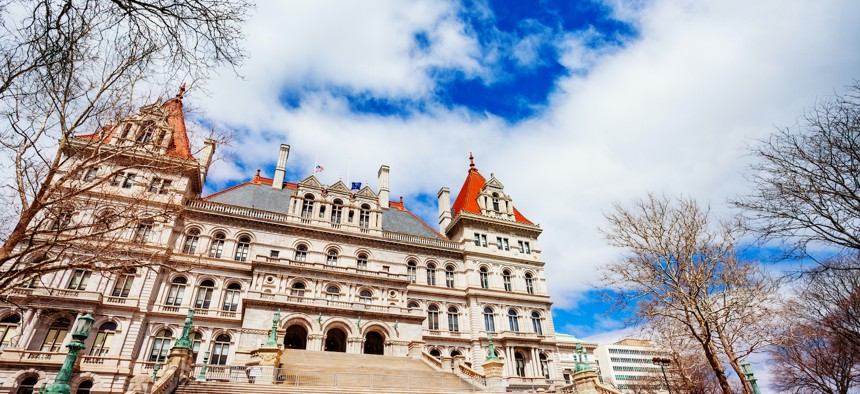 In 2018, the big question on the minds of state political observers was whether or not the Democrats would flip the state Senate. They did, with an impressive majority to boot. Two years later, the question is whether they keep and grow their fledgling majority, perhaps even turning it into a supermajority?
Republicans held control of the state Senate almost uninterrupted for the better part of the past century, serving as a conservative counterweight to the longtime Democratic-controlled Assembly. Democrats managed to briefly flip the upper chamber in 2008 and held a slim majority for just one session before Republicans wrestled it back in 2010. They maintained power in part thanks to the Independent Democratic Conference, despite a technical Democratic majority beginning in 2013. But the IDC is long gone, as are nearly all of its former members, and a new day has dawned on left-wing and progressive politics in the state. One needs to look no further than the once fringe Democratic Socialists of America, who have helped propel their endorsed candidates to upset victories in Assembly primaries.
Democratic voter enrollment in the state continues to grow while Republican enrollment dwindles. In the past, the GOP had control over redistricting and gerrymandered districts to help maintain their power. Redistricting based on the 2020 census will be determined by the next session of the state Senate, so Republicans have a lot riding on this election. If they don't regain a majority, and thus greater control over redistricting, they can probably kiss a comeback in the near future goodbye, being relegated to the perpetual minority as they are in the Assembly.
It certainly didn't help that 10 Republican incumbents announced their retirements, ran for other office or otherwise vacated their seats this year. Although few if any stated their possible minority status as a key factor behind leaving the chamber, it could be an indicator that those members foresaw a bleak future. Now, instead of just trying to flip back newly Democratic seats and shoring up incumbents against challengers, Republicans will also have to battle for a bunch of open seats as well, several in districts that likely stayed red due to the power of incumbency. 
That's sure to stretch the New York State Senate Republican Campaign Committee's finances incredibly thin. It only has about $978,000 on hand as of its most recent campaign filing and has been spending relatively small amounts of money on a few chosen candidates. At this time in 2018, the committee had more than $2.3 million, so its coffers are looking, in comparison, quite low. The New York State Democratic Senate Campaign Committee, on the other hand, is practically rolling in cash with over $2.7 million to work with about a month before Election Day. The committee spent nearly $4 million to support Democratic candidates since July, both on potentially vulnerable incumbents and those seeking to replace Republicans. This time two years ago, the committee only had $705,000.
Still, several newly elected Democrats are vulnerable, especially on Long Island and the mid-Hudson Valley, where Republicans could pick up a few seats. Many are running on "law and order" platforms in suburban districts where the 2019 bail reform law, which eliminated bail for most nonviolent and some violent offenses, was unpopular. Although several moderate Democrats in these districts supported amendments to the law, and ultimately the Legislature rolled back portions of the law, criminal justice reform will likely still play a major role in deciding the second-term fate for several Democrats. Billionaire Ronald Lauder, a Republican donor who has ties to Gov. Andrew Cuomo, has notably been spending millions through the super PAC Safe Together New York to attack these vulnerable Democrats on criminal justice reform issues.
In the same vein, Republicans are often running on pro-police sentiment as protests against police brutality and systemic racism have led police unions to declare that they are being attacked by Democrats. Several of those unions, which had previously backed Democrats, formed a coalition to endorse Republican challengers over Democratic incumbents. While the loss of those endorsements may not mean much in New York City, it could have an impact in suburban swing districts, where gaining or losing the support of the police during such a contentious time may mean more.
In the latest City & State Political Report, there are 19 competitive state Senate seats according to our analysis. Of those seats, 11 are open seats, with 10 previously held by Republicans and one previously held by a Democrat. Six others are currently held by first-term Democrats, while two are held by Republicans. It's possible that the GOP could pick up a couple vulnerable seats, but the odds are still in Democrats' favor to maintain and grow their majority. But only time will tell if the numbers line up for a supermajority.
Here is our rundown of the state Senate races to watch.
Safe Democrat (33)
Anna Kaplan, John Brooks, Todd Kaminsky, James Sanders Jr., John Liu, Michael Gianaris, Jessica Ramos, Leroy Comrie, Joseph Addabbo Jr., Toby Ann Stavisky, Simcha Felder, Julia Salazar, Roxanne Persaud, Zellnor Myrie, Kevin Parker, Diane Savino, Jabari Brisport*, Brian Kavanagh, Brad Hoylman, Liz Krueger, José M. Serrano, Brian Benjamin, Robert Jackson, Luis Sepúlveda, Gustavo Rivera, Alessandra Biaggi, Andrea Stewart-Cousins, Jamaal Bailey, Shelley Mayer, James Skoufis, Neil Breslin, Rachel May, Tim Kennedy
* Not an incumbent
Likely Democrat (5)
DISTRICT 5
James Gaughran (D, incumbent) vs. Edmund Smyth (R)
2018 election: Gaughran 54.90%, Carl Marcellino 45.10%
2016 presidential election: Clinton +3 percentage points
Voter registration: 79,311 active Democrats, 69,309 active Republicans
After two attempts to unseat former state Sen. Carl Marcellino, James Gaughran is unlikely to give up his seat easily after just one term. After his near loss in 2016, Gaughran won a decisive victory two years ago against the longtime incumbent, part of the "blue wave." Although he won a decisive victory in 2018, Gaughran's power of incumbency will be tested this year. The Democratic Senate Campaign Committee doesn't seem to be taking any chances and has already spent more than $200,000 to aid Gaughran in his reelection bid. He also has over $236,000 in his campaign coffers about a month before Election Day. But Edmund Smyth, a Huntington Town Council member, promises to put up at least a nominal fight, making the perennial pledge to uphold Long Island values in the face of New York City Democrats. With a background in local politics, he represents a known entity to at least some voters and has a track record. He started his campaign by transferring nearly $19,000 from his previous campaign account to his Senate one, received a $7,000 loan from another campaign and raised nearly $129,000 this year. Smyth had nearly $116,000 on hand as of his most recent campaign finance filing, still less than Gaughran but enough to be competitive. The Senate Republican Campaign Committee also spent nearly $29,000 on Smyth's race, far less than the Democrats. While Gaughran has voted against his conference on several occasions, including against the so-called Green Light Law that allows undocumented immigrants to obtain driver's licenses and was unpopular on Long Island, this election will tell whether voters think he has done enough to uphold Long Island values in the state Legislature. Cuomo is campaigning for Gaughran, who is also being targeted by the Safe Together New York committee that is attacking several vulnerable Democrats.
DISTRICT 22
Andrew Gounardes (D, incumbent) vs. Vito Bruno (R)
2018 election: Gounardes 51%, Martin Golden 49%
2016 presidential election: Trump +0.7 percentage points
Voter registration: 79,181 active Democrats, 33,065 active Republicans
State Sen. Andrew Gounardes eked out a slim victory against longtime former state Sen. Martin Golden two years ago. That would seem to make him a ripe target for a Republican challenger this year, but Vito Bruno entered this campaign with plenty of his own baggage. The former nightclub owner told The New York Times in 1983 that he would give cash to police officers, ostensibly to bribe them to continue allowing him to hold parties past the city's curfew. Bob Woodward reported in a book about John Belushi's life that Bruno would get drugs for the actor and his celebrity friends, though Bruno denied that claim. Whether the seemingly criminal behavior dating back to the 1980s throws a wrench in his "law and order" pitch to South Brooklyn voters remains to be seen. But that message also rings hollow given that Gounardes – who has taken a largely moderate stance on policing – has attracted financial support from the Police Benevolent Association of New York State and the Police Conference of New York. He also recently announced he's gained the support of several firefighters' unions. In overall fundraising, Gounardes certainly remains in the lead. While Bruno has raised about $83,000 since announcing his campaign – of which $16,869 came from Bruno – the state senator has raised about 10 times that amount since January, according to his latest filling in October. The DSCC recently transferred $350,000 to Gounardes' campaign account and spent another $272,000 on his race, an indicator that the party recognizes his potential vulnerability. The SRCC, meanwhile, has spent just $1,125 to support Bruno. Gounardes is also being targeted by the Safe Together New York super PAC.
DISTRICT 38
Elijah Reichlin-Melnick (D) vs. William Weber Jr. (R)
2018 election: David Carlucci 65.40%, C. Scott Vanderhoef 34.60%
2016 presidential election: Clinton +10.9 percentage points
Voter registration: 87,233 active Democrats, 42,570 active Republicans
After state Sen. David Carlucci decided to run for Congress – a crowded Democratic primary to replace retiring Rep. Nita Lowey that Mondaire Jones ultimately won – his seat in Rockland and Westchester counties opened up, the only open seat this cycle that was held by a Democrat. With the slew of open Republican seats, this race has flown somewhat under the radar and is very likely to remain Democratic given the party's nearly 2-to-1 voter enrollment advantage and Carlucci's overwhelming victory in 2018. Elijah Reichlin-Melnick, the legislative director to state Sen. James Skoufis, defeated challenger Justin Sweet in a contentious June primary. Reichlin-Melnick now faces William Weber Jr., an accountant who was the pick of Republican leaders after their first choice, Clarkstown Supervisor George Hoehmann, decided to drop out of the race. Along with broad union support, Reichlin-Melnick has raised about $257,000 since the beginning of the cycle, although has just $42,000 in his war chest about a month before Election Day after a bruising primary. That puts him about even with Weber, who has $45,000 on hand after his own primary and after having raised considerably less than Reichlin-Melnick since entering the race. However, the DSCC has spent over $135,000 to support Reichlin-Melnick, while Weber recently loaned himself $10,000, but has received no support from the SRCC. Reichlin-Melnick also received support from a real estate-backed independent expenditure committee called Hudson Valley Voters for Change, which spent heavily in his favor during the primary. The committee, which formed shortly before that primary and has so far only only spent in support of Reichlin-Melnick, has not raised any money since the primary and does not appear likely to play a role in the upcoming general election.
DISTRICT 40 
Pete Harckham (D, incumbent) vs. Rob Astorino (R)
2018 election: Harckham 51.60%, Terrence Murphy 48.40%
2016 presidential election: Clinton +6.9 percentage points
Voter registration: 76,925 active Democrats, 58,820 active Republicans
State Sen. Pete Harckham delivered a narrow victory against two-term incumbent Terrence Murphy in 2018, an upset in the longtime Republican district. In a test to see whether the seat stays blue, former Westchester County Executive and gubernatorial candidate Rob Astorino is running. Once a prominent figure in the state GOP, Astorino is hoping to revive a decimated Republican Party in Westchester County, where most of the district's voters live. But that is likely going to be a tough sell. Since the 2016 presidential election and Astorino's tenure as county executive, there are no longer any Republicans on the county Board of Legislators and his former post is now held by a Democrat. Astorino keeps close ties to President Donald Trump, who lost the district in 2016. Harckham managed to win in 2018 largely on the support of Westchester County voters, despite losing those in the more conservative parts of the district encompassing Dutchess and Putnam counties. Even so, Astorino's track record and name recognition will be sure to give him a boost. He entered the race with $1 million on hand, much of which came from previous campaigns. Since then, he's raised an additional $400,000 according to the most recent filing with the state Board of Elections. He has more than triple on hand than Harckham, who has $154,000. The DSCC has also transferred $300,000 into Harckham's coffers and otherwise spent nearly $350,000 to support his reelection. The SRCC has not yet used any cash to back Astorino, however the state Republican Party has so far spent $55,000 to aid Astorino. Harckham is also one of several Democrats who Cuomo has or will appear on behalf of at a virtual campaign event.
DISTRICT 60
Sean Ryan (D) vs. Joshua Mertzlufft (R)
2018 election: Chris Jacobs (R) 55.80%, Carima El Behairy (D) 44.20% 
2016 presidential election: Clinton +4.4 percentage points
Voter registration: 88,456 active Democrats, 50,487 active Republicans
Just as open seats in the Rochester area offer prime real estate for Democratic pickups, so does this open swing district that includes Buffalo and its suburbs. Former Repbulican state Sen. Chris Jacobs left the seat vacant when he won the special election for the 27th Congressional District this summer. Despite the Democratic voter enrollment advantage, Republicans have traditionally performed well in the district, with those representing the area often labeled as relative moderates. It's a label Jacobs had during his time in the Senate, as did former state Sen. Mark Grisanti, one of the few Republicans who voted in favor of same-sex marriage in 2011. Democrats have a strong candidate in Assembly Member Sean Ryan, a sign the party is serious about picking up the seat. Republicans, however, scrambled to recruit someone of equal strength and ultimately failed to entice former Erie County Legislator and one-time county executive candidate Lynne Dixon. Local party leaders decided to back Joshua Mertzlufft, a local attorney, and said they could run a competitive race even without Dixon. But after losing the state Senate in 2018, the increasingly leftward trend of districts statewide and missing out on their top candidate, the GOP is likely the underdog in the race. Ryan came into the race with over $200,000 shifted over from his Assembly campaign account and has otherwise raised about $396,000, giving him a huge cash advantage. He currently has nearly $300,000 on hand as of the beginning of October and is already spending a healthy amount. Mertzlufft, on the other hand, has raised less than $36,000 since entering the race earlier this year, $2,500 of which came from a loan from a family member. The DSCC has also spent nearly $170,000 to support Ryan's campaign, while the SRCC has yet to spend any money for Mertzlufft.
Lean Democrat (6)
DISTRICT 3
Monica Martinez (D, incumbent) vs. Alexis Weik (R)
2018 election: Martinez 51.60%, Dean Murray 48.40%
2016 presidential election: Trump +6 percentage points
Voter registration: 66,836 active Democrats, 54,849 active Republicans
State Sen. Monica Martinez pulled ahead in a tough election in 2018 for an open seat in Suffolk County, which often swings conservative. Trump won her district four years ago, although polling suggests that his popularity may be on the decline in the county as a whole, which he won by 6 percentage points in 2016. Alexis Weik, the Islip receiver of taxes, has said the district represents the GOP's best shot at winning back ground lost in 2018 – and she's likely right. Although Martinez did not win in a landslide in 2018, the first-term senator has several things going for her that makes her likely to hold on to her seat. First off, Weik has less name recognition than Dean Murray, who in 2018 was the Assembly member representing the area and was a very strong candidate. Voter enrollment in the district has also shifted slightly more in Martinez's favor, with an uptick in Democratic voters and a decrease in Republican voters. Additionally, Martinez has built a solid reputation as one of the more moderate members of her conference who was unafraid to take stances that put her at odds with some of her colleagues. She supported amendments to the landmark bail reform law, and even introduced her own legislation, supported by other Long Island Democrats, that added a public safety component. That plays well in a conservative-leaning district, and among suburbanites who want to ensure their voices are heard in Albany. Martinez is also in a strong fundraising position – she currently has more than $46,000 on hand. Additionally, the DSCC has spent $235,000 in support of Martinez, and transferred more than $290,000 to her campaign account, an indication the party is committed to defending the seat. Weik has about $97,000 on hand, having raised about $128,000 since January. She has so far spent far less money compared to Martinez. The SRCC has so far spent about $14,000 to support her and the state Republican Party has spent another $28,000. Gov. Andrew Cuomo is also campaigning for Martinez, who is the one of several targets of the conservative super PAC Safe Together New York, funded by billionaire Ronald Lauder.
DISTRICT 6
Kevin Thomas (D, incumbent) vs. Dennis Dunne Sr. (R)
2018 election: Thomas 50.80%, Kemp Hannon 49.20%
2016 presidential election: Clinton +2.7 percentage points
Voter registration: 83,294 active Democrats, 70,615 active Republicans
State Sen. Kevin Thomas managed to narrowly beat then-state Sen. Kemp Hannon in 2018 despite a stark difference in fundraising, very much a surprise upset during the "blue wave." Thomas now seems to be in a strong position to hold on to his seat with more than $189,000 on hand with endorsements – like most of his fellow Democrats – from influential unions like 32BJ SEIU and Communication Workers of America District 1. He has a big fundraising advantage over his opponent Dennis Dunne Sr., who had just $45,000 on hand at the beginning of October. Dunne is a former Nassau County legislator and current Hempstead Town Council member, so he's not a political unknown like Thomas was two years ago when he won. Dunne is running in large part to repeal the 2019 bail reform law, which Thomas voted for as part of the state budget though he also later supported rollbacks to the law. Dunne also has the backing of a coalition of 23 police unions, which announced their support for other Republican candidates, including Weik and Smyth on Long Island. Although police union support has become toxic in New York City, losing their support on Long Island would still have an impact. Interestingly, several police unions had previously donated to Thomas' campaign earlier this year before the endorsements were announced. The DSCC has also spent over $391,000 so far to help Thomas defend his seat, while the SRCC has spent just $800 on the race, the second lowest amount out of the candidates that the committee has supported. Cuomo is also campaigning for Thomas, who is another target of the conservative super PAC Safe Together New York. The New York City Police Benevolent Association has bought about $578,000 in ads so far to oppose him.
DISTRICT 42
Jen Metzger (D, incumbent) vs. Mike Martucci (R)
2018 election: Metzger 51.80%, Ann Rabbitt 48.20%
2016 presidential election: Trump +5.2 percentage points
Voter registration: 67,386 active Democrats, 53,756 active Republicans
State Sen. Jen Metzger pulled off a narrow victory in 2018 to flip the seat blue after two decades of Republican representation. It's not too surprising that the GOP is pinning its hopes on reclaiming this Hudson Valley district, which largely supported President Donald Trump in 2016. Mike Martucci, who owned a school bus business and served as president of the New York School Bus Contractors Association, has been self-funding much of his campaign against Metzger. Of the approximately $484,000 he has raised this year, $300,000 has come from loans to himself. That is close to the $513,000 that Metzger has raised over the same time period, though she currently has more cash on hand than Martucci according to the latest filings with the state Board of Elections. The senator currently has $436,000 to spend compared with Martucci's $136,000. The SRCC recently spent $68,400 to support the Republican candidate's campaign. The DSCC so far has spent $239,000 to support Metzger. Martucci's challenge won't be smooth however, as he goes up against the incumbent senator – albeit in her first term – representing a district with a great number of Democratic voters. Bail reform has been at the forefront of Martucci's case against Metzger, who supported the state's initial bail reform law and, later, the amendments that scaled back its scope.
DISTRICT 46
Michelle Hinchey (D) vs. Richard Amedure (R)
2018 election: George Amedore (R) 55.80%, Pat Strong (D) 44.20%
2016 presidential election: Trump +4.3 percentage points
Voter registration: 69,054 active Democrats, 52,270 active Republicans
This is another swing district that Democrats are well positioned to pick up. Retiring state Sen. George Amedore first won the seat in 2014, unseating then-state Sen. Cecilia Tkaczyk, a Democrat. But despite his relatively short tenure, Amedore, the highest outside earner in the state Senate, decided to call it quits this year. Although the district voted for Trump in 2016, it backed Obama in 2012 and has a strong, if not overwhelming, Democratic voter enrollment advantage. It also has a fairly significant number of unaffiliated voters, who may contribute to the district's swing nature and could be key in deciding this race. The Democrats have a strong candidate in Michelle Hinchey, the daughter of former Rep. Maurice Hinchey, a political legend in the mid-Hudson Valley and Capital Region. Hinchey announced her campaign late last year with broad support from local Democratic leaders. She has raised about $446,000, an impressive sum, and has nearly $143,000 in her war chest as of her latest filing in October. Republican Richard Amedure – a military veteran and former police union head whose name is very close to the man whose legacy he vows to uphold – has raised $91,000 since entering the race earlier this year and has about $82,000 on hand as of the beginning of October. The SRCC has also spent just shy of $13,000 on this race so far as well, while Hinchey transferred more than $107,000 for the DSCC to spend on mailers.
DISTRICT 55
Samra Brouk (D) vs. Chris Missick (R)
2018 election: Rich Funke (R) 51.90%, Jennifer Lunsford (D) 48.10%
2016 presidential election: Clinton +18.5 percentage points
Voter registration: 81,104 active Democrats, 55,048 active Republicans
Of the open seats that will be vacated by Republican incumbents, the one currently held by state Sen. Rich Funke is perhaps one of the Democrats best chances at a pickup. The district has fluctuated between Democrats and Republicans for the past several decades. Funke unseated Democratic state Sen. Ted O'Brien in 2014, who had replaced retiring Republican state Sen. James Alessi in 2012. Funke was something of a local celebrity when he won as a longtime reporter and primetime local anchor, recognition that boosted his chances and helped maintain his popularity in an increasingly Democratic district. Despite his incumbency, a Democratic insurgent still came surprisingly close to unseating him in 2018, two years after the district soundly rejected Trump. With Funke's retirement and a strong Democratic voter enrollment advantage in a historical swing district, Republicans will likely have a tough time holding on. Democrat Samra Brouk has a slew of endorsements from both the establishment and progressive left, including the Working Families Party, Citizen Action of New York and prominent unions like 32BJ SEIU. And with $156,000 on hand, after raising over $393,000 since entering the race last year, Brouk has already spent fairly heavily. She has also received nearly $172,000 in financial support from the DSCC. Republican Chris Missick has raised more than Brouk since entering the race earlier this year – about $450,000 in total – but about half that has come from loans to his own campaign. He also has more cash on hand with $238,000. And the SRCC has spent about $28,000 to support him, with the state Republican Party pitching in another $11,000. Missick also received an endorsement from Funke, which could be the final test of the retiring state senator's influence in the district, and has been backed by a wide range of police unions. Brouk, meanwhile, has some campaign support from Cuomo as well.
DISTRICT 56
Jeremy Cooney (D) vs. Mike Barry Jr. (R)
2018 election: Joseph Robach 55.50%, Cooney 44.50%
2016 presidential election: Clinton +13.1 percentage points
Voter registration: 73,793 active Democrats, 44,682 active Republicans
In another district that spans urban and suburban areas, including a part of Rochester, retiring state Sen. Joseph Robach's seat is another strong pickup opportunity for the Democrats. Jeremy Cooney unsuccessfully attempted to unseat Robach two years ago. But with Robach retiring after 17 years in office, Democrats could have a real shot at winning the seat. Having served as chief of staff to Rochester Mayor Lovely Warren, Cooney is now running again in a district where Democratic voters significantly outnumber Republicans voters. Unions like the Civil Service Employees Association and the New York State AFL-CIO that once endorsed Robach have backed Cooney this year. Greece Town Council Member Mike Barry Jr., the Republican nominee, has a long way to go to catch up to Cooney's fundraising. Cooney has raised $203,000 since the primary, according to his most recent campaign fillings, compared to Barry's $30,000, of which $2,000 came from the SRCC. That party committee has also spent an additional $1,500 on Barry's behalf, a paltry sum compared to how much the DSCC is spending. The committee has spent more than $141,000 to support Cooney so far.
Toss-up (2)
DISTRICT 41
Sue Serino (R, incumbent) vs. Karen Smythe (D)
2018 election: Serino 50.30%, Smythe 49.70%
2016 presidential election: Clinton +1.3 percentage points
Voter registration: 72,517 active Democrats, 54,028 active Republicans
State Sen. Sue Serino narrowly held onto her seat in 2018 after a challenge from first-time candidate Karen Smythe, managing not to succumb to the blue wave that decimated the Republican state Senate majority despite a Democratic voter enrollment advantage and the fact her district voted blue in the past two presidential elections. But now, Serino is fending off a repeat challenge from Smythe, who now has more experience and endorsements from major unions like New York State United Teachers and groups like the Working Families Party. Long Island state Sen. James Gaughran defeated the Republican incumbent in his district in a rematch after a narrow loss, so who's to say the same won't happen in mid-Hudson Valley? Serino is one of only two GOP incumbents that has so far received any financial support from the SRCC – it has spent $5,400 to support her, a likely indication that Republican leaders recognize that Serino is a vulnerable sitting member. However, it's still far less than how much the committee has spent on candidates in open seats. The DSCC, meanwhile, has spent about $97,000 to support Smythe, making her the only candidate being supported by the committee to take on a sitting GOP senator. Serino has just shy of $178,000 on hand at the beginning of October, while Smythe has an impressive $209,000. While Smythe has had healthy fundraising numbers this cycle, she has also loaned her own campaign $100,000. Cuomo is lending his support by appearing at at least one virtual campaign rally for Smythe.
DISTRICT 50
John Mannion (D) vs. Angi Renna (R)
2018 election: Robert Antonacci 51%, Mannion 49%
2016 presidential election: Clinton +5 percentage points
Voter registration: 65,550 active Democrats, 61,879 active Republicans
After longtime state Sen. John DeFrancisco announced his retirement in 2018, a fierce battle ensued to replace him in a Central New York district that by the numbers should swing at least slightly Democratic. New York State United Teachers spent heavily in favor of public school teacher John Mannion through independent expenditures, but Republican Robert Antonacci came out on top. However, Antonacci resigned just a year into his tenure when he accepted a judgeship, leaving his seat vacant. Although a special election had originally been scheduled for earlier this year, it was canceled due to the coronavirus pandemic. Now, Mannion is trying his luck again, facing off against Republican Angi Renna, a financial planner, in what may turn out to be one of the most contentious races of the cycle. Both parties are targeting the seat, with the DSCC having spent over $244,000 on Mannion so far after largely staying out of this race in 2018. It's the most money the committee has spent so far on a nonincumbent. The SRCC meanwhile has spent $43,000 on Renna's behalf, the second-highest amount they have spent so far on any candidate. Mannion has about $96,000 in his coffers as of the beginning of October, while Renna has $43,000. But money was not the deciding factor in 2018, even as both sides have begun pouring cash into the race, so Mannion's financial leg up is hardly a guarantee of victory. Mannion is also being targeted by the super PAC Safe Together New York that is running ads against a handful of Democrats.
Lean Republican (3)
DISTRICT 1 
Anthony Palumbo (R) vs. Laura Ahearn (D)
2018 election: Kenneth LaValle (R) 56.90%, Greg Fischer (D) 43.10%
2016 presidential election: Trump +8 percentage points
Voter registration: 70,546 active Democrats, 70,610 active Republicans
Republicans have a lot of districts they need to defend with the flood of retirements in the state Senate, but state Sen. Kenneth LaValle's district on the east end of Long Island is one of the seats they have a good shot at keeping. Voter enrollment is split evenly between Republicans and Democrats, something that is increasingly rare in New York, and in the past Republicans have generally fared well in the district. The GOP is losing a stalwart in LaValle, who has held his seat since 1977. Assembly Member Anthony Palumbo is running to replace him, looking to make the jump from the lower chamber where he's served since 2013. Laura Ahearn, an attorney and social worker who focuses on victims' services and criminal justice, has a fair amount of name recognition in the district as well as endorsements from both of New York's senators, but still likely faces an uphill battle. Palumbo transferred more than $33,000 from his Assembly campaign account into his Senate account, and has otherwise raised about $123,000 since entering the race earlier this year. He has $87,000 as of his latest campaign filing. The SRCC has also spent a little over $14,000 so far on him, with the state Republican Party chipping in another $30,000. Ahearn had some impressive fundraising numbers for her primary, and raised about $143,000 in the most recent filing period. She also infused $75,000 of her own cash into the campaign and had a healthy $116,000 at the start of October, giving her a leg up when it comes to finances. She also had the backing of the independent expenditure committee Stand Up Long Island, funded by major New York City real estate players, which spent over $137,000 in support of her primary campaign. As of October, the committee had about $5,000 on hand and has not raised any money since the primary, so it likely won't play a major role in the general. Ahearn transferred about $31,000 to the DSCC for it to spend on the race.
DISTRICT 2
Mario Mattera (R) vs. Michael Siderakis (D)
2018 election: John Flanagan (R) 54.9%, Kathleen Cleary (D) 45.10%
2016 presidential election: Trump +12.9 percentage points
Voter registration: 68,977 active Democrats, 73,716 active Republicans
Former state Senate Minority Leader John Flanagan abruptly left the state Legislature earlier this year after having previously said he would not seek reelection, leaving his seat vacant since late June. Like LaValle's district to the east, Republicans are well positioned to hold on to this Suffolk County seat. It not only went big for Trump in 2016, it's one of the few open seats where Republicans have a voter enrollment advantage. Despite that, in 2018 Flanagan fended off the closest challenge he had had in years. He won by double digits, but it was not the typical landslide victory he had enjoyed in the past. And with last year's surprise upsets on Long Island, both against incumbents and for open seats, no seat should be written off. The Suffolk County Republican Party tapped Mario Mattera, a local union leader, to replace Flanagan. Mattera previously ran an unsuccessful campaign for the Suffolk County Legislature in 2013 and his union credentials may help him attract some union support that traditionally goes to Democrats. Former state trooper Michael Siderakis is running as a moderate on the Democratic line, and his law enforcement background could help counter Mattera, who is running on a strong "law and order" platform. In September, Siderakis announced he gained the support of the powerful union 1199SEIU. Mattera has raised over $244,000 since entering the race earlier this year, and currently has over $200,000 on hand at the beginning of October, giving him a strong fundraising advantage. Siderakis meanwhile has raised only around $51,000, in addition to loaning himself $25,000. He had $22,000 in his campaign coffers as of October. The SRCC has given only $530 to aid Mattera, although his fundraising numbers are impressive even without the committee's help. But that's still more than the DSCC has given Siderakis, which is nothing, an indication that Democrats might not see the race favorably.
DISTRICT 61
Ed Rath (R) vs. Jacqualine Berger (D)
2018 election: Michael Ranzenhofer (R) 54.10%, Joan Seamans (D) 45.90%
2016 presidential election: Trump +0.5 percentage points
Voter registration: 71,882 active Democrats, 63,085 active Republicans
Completing the Rochester-area trifecta of state Senate districts, state Sen. Michael Ranzenhofer is retiring, leaving his swing seat open for the first time in about a decade. The eastern end of the district includes part of Rochester and stretches into Western New York. The seat has traditionally been held by Republicans, although Democrats have a slight voter enrollment advantage. Jacqualine Berger, the Democratic candidate and an Amherst Town Council member, lacks the same number of endorsements from progressive groups and unions that other candidates have – although she does have several local unions and elected officials in her corner – nor does she have the backing of the Working Families Party. And Berger had only $46,000 on hand as of the beginning of October, including a $2,000 transfer from the Amherst Democratic Committee. Ed Rath, on the other hand, has $119,000 in his coffers. The Erie County legislator transferred $28,500 from his previous campaign account into his current state Senate account, giving him a significant financial advantage from the beginning. The SRCC has also spent over $43,000 to support him, one of just a handful of candidates across the state the committee has so far financially backed. The state Republican Party has also spent $2,450 for Rath as well. The DSCC has not spent any money to help Berger.
Likely Republican (3)
DISTRICT 4
Phil Boyle (R, incumbent) vs. Christine Pellegrino (D)
2018 election: Boyle 51.80%, Lou D'Amaro 48.20%
2016 presidential election: Trump +8.1 percentage points
Voter registration: 72,002 active Democrats, 61,364 active Republicans
In a bit of local political intrigue, state Sen. Phil Boyle has continued to hold on to his Suffolk County seat thanks to a deal that Suffolk County Democratic Committee Chairman Rich Schaffer made with his predecessor, former state Sen. Owen Johnson. Schaffer used to let Johnson hold on to his seat without backing strong Democratic challengers after Johnson supported a bill for Schaffer over GOP objections. The pair continued to collaborate on local politics and the deal seemed to extend to Boyle after Johnson retired. But Schaffer can only do so much when Gov. Andrew Cuomo personally recruits a strong candidate to run, as he did with Suffolk County Legislator Lou D'Amaro in 2018, who almost defeated Boyle. But D'Amaro is not running again this year. Instead, former Assembly Member Christine Pellegrino is taking on Boyle. Ordinarily, a former member of the state Legislature would be a fairly strong candidate, but Pellegrino was voted out of office after just one term following a Newsday report that said she had nearly $186,000 in federal tax liens as well as significant other debts, including $300,000 in state tax liens, about $1,500 in unpaid neighborhood association fees and six Suffolk County traffic tickets. That kind of public baggage, and the fact that she kept it hidden during her first race, will likely impact her comeback attempt. Still, Pellegrino has raised more than $134,000 since entering the race, which includes $12,000 she loaned her campaign, and has about $76,000 on hand as of her most recent filing in July. Boyle has so far raised $29,000 and had $74,000 in his war chest as of his most recent filing. Neither the SRCC nor the DSCC has spent any money on this race so far.
DISTRICT 45 
Dan Stec (R) vs. Kimberly Davis (D)
2018 election: Betty Little (R) 64.40%, Emily Martz (D) 35.60%
2016 presidential election: Trump +6.6 percentage points
Voter registration: 55,609 active Democrats, 67,046 active Republicans
Assembly Member Dan Stec is well positioned to replace nine-term Republican state Sen. Betty Little, who announced her retirement last year. Republicans voters outnumber Democrats in the rural North Country district, which swung for Trump in 2016. Stec has also attracted significantly more attention on social media – his campaign's Facebook page is liked by more than 10,000 people while Kimberly Davis' page is around 2,000. Davis, who serves as treasurer of Clinton County, also recently lost her fundraising advantage. Stec has now raised $183,000 this year compared to Davis' $122,000, and has $61,000 more cash on hand leading up to the general election. Still, Davis has managed to amass endorsements from several unions, including the New York State AFL-CIO, 1199SEIU and Civil Service Employees Association Local 1000. She has pitched herself as a bipartisan option to capture more unaffiliated voters, emphasizing her upbringing in a Republican family, praising Little and arguing that representation for the district would be improved by the presence of someone in the majority party.
DISTRICT 51
Peter Oberacker (R) vs. Jim Barber (D)
2018 election: James Seward (R) 63.50%, Joyce St. George (D) 36.50%
2016 presidential election: Trump +13.7 percentage points
Voter registration: 53,972 active Democrats, 64,487 active Republicans
Republican Peter Oberacker, a businessman and member of the Otsego County Board of Representatives, will likely replace retiring state Sen. James Seward in a sprawling Mohawk Valley and Finger Lakes region district that still has a Republican voter enrollment advantage and strongly backed Trump in 2016. Seward handedly defeated a Democratic challenger in 2018, unlike in several other districts where incumbents were involved in their closest races in years. He's facing off against Democratic farmer Jim Barber, who has no political background and believes he would bring a unique agricultural perspective to the state Legislature. That's certainly not a deal breaker given recent precedent, but a Democratic political novice in a strongly Republican district faces an uphill battle and likely won't get much if any support from state party leaders. Still, Barber has solid fundraising numbers, bringing in about $200,000 since declaring his candidacy late last year and had $58,500 in his account as of October. That puts him about even with Oberacker, who has raised over $228,000 this year. Oberacker currently has more cash on hand with $103,000, and he has also loaned his campaign more than $70,000. Both candidates have also received between $5,000 and $6,000 from local party committees. Barber transferred about $56,500 to the DSCC for it to spend on mailers. He is also one of several targets of the conservative super PAC Safe Together New York.
Safe Republican (11)
Andrew Lanza, Daphne Jordan, Joseph Griffo, Patty Ritchie, James Tedisco, Fred Akshar, Pamela Helming, George Borrello, Thomas O'Mara, Patrick Gallivan, Robert Ortt
Correction: An earlier version of this story incorrectly stated the amount of money Mike Martucci loaned to his own campaign. The story also previously incorrectly described spending by the New York State Democratic Senate Campaign Committee on three candidates: Michelle Hinchey, Laura Ahearn and Jim Barber. The candidates transferred money to the committee for it to spend on each of those races. The committee did not use its own funds.
Powered By
NEXT STORY: AOC's Twitch adventure is a lesson for other electeds