New York State
What's uniting political left and right?
Democrats and Republicans are making some common cause at the state level in these crazy political times.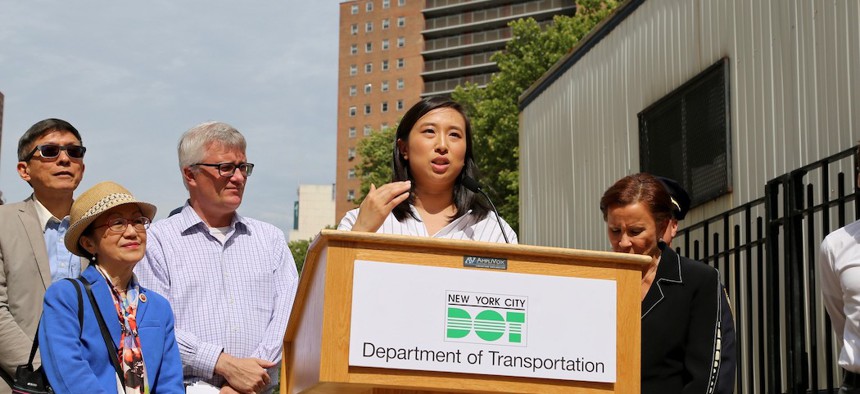 It is not often that a Trump-loving conservative Republican like state Senate Minority Leader Robert Ortt of Western New York and progressive firebrand Assembly member Yuh-Line Niou of Manhattan agree on anything. Yet, they both agree that Gov. Andrew Cuomo has gone too far by threatening local governments with the loss of state funding unless they increase their enforcement of social distancing restrictions. 
The governor appeared to play down the threat issue Thursday. "I think local governments have gotten the message," Cuomo said Thursday about the possible withholding of funding to New York City, Rockland and Orange counties, the town of Ramapo and the village of Spring Valley. "Enforcement works," he added despite some recent evidence to the contrary, as COVID-19 cases surge in some parts of the state.
Yet, the state withholding funds remains a possibility at a time when the economic damage from the pandemic is causing record increases in poverty and hunger among New Yorkers across the state. "State aid to localities helps businesses, schools and residents across the state – all struggling to survive," Ortt said in a statement on Thursday. That is not so different from what people across the aisle are saying. "If he withholds funding, he is going to hurt everyone even more and cause more services to be cut," Niou told City & State. 
How the governor is wielding emergency powers during the coronavirus pandemic is just one of several examples in which some on New York's political left and right are making common cause, at a time when Democrats and Republicans are more divided than ever at the national level. A bipartisan group of state lawmakers is pushing the Cuomo administration to loosen visitation rules at nursing homes and make good on promises to release data on how many COVID-positive residents later died in hospitals. 
This is just the latest example of state lawmakers raising the idea of reconvening to rescind the emergency powers they granted the governor by large bipartisan majorities in early March. "We're moving heaven and earth to fight this pandemic," Cuomo spokesperson Rich Azzopardi said Thursday, in response to comments by state Senate Deputy Majority Leader Michael Gianaris, who suggested lawmakers should revoke the governor's emergency powers. "Politicians are guided by their own politics, we'll leave the performance art and grand pronouncements to them." Azzopardi did not respond to a question about whether state Senate Majority Leader Andrea Stewart-Cousins or Assembly Speaker Carl Heastie had responded to the governor's threat to local funding. 
Spokespeople for the legislative leaders did not respond to requests for comment by publication time, but it appears unlikely that the state Legislature will reconvene any time soon to force the governor's hand on nursing homes or funding for local governments. It is not so easy to challenge the governor, one Republican legislative staffer, who requested anonymity to speak candidly about the situation, told City & State. Using the full arsenal of political options available to the state Legislature could mean taking on responsibility for decisions on the state budget or pandemic response that could be unpopular with voters. "It is a double-edged sword," added the GOP staffer.
The presidential election is just weeks away and the ongoing prospects of more federal stimulus funding means the state is still waiting to decide what to do with plugging a $14 billion budget hole in the current fiscal year. That is one reason state lawmakers are saying the governor should not use funding for local social services as political leverage. "There is already a line to my food pantry that starts hours before 9 a.m. and stretches 12 blocks," Assembly Member Ron Kim, a Democrat, said of a local food pantry near his Queens home. The fact that the left-wing lawmaker has teamed up with upstate conservative state Sen. Jim Tedisco and other Republicans to make the governor release more data on nursing homes is an example of how criticisms of the governor's pandemic performance are coming from the political left as well as the political right – despite Cuomo's claims to the contrary. 
"We have an administration unwilling to admit mistakes, and I think that is a very dangerous way of approaching a crisis," Kim said. "I can attest the core majority of people are not there to politicize this moment."
There is a darker side to how the political left and right can work together. Republicans like Ortt are looking to use criticism of the governor against Democrats in the upcoming elections. "His tactics of fear, made possible by One Party Rule, need to end," Ortt said in his Wednesday statement. 
Some Democratic voters, like many Upper West Side residents who objected to a temporary homeless shelter in their neighborhood, may be unintentionally forming an alliance with conservative pundits on Fox News who claim New York City is degenerating into a lawless "Aleppo-on-Hudson." A group of lower Manhattan residents is now suing New York City after Mayor Bill de Blasio announced plans to move the homeless men into a hotel on Wall Street. "What is MAGA, after all, but a globalized version of NIMBYism, intent on chasing people of color off America's pristine lawn?" Curbed New York wrote Thursday.
The mayor and the governor have said they are only trying to do what is best for New York, but their egos may be playing a big role in their decision-making process, according to Chrstina Greer, an associate professor of political science at Fordham University. "People upstate are hurting from what I can surmise, and I think people in New York City are hurting, but I think the governor keeps repeating that he is doing a great job," Greer said in an interview. "It really shows how similar Cuomo and Trump are, and you can throw de Blasio in there too."