Campaigns & Elections
Who not to vote for when choosing judges
Some of the candidates aren't campaigning and don't live where they are running.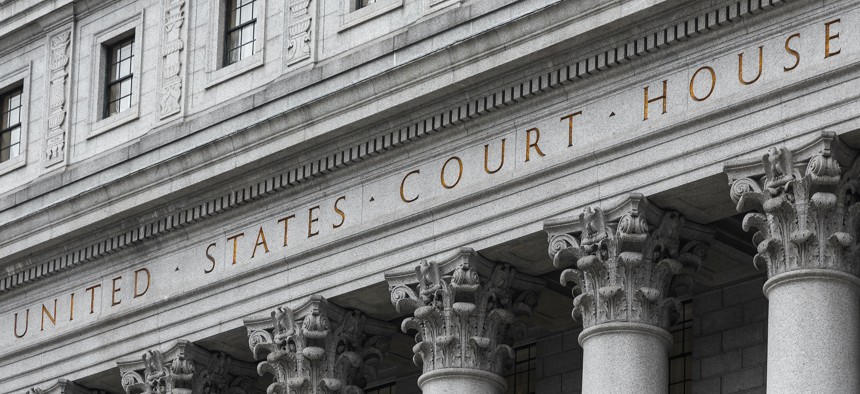 All eyes may be on the presidential election year, which is driving long lines at early voting sites across the state, but there are other races on the ballot – including perennially overlooked judicial races. Judges can hold incredible sway over the lives of New Yorkers, but barely any voters know who the candidates for judge are. Judicial nominations often happen through backroom party deals, sometimes leading to candidates running on both the Democratic and Republican lines. Appointments and nominations are used by party leaders as "rewards and payback," according to Common Cause New York Executive Director Susan Lerner. 
While reforming the state's judiciary is no easy feat, City & State can at least say which candidates for Supreme Court judge New York City residents should definitely not vote for: A handful of candidates are simply running to free up a third-party ballot line, and some of them don't even live in the city.
Third parties commonly use a bit of convoluted election law to get candidates off their ballot lines so they can give it to someone else. Typically, this happens after that candidate loses in a major party primary, in order to prevent them from playing spoiler in the election. The only way to remove a candidate from a ballot line that doesn't involve moving or dying is to nominate them for another position. Judgeships are the most common position the parties choose, because they're low profile and candidates don't need to live in the area they're running in. "It may be legal, but it's immoral," Lerner said.
The positions that these third-party non-candidates run for may be obscure but they are consequential. The state Supreme Court in New York City has fairly broad jurisdiction and handles many criminal and civil cases. Elected Supreme Court judges can one day get appointed to the Appellate Division, a higher court with even greater power. 
The practice gained some notoriety when the Working Families Party needed Cynthia Nixon off their gubernatorial ballot line in 2018, after she lost the Democratic primary to Gov. Andrew Cuomo. They ultimately nominated her to run for Assembly, since she legally couldn't run for a judgeship as a non-lawyer.
Perhaps the most high-profile example of the practice in New York this year is Beth Parlato, who is running on the Conservative line for state Supreme Court in Brooklyn, as well as on the Republican line. Parlato is a former congressional candidate in Western New York who sought to replace former Rep. Chris Collins. The Conservative Party originally backed her, but after she lost the Repbulican primary to Rep. Chris Jacobs, the third party nominated her for a judgeship so it could give its line to Jacobs. 
Justin Sweet is in a similar predicament. Sweet gained the WFP line in his campaign to replace state Sen. David Carlucci in Rockland and Westchester Counties. But he ultimately lost a tough Democratic primary against Elijah Reichlin-Melnick. To avoid playing spoiler, the WFP nominated Sweet for state Supreme Court in Queens, so it could give its ballot line to Reichlin-Melnick. Like Parlato, Sweet does not even live in New York City and is not campaigning for a Supreme Court judgeship.
People often can vote for multiple candidates in state Supreme Court races – in the Queens district Sweet is running in, voters can choose up to nine candidates. And that race has five other WFP candidates. Unlike Sweet and Parlato, these candidates weren't actually running in the races they were originally nominated for – each were placeholder candidates put on the ballot for other offices by the WFP while it awaited the results of the Democratic primaries so the party could endorse the winner. This prevents both the spoiler effect, and potentially backing the wrong horse.
Kenneth Schaeffer, one of the five placeholders, was originally in the 15th Congressional District race, in the Bronx, with the ballot line now belonging to City Council Member Ritichie Torres. Schaeffer previously was a placeholder in the state attorney general race in 2018. Bob Cohen was in the 3rd Congressional District on Long Island to placehold during the Democratic primary in that district; the WFP line now belongs to Rep. Tom Suozzi. Cohen also previously acted as a placeholder in the 2018 race for the 19th Congressional District in the Hudson Valley.
The other three WFP candidates placeholder candidates running for state Supreme Court in Queens are Joshua Goldfein, whose ballot line was given to Nancy Goroff in the 1st Congressional District on Long Island, and Judith Goldiner, whose ballot line went to Rep. Yvette Clarke in the 9th Congressional District in Brooklyn, and Afua Atta-Mensah, whose ballot line went to Rep. Joseph Morelle in the 25th Congressional District in Western New York. 
The WFP confirmed that all five candidates were placeholders, and that it does not encourage voting for them. "Under New York election law, fielding placeholders is common practice because it's essentially the only way to allow a party to make its choice after the primaries, or to avoid the spoiler effect in the case of endorsing a candidate who loses a primary," WFP State Director Sochie Nnaemeka said in a statement. "The law does not need to be this complex and we strongly favor reforms to make it easier for candidates who don't want to run anymore to withdraw from the ballot."
The New City York Bar Association includes a rating for Steven Williams as well, although the WFP failed to get him off the ballot in the 24th Congressional District, where he is still technically running and polling at about 5% despite not campaigning in an incredibly tight race between Democrat Dana Balter and Republican Rep. John Katko.
Candidates like these rarely if ever actually impact the judicial races, but Lerner said that doesn't make their nominations any less troublesome. "New Yorkers expect that judges are chosen because they're independent, or they have an even temperament and a good knowledge of the law," Lerner said. "When you have people on the ballot who are there because of political deals to make room for somebody else to run for some office? It undercuts faith in the entire system." Lerner said even without broad reform to how New York selects judges, state lawmakers could make it easier to remove candidates from the ballot without nominating them for other consequential positions they have no interest in holding, for example by creating a reasonable time frame for candidates to simply withdraw from a ballot line. 
Powered By
NEXT STORY: 21 in '21 kicks into high gear