New York City
GOP continues contesting presidential results as absentee ballot counting begins
Rounding up the week's political news.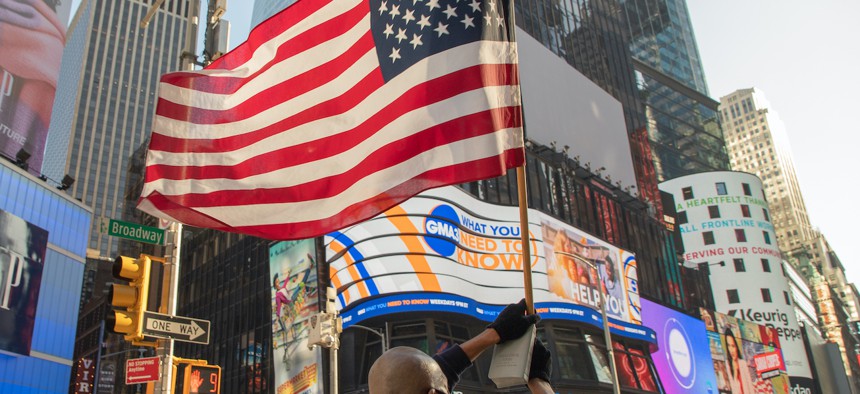 New Yorkers were celebrating in the streets after the presidential election was finally called on Nov. 7, with some on social media saying they learned the results by hearing the applause and yells from neighbors outside their windows. From Harlem to Grand Army Plaza and beyond, people were popping bottles, dancing and having a good time. But there's still a pandemic, and infection rates are getting worse by the day in New York, quickly putting a damper on the celebratory mood after the weekend ended. For more on the election and the coronavirus, keep reading.
Presidential race called while GOP contests results
Nearly a week after Election Day, Joe Biden was declared the victor in the race for president, offering an acceptance speech even as President Donald Trump has so far declined to concede. His campaign has filed multiple lawsuits in several key swing states that Biden won, and Trump has been making unsubstantiated claims of massive voter fraud – which election officials from across the country vehemently denied – while tweeting that he actually won the election. And many Republicans have fallen in lockstep with the president, stating the unsubstantiated need to investigate the potential of voter fraud and refusing to acknowledge Biden as the president elect. State Republican Party Chair Nick Langworthy sent an email to supporters suggesting that they should not simply accept a Biden presidency, demanding "there MUST be TRANSPARENCY." Rep. Elise Stefanik and others have remained largely silent in the aftermath of the race being called, which has been seen as a large break in tradition. Rep. Tom Reed was something of an outlier both in New York and across the nation as one of the few Republicans who congratulated Biden and acknowledged him as the president elect while speaking about working with him in the future. This is despite Reed being the honorary co-chair of Trump's reelection campaign in New York and saying he remains open to investigating fraud if evidence emerges. Meanwhile, Rep. Alexandria Ocasio-Cortez ripped Republicans peddling voter fraud claims and refusing the outcome of the election as "selfish," "weak" and "reprehensible."
Absentee ballots begin deciding races
Results are beginning to emerge in races that were too close to call on election night now that local boards of elections have begun counting some 1.7 million absentee ballots. More than a week after the election, the outcomes of many races have become more clear. On Staten Island, Rep. Max Rose officially conceded his congressional race to Assembly Member Nicole Malliotakis after he acknowledged that enough absentee ballots had been counted to reveal he decisively lost. Upstate, Rep. John Katko defeated Democratic challenger Dana Balter after the absentee ballots maintained Katko's election night lead. State Sen. Rachel May also declared victory in her reelection bid after a razor-thin lead on election night grew to over 11,000 votes with absentee ballots. But other congressional races, namely between Rep. Anthony Brindisi and former Rep. Claudia Tenney, were still up in the air as of Friday, as were many tight state legislative races. Several lawsuits have already been filed in New York races that promise to make the counting process stretch even longer.
Second wave of COVID-19 draws nearer
The rate of new COVID-19 cases continued to increase across the state. Gov. Andrew announced new statewide restrictions as he continued to implement his microcluster strategy to target areas experiencing spikes. Although he has not implemented a widespread shutdown again, restaurants, bars and gyms will now be required to close at 10 p.m. and Cuomo implemented a 10-person limit on indoor gatherings at private residences. How exactly the limit would be enforced remained to be seen, and it drew immediate condemnation from New York City Council Member Joseph Borelli. In New York City, Mayor Bill de Blasio warned that schools were on the brink of closing, announcing they would switch to remote learning if the city exceeded a 3% positivity rate. The city's positivity rate has been steadily creeping up, hitting 2.6% during the week as other virus indicators were the worst they have been in months. The state as a whole was hovering just under 3%, while other parts of the state, including Erie County, Monroe County and Long Island, saw the highest number of new cases since the first wave of the pandemic, in some instances setting new single-day records.
Powered By
NEXT STORY: MAGA movement will live on in NY