New York City
Insiders unimpressed with de Blasio's pandemic response
Poll: Just 12% think he's done a good job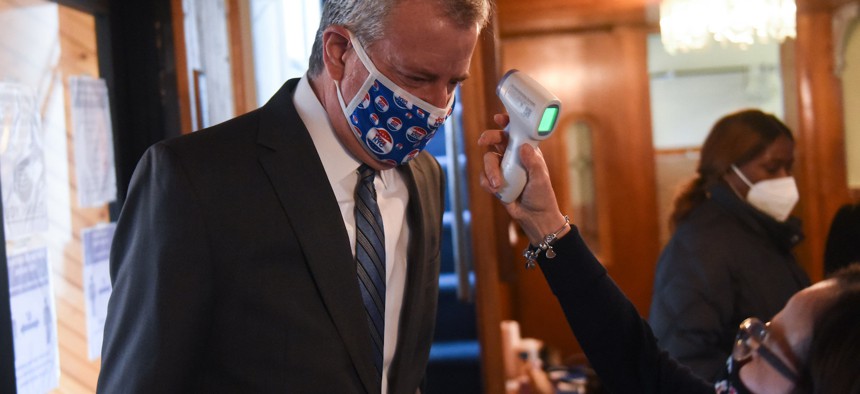 Almost 6 in 10 political insiders think New York City Mayor Bill de Blasio has bungled the coronavirus pandemic response – and they have an even worse view of how he's handled the city's public schools over the past eight months.
Some 58% of survey respondents say de Blasio's overall COVID-19 response has been "poor," and just 12% say it's been "good" or "excellent." Regarding city schools, 69% say de Blasio's response has been "poor," and just 7% think it has been "good" or "excellent."
That's according to the latest City & State/Honan Strategy Group survey of 307 political and policy insiders drawn from City & State's email list. The survey was conducted online between Nov. 17 and Nov. 22, and while it's not a representative sample of the city, it should give some insight into what some of New York's most politically engaged people are thinking.
And the insiders aren't particularly optimistic about the city's fiscal health. Two-thirds think that the city is facing a possible commercial and real estate crash, compared to just 1 in 5 who didn't think a crash was on the horizon. Seventy percent of respondents think remote working will become the norm for a significant number of white-collar employees, even after a COVID-19 vaccine is widely distributed. But respondents were split on the depth of the economic troubles: 38% think the city is on the cusp of a 1970s-level downturn while 43% do not, and 19% say they do not know.
So it's no surprise that most insiders thought the city's finances are the biggest issue facing New York City today. Asked to choose the two biggest issues, 49% picked the budget, followed by 43% who picked the coronavirus. Other leading issues included the economy/jobs (28%), housing (15%) and crime (14%).
Read the full memo here:
City & State + Honan Strategy New York City Issues Poll by City & State NY on Scribd