Campaigns & Elections
No unrest on Election Day
Despite fears of rioting, the state remained relatively calm.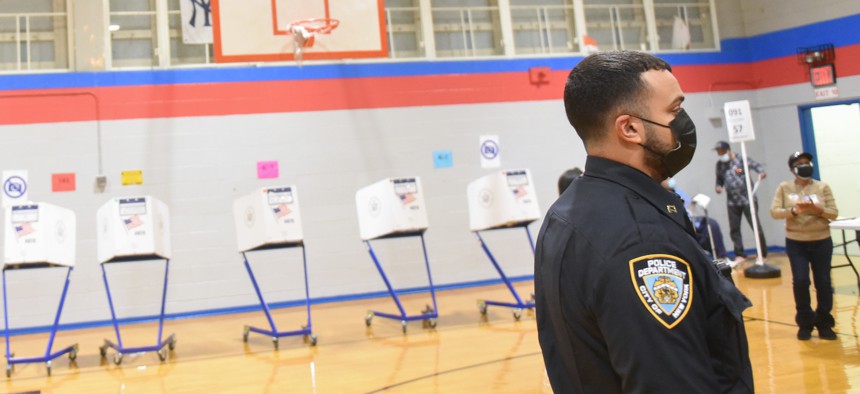 As Election Day neared, businesses all across New York City, from clothing outlets to banks, boarded up their doors and windows; fearing that Election Day unrest might devolve into rioting.
The decision to board up comes off the heels of a particularly restless summer, when looters ransacked multiple businesses and vandalized them, following generally peaceful protests against police brutality and systemic racism. The presidential race between incumbent President Donald Trump and former Vice President Joe Biden has also been a highly contentious one, which has convinced many that chaos is to be expected no matter who the victor is. However, it's unlikely, given the unprecedented number of absentee ballots that have been requested, that the results of the election will even be known by Wednesday morning.
Early Tuesday evening, the Sergeants Benevolent Association, one of the biggest police unions in the city, shared a video of boarded up buildings throughout the city on Twitter. "The Purge comes to NYC," the SBA said. "Thanks to Mayor DeBlasio (sic) & an incompetent City Council that refuses to allow the NYPD to do their job. Do you think New Yorkers live in fear? This is the result of those peaceful protest (sic) we heard about."
The New York City Police Department's Strategic Response Unit, which is in charge of managing civil unrest in the city, has been ramping up its tactical training efforts for months in anticipation of any violent outbursts. On Tuesday afternoon, the NYPD also revealed that they are considering "freezing" parts of Manhattan to thwart any looting or vandalism that results from any election-related unrest.
"We have contingency plans in place to freeze areas of Manhattan should wide scale looting occur," an NYPD spokesperson told Gothamist. "These plans were developed out of an abundance of caution and we do not believe we will have to implement them."
At the beginning of the day, two Trump supporters were caught on camera attempting to intimidate voters lining up to vote at a polling station in Park Slope, Brooklyn. NYPD officers alerted to their jeering, came to the site to ask them to leave.
Around 7pm, various NYPD officers were spotted around the city at locations where protests typically occur. Despite ample preparations, things remained fairly quiet after the polls closed across the state.
A small protest began gathering in Union Square around 8:30pm, where cops were stationed throughout the area, according to bystanders. The protest was organized by Refuse Fascism, a national organization dedicated to eradicating faccism in the U.S., to stand against the Trump presidency. Eventually the demonstration turned into a march to Washington Square Park without any apparent issues. 
Powered By
NEXT STORY: New York's 2020 congressional election results