New York State
NY Dem party chair: progressives doomed swing-district candidates
Jay Jacobs says the political left gave the GOP an opening in key races, but progressives argue evidence is absent.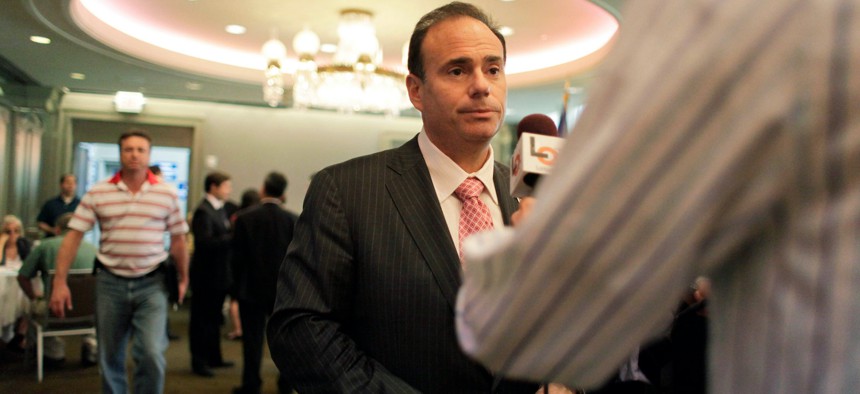 Local boards of election are still tallying a record amount of mail ballots, but it already appears that Democrats have come up short in at least some of the 2020 legislative and congressional races they were hoping to win across New York. And the blame game on both sides already has begun.
How left-wing lawmakers and activists like Rep. Alexandria Ocasio-Cortez talk about issues like defunding police had a lot to do with it, according to New York state Democratic Party Chair Jay Jacobs.
"Those ideas play very well in the districts that elect them," Jacobs, a close political ally of Gov. Andrew Cuomo, said in an exclusive interview with City & State. "They're not sensitive at times to some of these swing districts. It's not just congressional. It's state Senate, Assembly – whatever it may be."
Jacobs is one of a growing number of moderate Democrats at the state and federal levels who claim that lefties need to tone down their rhetoric for Democrats to win suburban swing districts. The argument rests on the assumption that the reason President-Elect Joe Biden did better than down-ballot Democrats nationally is because he distanced himself from defunding police, passing single-payer health care or anything with the word socialist in it. To properly assess that claim, one would need to know exactly how many votes Biden and down-ballot Democratic candidates actually got, which is not yet available, as absentee ballots haven't been counted and will skew Democratic. 
A number of New York Democratic incumbents in Congress and the state Legislature are down by double-digit margins in parts of Long Island, upstate and the outer boroughs of New York City. This includes incumbent Reps. Max Rose of Staten Island, Anthony Brindisi of Central New York and congressional hopefuls like Jackie Gordon and Nancy Goroff on Long Island and Dana Balter in the Syracuse area. Incumbent state senators on Long Island including Monica Martinez, Jim Gaughran and Kevin Thomas, as well as state Sens. Andrew Gounardes in Brooklyn, Pete Harckham in Westchester County and Jen Metzger in the Hudson Valley also face significant deficits. Rose implicitly acknowledged on election night that his own attendance of a Black Lives Matter protest may have hurt his chances of winning reelection. 
State Senate Democrats appeared to do their best in Western New York, where Samra Brouk and Jeremey Cooney are leading in their respective races to represent two longtime GOP districts in the Rochester area, while Assembly Member Sean Ryan appears likely to flip another state Senate district in the Buffalo suburbs. Images from recent unrest were used by Republicans to hammer Western New York Democrats on bail reform and police reform in these areas as well, according to Democrats on the ground. "That was definitely pumped up," Amherst Town Supervisor Brian Kulpa, a Democrat, said in an interview. "(But) it didn't change the electoral landscape to the detriment of the Democrats."
Some Democrats who are currently trailing, such as Gounardes and Metzger, may pull ahead when absentee ballots are counted. But Democrats still appear likely to lose some of the political ground that they took from the Republicans during the 2018 elections, where they flipped several congressional seats and won a majority in the state Senate for the first time in a decade. 
The political left is pushing back against criticism like Jacobs' by arguing that moderates should have done more to counter GOP messaging during the campaign. Ocasio-Cortez argues that swing-district Democrats lost because they failed to campaign well during the pandemic, focusing too much on buying ads and not enough on knocking on doors and organizing online. "Ideology + messaging are the spicy convos a lot of people jump to," she recently tweeted. "Sometimes it's about execution and technical capacity." In an interview with the Times over the weekend, she said, "progressive policies do not hurt candidates. Every single candidate that co-sponsored Medicare for All in a swing district kept their seat." The same cannot be said for every single Democratic challenger in swing districts, however.
Democrats faced tough odds in winning over white suburban voters, given the GOP's ability to appeal to their anxieties on issues like reducing police budgets, bail reform and drivers licenses for undocumented immigrants, according to Lawrence Levy, executive dean of the National Center for Suburban Studies at Hofstra University on Long Island. "They were like targets on the backs of particularly vulnerable Democrats," he said in an interview. "Republican organizations still know how to get out the vote and they were able to hit the bull's eye."
Some political scientists might say this is a natural ebb and flow, based on turnout: Democrats came out disproportionately in 2018 because a very polarizing and unpopular Republican was president, and 2020 was bound to see a correction, as Republicans came out in greater numbers. But Jacobs thinks the political left worsened his party's chances by overreaching on issues like bail reform and defunding the police. "Why did the suburbs bounce back?" Jacobs added. "What happened between 2018 and 2020?" 
The biggest Democratic legislative majorities in a century did get a lot done during that period, including expanding voting rights and rent regulations. Much of this action had widespread support, but others were much more contentious. Legislation allowing undocumented people to get drivers licenses only passed by a narrow margin. Swing district Democrats from Long Island, the Hudson Valley and Brooklyn voted for bail reform as part of the 2019 state budget process, before pushing for a partial rollback the following year, as poll after poll showed how the issue was not sitting well with their constituents. 
New York Republicans were emphasizing their "law and order" message even before new limits on cash bail took effect statewide, at the beginning of the year. Claims by Republicans and conservative media outlets on the link between reforms and increasing crime have lacked facts and context. Crime remains near historic lows in New York City, for example, and plenty of states that have not curtailed cash bail are also seeing crime increases this year. 
Yet, GOP messaging that Democrats are soft on crime nonetheless got through to some voters according to moderate Democrats. "I'm not saying that it's a true narrative, but it's something that is out there," Jacobs said.
Republicans from President Donald Trump down the ballot made big efforts to label centrist Democrats as the ideological equivalents of Ocasio-Cortez and others on the political left. "New York, California, Illinois. People are FLEEING, Taxes and Crime are going through the roof. VOTE TRUMP," Trump tweeted in the homestretch of the campaign. Former Rep. Claudia Tenney made that same argument on the campaign trail against Brindisi (who is trailing Tenney by a significant margin as of publication time) despite his efforts to highlight his support for law enforcement. A multimillion ad campaign by conservative donor Ronald Lauder helped Republicans make a similar case against more than half-dozen Democratic state Senate incumbents over bail reform and defunding the police.
Following Ocasio-Cortez's Times interview, Rep. Connor Lamb, a moderate from a swing district in Pennsylvania, fired back in his own interview with the Times on Sunday. "The rhetoric and the policies and all that stuff — it has gone way too far," he said. "It needs to be dialed back. It needs to be rooted in common sense, in reality, and yes, politics. Because we need districts like mine to stay in the majority and get something done." 
Progressives have a few rebuttals, perhaps the most powerful being that trimming their sails on police reform would be immoral. "What are we supposed to do? Go back to letting police kill Black people with impunity because some people fell for false, racist fearmongering?" said Assembly Member Yuh-Line Niou, of Manhattan, in an interview with City & State. 
Census data shows how overwhelmingly white the electorate is in the legislative and congressional districts that were in play in New York this year. Trump's appealing to white racial grievance on issues like rising crime and police reforms may have made inroads among these voters, according to experts. A rematch between Tenney and Brindisi is one example, according to Utica College political science professor Luke Perry, who literally wrote the book on the race. "The general issue of law and order in the context of unrest was one that Tenney had some traction on and I think she emphasized in her (2020) campaign," he said in an interview. "Democrats need to figure out how to be more competitive in rural communities or they're going to continue to lose House seats."
The Democrats still have big majorities in both houses of the state Legislature and New York's congressional delegation. While they are likely losing some political ground in the New York City suburbs, their hold on upstate urban hubs like Rochester, Syracuse, and Buffalo suggest the possibility of offsetting that by making Democratic inroads into traditionally Republican upstate. That is likely enough to mean Democrats will not lose much, if any ground, in the state Legislature this year, depending on how the mail ballot totals shape up, but big political opportunities await Democrats if they can just make their political tent a big more inclusive moving forward, according to Assembly Member and Brooklyn party Chair Rodneyse Bichotte. "I do not believe that infighting is fruitful," she said in an interview. "I encourage all to consider how their words and actions might be impacting communities of color or any community (they) are not part of."
With reporting by Kimberly Gonzalez