Campaigns & Elections
Rep. Max Rose's unusual election night speech
The Congress member from Staten Island defends his support for Black Lives Matter.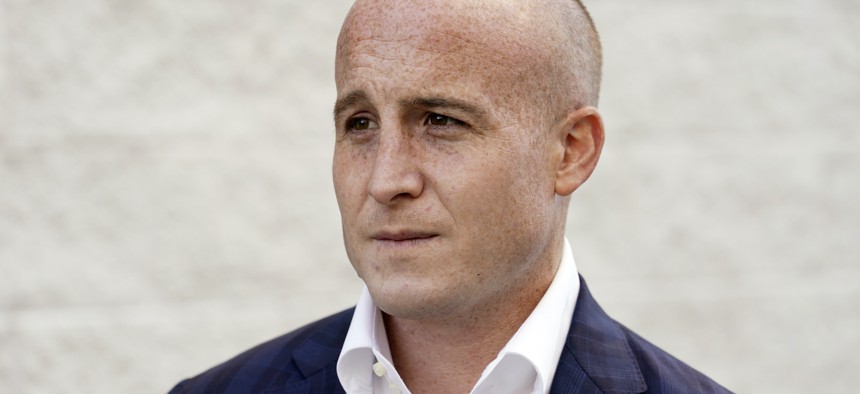 Election night concession speeches tend to follow a fairly straightforward formula: The losing candidate congratulates his or her opponent, thanks the assembled supporters and staffers, reiterates a commitment to pursuing the agenda he or she ran on and, if applicable, pledges to work with the winner for the greater good. When a result remains unknown, the standard statement is a brief declaration that one is waiting for all the votes to be counted. Former Vice President Joe Biden gave a typical address in this vein on Tuesday. 
But Democratic Rep. Max Rose, who looks likely to lose to Republican Assembly Member Nicole Malliotakis in New York's 11th District, took a different approach on this election night. After briefly calling for a full vote count, Rose swiftly pivoted to a detailed defense of his decision to march with Black Lives Matter in his district in June. "I want to speak to something more than just myself or Nicole, but my decision to march to honor George Floyd," Rose said, before inveighing against political division. He did not concede the race, but the first-term representative acknowledged that he faced an uphill battle. Malliotakis, who leads among in-person votes by 15 percentage points, has declared victory.
"If we are going to unite this country then we must listen when a community is hurting," Rose continued. "Black parents worry a chance encounter could end with their baby boy or girl never coming home. And yes, the wife or husband of a police officer feels their heart leave their chest every time a tour starts, scared the love of their life may never walk back through the door. … Young Staten Islanders marched to express their pain. And for that – they were called rioters and thugs on national television. They were demonized for their faith in America's capacity for change … their belief that peaceful protest is how you do it, and their hope that their hometown could be a part of that movement. The weeks following the murder of George Floyd, our nation was united in the belief that we must change. … Our politics tore at that common purpose."
Politicians march in protests and parades all the time and supporting Black Lives Matter is fairly uncontroversial in most of New York City. So why did Rose decide to expound his case for marching months ago? 
The answer goes to the heart of why he apparently thinks he lost: the backlash to Black Lives Matter in New York City's whitest borough. 
A few days before Tuesday's election, many New Yorkers were surprised to see an NBC4 New York/Marist poll showing Malliotakis leading Rose by 2 points among likely voters. 
Rose, a blunt-spoken, centrist military veteran who flipped New York's 11th Congressional District in 2018, had run campaign commercials attacking Malliotakis in terms cleverly designed to resonate with swing voters: Malliotakis was untrustworthy, he argued, not because she was too conservative or too pro-Trump, but because she had flip-flopped on Trump. He also hit her for symbolic, non-ideological reasons, such as the fact that the Conservative Party had photoshopped her into a photo distributing personal protective equipment to portray her as "everything you hate about politics." Meanwhile, in office, Rose produced a steady stream of press releases relentlessly focused on hyper-local issues and he aggressively carved out a maverick identity by caustically criticizing his party's more liberal figures such as New York City Mayor Bill de Blasio. 
Surely, if any freshman Democrat could hold the Staten Island and southern Brooklyn district, observers reasoned, it would be Rose. 
But it wouldn't be. As City & State reported last week, the backlash on Staten Island to the eruption of anti-racism and anti-police brutality protests over the summer might have doomed him. Michael Grimm, a Republican who once held the same congressional seat and rose to national notoriety as a tough-talking embodiment of Staten Island's id, told City & State that Malliotakis became the favorite when Rose joined that march. Grimm argued that it put Rose too few degrees of separation from the progressive activists who argue for cutting the NYPD budget. 
Republicans pounced on the BLM demonstration as a liability for the Congress member. Noting that some marchers called for defunding the NYPD and chanted anti-police slogans, Malliotakis called Rose's participation "a disgrace," and said it shows he is "just another liberal who will say or do anything to get elected." 
A GOP-aligned Super PAC cut a commercial featuring retired NYPD officers attacking Rose, calling it "an absolute slap in the face to law enforcement" to march with Black Lives Matter and saying "he gave every New York City police officer the finger." In a different ad, Malliotakis used Rose's participation in the march to claim he "joined de Blasio and the defund the police crowd" in "calling to dismantle the NYPD," even though Rose had repeatedly called for more police funding, not less. 
Rose and Grimm may not agree on much, but Rose's decision to revisit the issue in his election night address implies that he shares Grimm's belief that marching against police brutality is what cost him the election.