New York State
When should New Yorkers expect election results?
Official tallies won't be finalized until at least December, but the outcomes of many races could become apparent as the absentee ballot count continues over the next several weeks.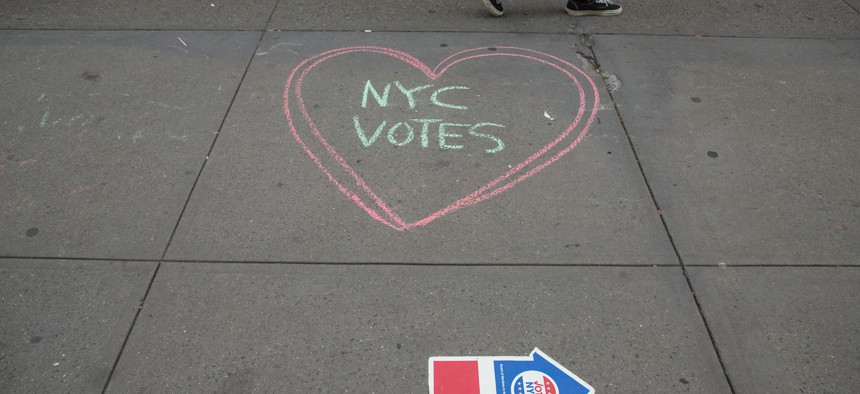 It's clear that voters will have to wait longer than usual to see the finalized results of this year's general election. The pandemic has more voters than usual turning to absentee ballots and the contentious presidential election has drawn high turnout from voters, which means a longer count of those mail-in votes. A little more than 1 million New Yorkers have successfully submitted an absentee ballot as of Oct. 27. That's more than double the number of people statewide who voted using absentee ballots in the last presidential election – and more are still coming in.
This means New York's official overall results won't be complete for several weeks. And though the outcomes of some state and congressional races could be determined before every single vote is counted, don't expect any exciting news on Tuesday.
What will be apparent on the night of Election Day is the results of all in-person voting, but absentee ballots will need to be counted in the coming weeks. The count of absentee ballots can't start earlier than Nov. 10, a week after Election Day. And some counties may start even later. Wayne County – an area which may prove pivotal to determining whether Rep. John Katko will hold onto his seat – will begin counting absentee ballots on Nov. 16, for example. 
Each county board of elections is required to send their official results to the state Board of Elections by Nov. 28, wrote John Conklin, a spokesman for the state agency, in an email. Those results are then required to be sent to the electoral college by Dec. 8. 
"Given there are more than 1 million absentee ballots to count, I expect the counties to need all of the time to November 28 to complete their counts," he wrote.
During this year's primary election, the counting process collectively took about six weeks. But Sarah Steiner, an election lawyer in New York, said it's likely election officials will deliver the results next month because of the presidential election. "I think they're going to move heaven and Earth to get them counted by the time we need them for the electors. Because those electors, they have to be picked in December. They have to be voting in the electoral college."
Much of the counting delays were also centered in New York City during the primary, particularly because of its large population and resulting influx of votes. But there are really only two competitive races in New York City for this election: the race between Rep. Max Rose and Nicole Malliotakis in Staten Island and the one between state Sen. Andrew Gounardes and Vito Bruno. This also means the city's overall count – barring those two races – may at least be less slowed down by the presence of poll watchers from political campaigns, said Martin Connor, a veteran election lawyer. 
Most of the competitive congressional races in New York state are located upstate. While those votes will almost certainly be counted faster than New York City, many of those districts encompass multiple counties which all need to certify their results before a winner can officially be declared. The 19th congressional district represented by Rep. Antonio Delgado, for example, encompasses 11 counties. 
While many tight races aren't expected to be called tomorrow, winners will likely be called sporadically over the next few weeks just as in the primary. But exactly when will remain to be seen. 
"The watch word for this election is patience," Connor said.