New York State
Why isn't pot legal yet?
Recreational marijuana use in New York.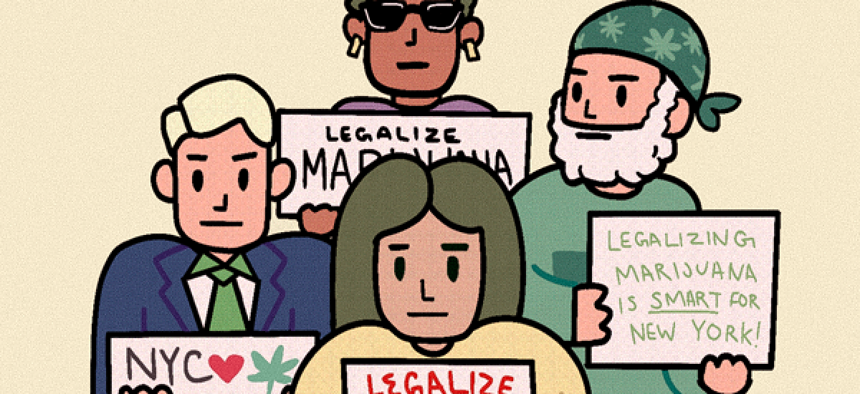 Excelsior is a weekly City & State newsletter that gets sent out every Wednesday at noon. If you like what you see, you can sign up to have Excelsior sent directly to you by clicking here!
What's the big holdup?
New Jersey just voted to legalize recreational marijuana. Massachusetts, the state where happy hour is literally illegal, has legalized it, too. So what's holding up New York?
Well, first it's important to understand that the marijuana decision is entirely up to the state, not the city. (Come on, do you really think this guy is standing in the way?) Despite Gov. Andrew Cuomo's apparent support of legalizing marijuana now, the governor was initially very much against marijuana, deriding it as a gateway drug as recently as 2017. However, his position on the issue of legalization first began to soften when medical marijuana was made legal in the state, in 2014. 
The state was actually on track to legalize marijuana at the start of its 2020 legislative session, but then the coronavirus arrived and the plans went up in smoke. It wasn't until after the state's number of positive COVID-19 cases declined from its peak that the topic of marijuana legalization began to resurface. While some have argued that it could be a boon to the state's economy, others have been laser-focused on the criminal justice aspect of legalization.
For many years, people of color have been disproportionately arrested for marijuana possession, even though data suggests that Black and white people use marijuana at the same rates. In 2019, the majority of those arrested on low-level marijuana charges were either Black or Latino. These arrests have permanently barred individuals from New York City Housing Authority residences, prevented them from getting loans for college and can even result in deportation for immigrants. And just an allegation of marijuana use can lead to the separation of a child from their family.
Many criminal justice advocates and lawmakers hope to use marijuana tax revenue – if and when pot becomes legal – to rehabilitate communities that suffered the most from the state's strict drug policies over the years. A big part of why marijuana reforms didn't pass last year was because lawmakers couldn't agree over how to spend the money garnered through taxing marijuana – and it looks like they're facing the same problem this year as well.
Many lawmakers and advocates have also emphasized the importance of economic justice should marijuana usage become legal, making sure that businesses owned by people of color are able to profit from the new industry.
By the numbers
Marijuana arrests
In the weeds
How marijuana legalization in New York went up in smoke
The prohibition of recreational marijuana in the Empire State began in 1914, with the passage of the Boylan Drug Act, which prohibited the use of "Cannabis Indica," in addition to opium, morphine, cocaine and heroin, without a prescription – though, it appears few imbibed the psychoactive drug at the time. "Devotees of hashish are now hardly enough here to count, but they are likely to increase as other narcotics become harder to obtain," The New York Times reported on June 30, 1914.
In 1938, New York City Mayor Fiorello La Guardia commissioned a report from the New York Academy of Medicine to study the effects of marijuana, in what was believed to be a response to the Marijuana Tax Act. The act, which passed in 1937, gave the federal government full control over the regulation of marijuana, which ultimately led to its restriction. The passage of the act is considered a key moment in shaping the country's negative relationship with the plant. In 1944, the academy delivered its final report, which concluded that marijuana was not physically addictive and did not lead to committing crimes, as some feared. 
In 1973, however, New York passed the infamously strict "Rockefeller drug laws," which influenced the way the U.S. as a whole dealt with drug charges. Inspired by Japan's tough approach to crime, Gov. Nelson Rockefeller crafted a law that called for a sentencing of 15 years to life in prison for those caught with any amount of marijuana, heroin or cocaine. But in 1977, under Gov. Hugh Carey, the state partially decriminalized marijuana usage.
In 2014, the state slowly began lifting regulations and restraints on marijuana usage when New York City Mayor Bill de Blasio told police officers to fine individuals caught with small amounts of marijuana instead of arresting them. That same year, it became legal for those with serious medical conditions to obtain marijuana prescriptions – although the price of prescription pot could cost some patients upwards of $1,000 a month. Since the law was passed, the state has added to the list of conditions that qualify for medical marijuana. And in 2019, the state decriminalized recreational marijuana use, replacing jail time for low-level possession with fines.
Smell-and-frisk 
Persistent low-level marijuana arrests
You would think that because marijuana has been decriminalized in the state that the occasional smell of weed wafting through the air would be a nonissue. But police officers have continued to harass and arrest individuals based on marijuana odor alone. While this is still legal, judges have written scathing judgments in response to these marijuana arrests, condemning the NYPD for using the smell of marijuana as the incentive to search individuals.
In early March, a video went viral of a young Black man being surrounded and tackled to the ground by New York Police Department officers because they suspected he had smoked a joint in a nearby park. The NYPD said that it had been alerted to a shooting nearby, which is why the officers approached the individual, and NYPD Commissioner Dermot Shea asked that in the future individuals not run or resist arrest to avoid such an incident.
Power Players
Who's working toward legalization?
Gov. Andrew Cuomo: As governor, Cuomo will have the final say on what legislation gets included in the 2021 state budget. 
Assembly Majority Leader Crystal Peoples-Stokes: Peoples-Stokes has been a fierce supporter of marijuana legalization and helped pass legislation to decriminalize its recreational use last year. Now, she's hoping to completely legalize marijuana and distribute marijuana revenue to communities of color. 
State Sen. Liz Krueger: Krueger co-sponsored the legislation to decriminalize marijuana with Peoples-Stokes and remains a strong crusader for legalization.
State Sen. Luis Sepúlveda: A key proponent of marijuana legalization who has been a sponsor in legalization bills, Sepúlveda is also known for sponsoring the Green Light Law that passed in 2019, which allows undocumented immigrants to apply for a driver's license.
Norman Birenbaum: Cuomo's point man for getting marijuana legalized. Officially, he's the state director of cannabis programs. But everybody's calling him the pot czar.
We hate to break it to you but ...
Legalizing weed won't fix the deficit
Recently, Cuomo has been talking about the need to legalize weed to help with the state's deficit, but even if marijuana was legalized now, the revenue for its sales would hardly be able to make up the billions lost in state revenue. The state's budget deficit for the current fiscal year is estimated to be $8 billion, and about $17 billion next year. Even after marijuana sales ramp up to their full potential in the state – which could take a couple of years – that revenue is estimated to be $300 million a year. Just $7,700,000,000 to go.
Powered By
NEXT STORY: NY Dem party chair: progressives doomed swing-district candidates