New York State
A timeline of the Chris Collins case
How the former member of Congress became a free man after pleading guilty to insider trading in 2019.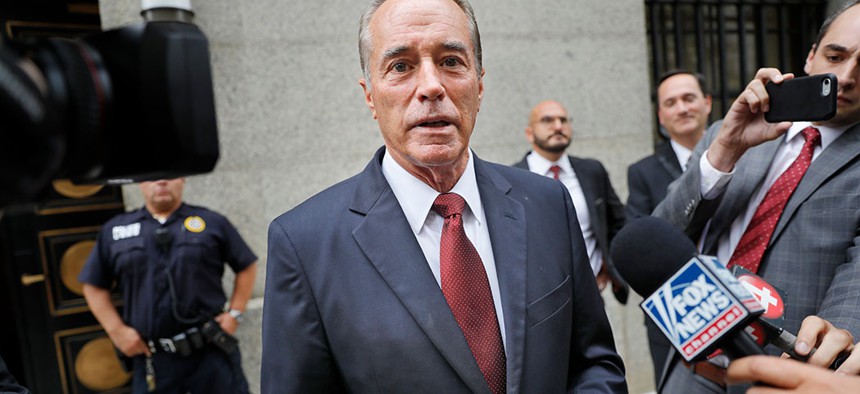 Former Republican Rep. Chris Collins was among the litany of convicted former federal lawmakers, war criminals and former campaign advisers who President Donald Trump pardoned in the final month of his presidency. While a pardon did not arrive in time to save Collins from having to serve some time in federal prison, he became a free man more than two years after he illegally shared inside stock information and then lied to prosecutors about it.
Collins was arrested in August 2018 after prosecutors accused him of sharing nonpublic information about an Australian biotech company Innate Immunotherapeutics, where Collins sat on the board. The indictment stated that when a drug the company was developing failed a crucial test, Collins called his son Cameron Collins to advise him and Cameron Collins' prospective father-in-law Stephen Zarsk to dump stock in the company before it dropped.
A presidential pardon in December ended the yearslong saga that tanked Collins' political career, who was the first sitting member of Congress to endorse Trump's 2016 campaign for the Republican presidential nomination. Here's how things played out from the time that Collins first attracted the interest of federal prosecutors to the time that he finally became a free man once again.
July 2017
Shortly after the four-term member of Congress heard that the stock of Innate Immunotherapeutics was heading downhill, he reportedly began his efforts to help himself and others close to him avoid any huge financial hits. This included making a phone call to Cameron Collins at the annual Congressional Picnic in full view of a CBS News camera that prosecutors later alleged was the point when he communicated inside information.
Aug. 2018
Collins promised to fight charges of conspiracy to commit wire fraud, wire fraud and false statements after federal prosecutors indicted him on Aug. 8. "The charges that have been levied against me are meritless," Collins said at the time. "And I will mount a vigorous defense in court to clear my name. I look forward to being fully vindicated and exonerated." However, he announced that he would suspend his reelection bid.
Sept. 2018
Getting Collins off the ballot in time for the 2018 election would have been difficult because of the limited time left, which factored into Collins' decision to reverse himself and run for reelection after all. There has been some speculation that Collins also hoped that he would have more leverage to reach a plea deal with prosecutors if he won reelection and stayed in office.
Nov. 2018
After narrowly winning reelection, Collins played the victim in an interview with Buffalo television station WIVB. "There are people that assume you are guilty until proven innocent, which is not America. I know the reality of that. And so, there is no doubt that's where I lost votes. … It is what it is and I know I'm innocent, and I'm confident I will be exonerated, and stick it on the shelf. Will I think about it? Of course I will. It's not going to impact my day-to-day work, and I don't even meet with my attorneys 10 minutes a week, let alone two hours."
Feb. 2019
Attorneys for Collins adopted a new tactic in court by challenging the right of prosecutors to file charges in U.S. District Court in the Southern District of New York. The crux of the issue is whether the district has jurisdiction because Innate Immunotherapeutics is listed on the Nasdaq in New York City – even though Collins did not commit his alleged crimes in the area. "The indictment does not allege a single act in this district," the Collins lawyers said in the new court papers. "No passing of information in this District, no wires into or out of this district, no trade orders placed or executed in this District, and no false statements made in this District. Not one."
July 2019
In a rare interview with reporters, Collins said it was "laughable" that he would run for reelection to get leverage in plea negotiations with prosecutors. "I am innocent of the charges," Collins said. "Why would I ever even enter a plea deal? I'm innocent." He also said that prosecutors only had "circumstantial" evidence against him so he was "quite comfortable" that he would be found "not guilty."
Sept. 2019
After prosecutors revised and resubmitted their indictments, Collins reiterated his claims of innocence. "I look forward to being exonerated in due course," he said. Though a trial was scheduled for 2020, Collins also said that he was "highly confident that if I run (for reelection), I'd win the primary. Highly confident that if I won the primary, I'd be reelected in a general." Collins later began singing a different tune by resigning his congressional seat and pleading guilty on the first day of October 2019.
Dec. 2019
Collins and the Securities and Exchange Commission reached an agreement on barring Collins from serving as an officer of any public company in the future.
Jan. 2020
A federal judge sentenced Chris Collins to 26 months in prison. Cameron Collins, meanwhile, received probation.
Oct. 2020
After numerous delays due to the coronavirus pandemic, Collins began serving his sentence at a minimum security facility in Pensacola, Florida, on Oct. 13.
Dec. 2020
The Federal Bureau of Prisons released Collins on Dec. 22 after Trump announced a presidential pardon.