New York City
Can "an Obama Person" win in New York City?
Shaun Donovan served in the Obama administration and he has noteworthy supporters across the country, but not as many in New York.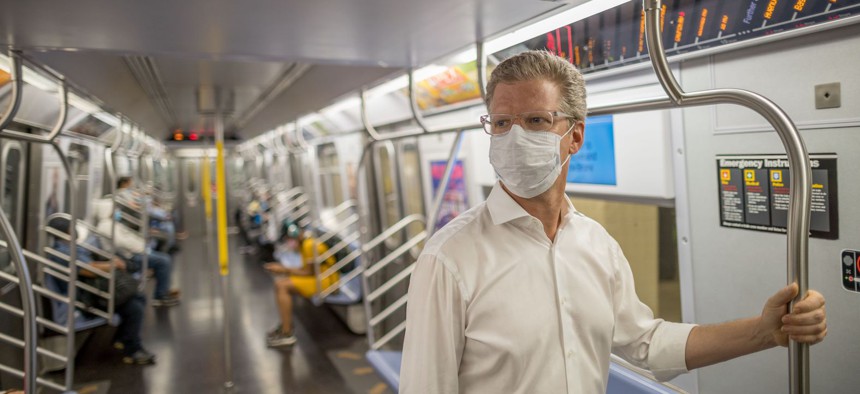 The visuals for Shaun Donovan's campaign kickoff event to be the next mayor of New York City couldn't have been more New York. It opened with a prayer from the Rev. Johnny Ray Youngblood, who has been a leader on affordable housing in Brooklyn for more than 40 years. And Donovan spoke on the rooftop of Via Verde, a subsidized housing development in the South Bronx, with the Manhattan skyline rising over his shoulder. 
But the endorsements that Donovan rolled out on Tuesday told a different story, of somebody whose closest political connections and strongest support aren't based in New York, but rather Washington D.C., and other cities around the country that Donovan worked with when he was a cabinet secretary in President Barack Obama's administration 
Donovan's launch-day endorsements included some big names in politics: former Philadelphia Mayor Michael Nutter, former New Orleans Mayor Mitch Landrieu, former Miami Mayor Manny Diaz and former Fresno Mayor Ashley Swearengin. Donovan was also backed by former U.S. Transportation Secretary Anthony Foxx and John Hickenlooper, the former governor of Colorado who will represent that state in the U.S. Senate in the new year. 
Donovan, who served as secretary of housing and urban development and director of the Office of Management and Budget under Obama, is the first candidate in the crowded mayoral field to get a senatorial endorsement. 
But political observers didn't seem too impressed. It's hard to determine which endorsements do and don't matter, whether it's The New York Times or local elected officials, but it's unlikely that Hickenlooper, notable as he is, will drive any New York City voters to the polls in June. 
"I don't really care much about (endorsements)" said one City Council member who asked for anonymity because they have relationships with many candidates. "There's so many people running and there's only so many endorsers. And it's still early."
But Donovan likely felt pressure to announce high-profile endorsements early after opponents in the race like New York City Comptroller Scott Stringer, former counsel to New York City Mayor Maya Wiley and Brooklyn Borough President Eric Adams did the same. One Democratic consultant unaffiliated with any of the candidates likened it to "an arms race," but cautioned against drawing any conclusions. "If endorsements swung elections, Hillary Clinton would be preparing for a second term," he said. 
It's not just Donovan's endorsements that show that much of his support lies outside the city. Nearly half of the money Donovan's campaign raised through July, 47%, came from people living outside New York City. That's the highest among his competitors who have filed financial disclosure forms with the Campaign Finance Board. Just 25% of Stringer's contributions and 27% of Adams' contributions came from outside New York City. Dianne Morales, a former nonprofit executive, had 35% of her contributions come from outside the city. 
Donovan's fundraising might not stand out so much once opponents like Wiley, who has a national profile from her job as an MSNBC legal analyst, file disclosures in January. Other top Democrats in the race include Rep. Max Rose, former Citigroup Vice Chair Ray McGuire, former city Sanitation Commissioner Kathryn Garcia, City Council Member Carlos Menchaca and former city Veterans Services Commissioner Loree Sutton.
Donovan isn't exactly trying to hide his support from outside New York. His campaign proudly touted donations from former Obama administration colleagues including Foxx, former White House Press Secretary Jay Carney and former head U.S. Small Business Administration Karen Mills. 
"He's going to have the Obama people behind him because he is, if anything, an Obama person," said Olivia Lapeyrolerie, a political strategist with SKDK. But could an affiliation with the popular former president be enough to win over the city? "Time will tell how much that's going to resonate with voters here," she said.
Donovan is certainly betting the Obama affiliation will resonate – after all, it was undoubtedly a part of President-elect Joe Biden's success in winning the Democratic primary. Donovan dodged a question at his announcement about whether he is expecting a formal endorsement from Obama in this race, but the 44th president's name was on his lips throughout the day, constantly talking about what he did in the eight years of the Obama administration. He bragged that if New Yorkers elect him, they'll get "someone who can pick up the phone and talk to anyone at the White House, including the president and vice president."
Of course, Donovan isn't an outsider. He was born and raised in Manhattan, and worked in the city for years, including serving for more than four years as commissioner of the Department of Housing Preservation and Development under former Mayor Michael Bloomberg. But compared to Obama, Donovan treats Bloomberg like an afterthought. It's not hard to understand why, since Bloomberg is likely to be a much more controversial figure among Democratic primary voters than Obama.
"Obama, that affiliation helps him. The Bloomberg affiliation hurts him," said a staffer from a rival campaign who asked for anonymity because he wasn't authorized to speak on the record. "(Donovan) is a New Yorker. But his New York bona fides are not really what you want to see in a Democratic primary."
Donovan insists that he has both New York bona fides, as someone "rooted in this city," and points to the support from Youngblood and Anna Vincenty, a Bronx housing advocate who also spoke at his kickoff event. But he's also somebody with political relationships outside the city, "someone who has seen what the best mayors across this country and even across the world are doing." And while Donovan said New York is "the greatest city in the world," he also thinks that other cities are doing things better. "I think New Yorkers are hungry to be the best city in the world again in so many different areas."