Campaigns & Elections
How does ranked-choice voting work?
Some critics don't think New Yorkers can grasp the concept.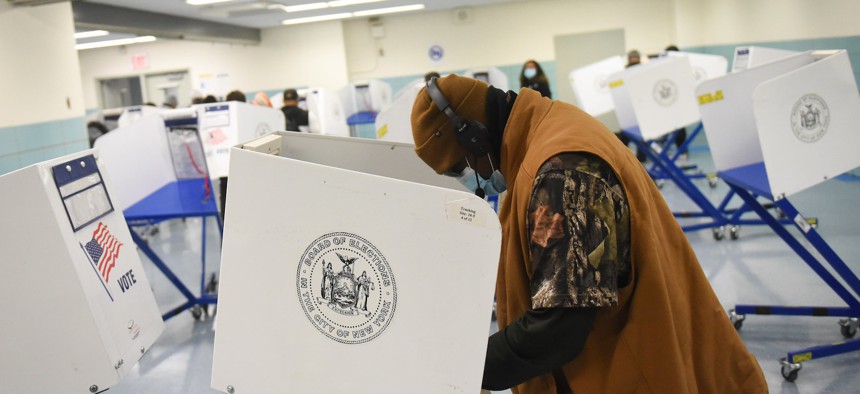 Excelsior is a weekly City & State newsletter that gets sent out every Wednesday at noon. If you like what you see, you can sign up to have Excelsior sent directly to you by clicking here!
As the dumpster fire that was 2020 comes to an end, many of us are excited to see what changes are in store for us come 2021. In New York City, one of those changes will be how we vote. Gone are the days of selecting just one candidate! Soon voters will be able to rank up to five candidates in every race.
The ranked-choice-voting system, as the name suggests, asks voters to select candidates by order of preference. Many proponents of ranked-choice voting believe that once the system has been implemented it will lead to a more active democracy, less negative campaigning and more choices for voters.
You could see a more friendly atmosphere among candidates on the campaign trail and even candidates banding together to work on new policy proposals, instead of slinging mud at each other during debates. (Wouldn't that be nice!)
Critics of ranked-choice voting (RCV, if you're a real voting wonk) have suggested that New York City isn't ready to implement the new system.
Ranked-choice voting was adopted by the city at the end of 2019, after voters approved a ballot question to make the switch. The special election to replace Rory Lancman (who took a cushy gig in the Cuomo administration) for the New York City Council District 24 seat in Queens on Feb. 2 will be the first time the city uses ranked-choice voting.
Some of the city's Black politicians, including Brooklyn Borough President Eric Adams (who is running for mayor in 2021) and Council Members Adrienne Adams, I. Daneek Miller, Laurie Cumbo, Robert Cornegy Jr., Farah Louis and Alicka Ampry-Samuel, are now asking the city to postpone the system until after the special election, arguing that it will disenfranchise Black and Latino voters who haven't been educated on how ranked-choice voting works. Some have found this argument to be insulting to Black voters and not a reflection of what has happened in cities where the system has already been implemented. Ironically, studies have shown that ranked-choice voting has led to an increased likelihood of electing a nonwhite candidate.
On Dec. 8, six New York City Council members filed a lawsuit against the city Board of Elections and the Campaign Finance Board to prevent ranked-choice voting from being implemented during the February special election, stating that those two city agencies have failed to update their election software or properly educate voters. However, on Dec. 16, a state judge denied a temporary restraining order to stop ranked-choice voting during the special election. The initial ruling has been appealed, so whenever the case is resolved, the city will have little time to disperse information on the new voting process. With a ton of seats up for grabs in the City Council and a packed mayoral race already underway, it's likely the city will learn very quickly how well New Yorkers can navigate ranked-choice voting in 2021.
By the numbers
Some quick RCV stats
A micro-explainer
How does RCV work?
Under the city's new system, voters can rank up to five candidates in order of preference per race, rather than just select a single candidate. If one candidate does not get the majority of votes, then the candidate who is in last place is eliminated and the votes cast for that person will be redistributed to the other candidates based on their second-place selection. This process, also known as "instant runoff elections," continues until there are just two candidates remaining and a victor is declared based on which one has the majority of the votes. You can look at a simulated ranked-choice election here to get a hang of how the system works.
Because of ranked-choice voting, the city will need new ballots and voting machine software, although the city Board of Elections said that its machines have "the ability to lay out a ballot that will accommodate RCV" in a 2019 report. However, a lot has changed since then and it's unclear how prepared the board is to make the switch next year. Even City & State senior reporter Jeff Coltin was unsure whether the board would be ready for ranked-choice voting, following his experience as a poll worker during the November election.
Knowledge is power
Educating voters is key to RCV's success
The Board of Elections has already been strained due to COVID-19 and has yet to reveal how it plans to educate voters about the new system that is expected to roll out in just two months.
"A huge train crash is about to happen, and I'm wondering why there isn't more voter education about this," Mona Davids, a political strategist who conducts educational sessions for candidates and civic organizations on ranked-choice voting, told the Queens Daily Eagle. "New Yorkers don't know about ranked-choice voting."
Good-government groups have been saying that the city needs to educate its voters since February 2020, asking for $10 million in the 2021 budget. However, the Board of Elections did not specify a need for such funding when it submitted its ranked-choice-voting plans to the city the day that the city budget was due. It has since been reported that the board will be launching a $1 million campaign that includes mailing postcards to voters and conducting other forms of outreach.
The Board of Elections and the Campaign Finance Board, an independent city agency in charge of the city's campaign finance system, are expected to inform voters about the new voting process. In November, the Campaign Finance Board said it was in the process of creating campaigns to educate voters and those are expected to roll out in 2021 – which has been criticized for starting too late, as the special election is two months away. Many city lawmakers are unconvinced that voters will be sufficiently informed by February. Council Member Alicka Ampry-Samuel introduced two bills aimed at creating a timeline to educate voters about this process.
The Campaign Finance Board has also said it conducted focus groups exclusively with people of color, many of whom said English was not their native language, to figure out how to best educate the city's residents.
Ranked-choice-voting advocates have suggested mailing voters instructions and working with civic groups and community organizations to get the word out. Alternatively, Common Cause New York, a good-government group that has sought to educate individuals on a variety of matters including voting rights, began educating candidates about the process in March.
The end of negative campaigning?
How RCV could change elections
Ranked-choice voting has reduced negative campaigning in the cities where the system has already been adopted. The system also eliminated tensions for voters who may now feel like they can actually vote for their favorite candidate without "wasting" their votes. "Campaigns will be less inclined to go negative because they can't afford to turn off their opponent's supporters when they'll need those voters to turn around and vote for their candidate as a second choice," Doug Forand, a senior partner at political consulting firm Red Horse Strategies, told City & State.
Candidates may also begin endorsing someone else for that second position in the event they don't win so that a like-minded candidate will have a better shot at winning, which could lead to a more congenial campaigning environment. Candidates also must reach out to a wider range of voters because they can no longer rely on just pandering only to their voter base. "It really does change the way in which candidates campaign," Susan Lerner, executive director of Common Cause New York, told City & State. "It provides a very compelling incentive for candidates to campaign in every community, to every group within their district or within the city."