Kathryn Garcia doesn't really do politics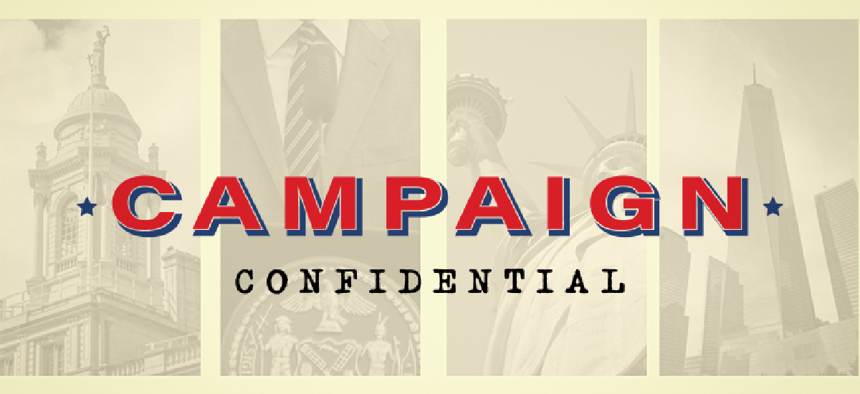 6 months and 1 week until the 2021 Democratic primaries
Like Campaign Confidential, our new weekly email taking a look behind the curtain of the 2021 NYC elections? Share it with friends, colleagues and rivals and have them subscribe here!
Kathryn Garcia wants to inherit the "shitshow"
Kathryn Garcia doesn't really do politics. Before she started running for mayor of New York City, beginning with a Zoom announcement on Thursday, she'd never run for office before. Her only campaign experience was making fundraising calls in 1992 for former Democratic U.S. Sen. Russ Feingold of Wisconsin when she was a college student at the University of Wisconsin-Madison. Before 2020, her lone campaign contributions were $100 to former Mayor David Dinkins' unsuccessful 1993 reelection campaign, and $10 to David Waid, an Assembly aide who dropped out of a 2001 City Council race in Brooklyn. And Garcia has only just now joined Twitter, that forum where so much (too much?) political discussion takes place.
"I avoided getting a Twitter account for like my entire life because I thought it was a not nice place," Garcia told City & State. "And I was told I must have one. I still think it's not a very nice place."
But Garcia does do government. And she has 15 years of experience in high-level positions in the administrations of Michael Bloomberg and Bill de Blasio – most prominently, as sanitation commissioner. In a crowded Democratic primary, Garcia is hoping her pitch of competence and service delivery will stand out – but she's hardly the only candidate making that pitch. So will voters let Garcia inherit the "shitshow" awaiting the next mayor, as she memorably put it in her campaign launch video?
Check out the City & State Q&A with Garcia to read about her 15-minute campaign launch event, why she doesn't want support from police unions and whether as mayor she'd be more like Bloomberg or de Blasio.
By the numbers
33
The number of candidates who have filed to run for mayor – including the two who have already dropped out. Everyone's joking about how many folks are running, but, for now, we're currently trailing 2017, when 37 candidates filed, but ahead of 2013, when 32 candidates ran.
Andrew Yang doesn't vote
Ray McGuire didn't vote in 2017, skipped the 2013 general and the 2009 primary. Rep. Max Rose didn't vote in 2013 – though he was in Afghanistan with the U.S. Army. But Andrew Yang, another likely mayoral contender with zero experience in city government, has them both beat: records from the New York City Board of Elections suggest Yang has not voted in any of the four previous mayoral elections. Yang, who's registered to vote at his home in Hell's Kitchen, has voted in some presidential years, but the only city election that he cast a ballot in was the 2019 general. Even though he didn't vote, Yang has contributed to a handful of unsuccessful city candidates, including $75 to Jack Hidary's 2013 mayoral run, $650 to Ronnie Cho's 2017 City Council campaign and $175 to Assembly Member Ron Kim's 2019 public advocate campaign.
Team Bloomberg feeling snubbed
Shaun Donovan has made it clear he's running for mayor as an "Obama guy" and not a "Bloomberg guy." But some fellow alumni of Bloomberg's City Hall aren't taking kindly to Donovan's near-total erasure of his four-plus years as Mayor Mike's HPD commissioner. "If he doesn't remember the people who got him to the point of becoming Obama's nominee, then why should voters think he's going to remember their support either?" said one former Bloomberg staffer. To be fair, Donovan worked on Obama's campaign too, and only did government work for Bloomberg.
Anybody But Erik
Erik Bottcher's City Council campaign is such a juggernaut that the other five candidates running in Manhattan's 3rd District are joining forces to try to level the playing field. Bottcher, a longtime aide to Council Speaker Corey Johnson, is well-connected and has raised a ton of money. So his opponents – Leslie Boghosian Murphy, Phelan-Dante Fitzpatrick, Marni Halasa, Aleta LaFargue and Arthur Schwartz – backed out of a recent Village Independent Democrats forum and are hoping to organize an independent forum that isn't "unfairly biased in support of one candidate." While it's a bit rich to accuse a political club of playing politics … isn't this the teamwork that ranked-choice voting supporters promised us?
No pay, no play
Council Member Mark Gjonaj included a disclaimer at the bottom of a recent fundraising text: "Your decision whether or not to give will not result in official favor or disfavor, and will yield no special access to the Council or the Council Member." Needless to say, most candidates don't feel the need to include that kind of language. But since Gjonaj was subpoenaed in March and was investigated for allegedly hiring campaign donors to renovate his office and also reportedly steered city money to a project that would benefit other donors – maybe it's for the best that he includes a disclaimer.
Endorsement Watch
Former Rep. Steve Israel is supporting Ray McGuire for mayor … The Uniformed Sanitationmen's Association has endorsed Kathryn Garcia for mayor … David Weprin kicked off his comptroller campaign with endorsements from Rep. Tom Suozzi, Assembly Members Richard Gottfried, Rebecca Seawright, Maritza Davila, Vivian Cook, Jeffrion Aubry, Catherine Nolan, Michael DenDekker, Council Members Karen Koslowitz and Peter Koo, the New York State Court Officers Association and others … State Sen. Andrew Gournades and Council Member Justin Brannan are endorsing Brad Lander for city comptroller … Bronx Borough President Ruben Diaz Jr. and Assembly Member Victor Pichardo are supporting Yudelka Tapia for City Council District 14 in the Bronx … State Sens. Jessica Ramos and Alessandra Biaggi endorsed Ischia Bravo for City Council District 15 in the Bronx … State Sen. Julia Salazar and former City Council Speaker Melissa Mark-Viverito are backing Elisa Crespo, also running in District 15 … and Council Member Jimmy Van Bramer is supporting Moumita Ahmed for City Council District 24 in Queens … The Village Independent Democrats endorsed Erik Bottcher for City Council District 3 in Manhattan and Christopher Marte for City Council District 1 in Manhattan.
Poll Sight: Yang's MATH
We might have just gotten our first legit poll of the 2021 mayoral race, with Slingshot Strategies' November poll of likely Democratic primary voters. And 17% of respondents put Andrew Yang as their first choice, leading Scott Stringer and Eric Adams, who tied for second at 11%. But 25% said "not sure," and frankly, polls this early should be taken with a shaker of salt. Slingshot publicly released the poll, but it was reportedly commissioned by an unknown private client who isn't Andrew Yang.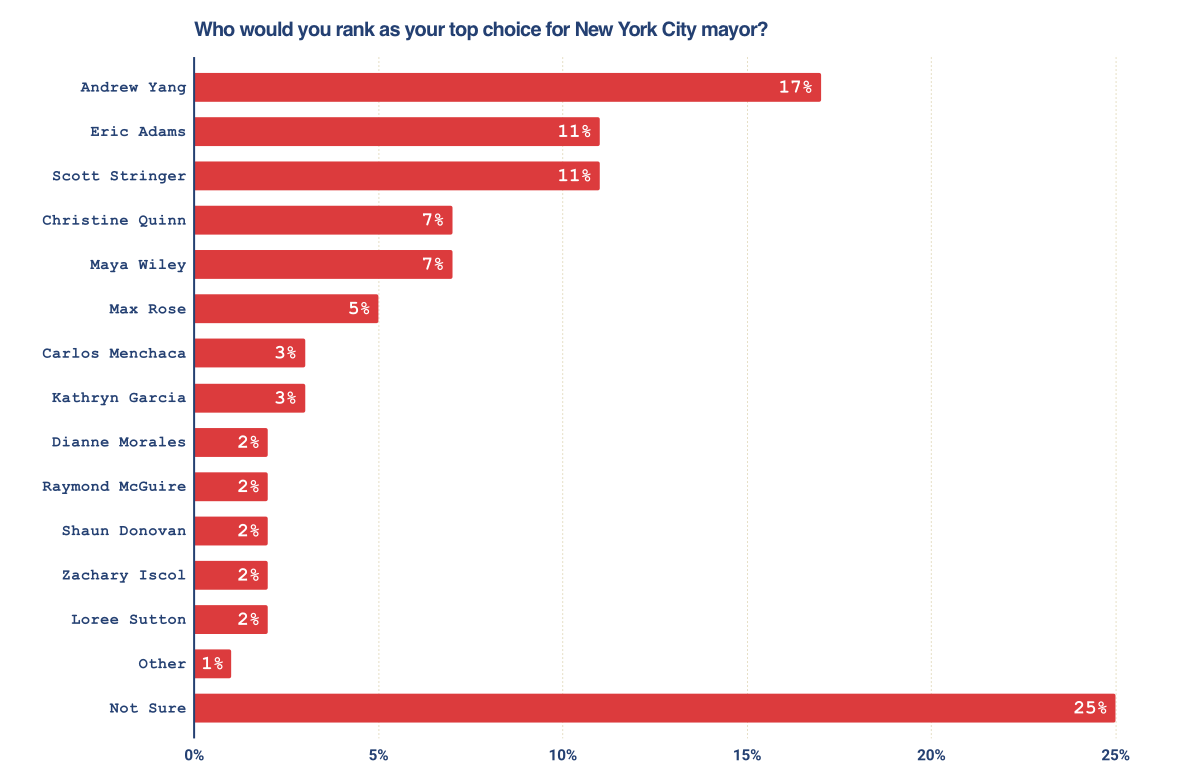 Staffing Up
Rep. Max Rose's two-time campaign manager – and former Staten Island borough director for Comptroller Scott Stringer – Kevin Elkins is handling comms for the early days of Rose's "exploratory" run for mayor … Rose's mayoral campaign treasurer, Madeline Appelbaum, was finance director on his recent House race … Stringer's mayoral campaign announced a ton of hires, including Micah Lasher as campaign manager, Maria Martinez as deputy campaign manager, Mark Guma as a consultant, Rebecca Katz and Camille Rivera as consultants and Tyrone Stevens as press secretary … Chris Coffey and Bradley Tusk are #YangGang (i.e. advising Andrew Yang's potential mayoral campaign) … and Audrey Litvak, formerly of Rep. Hakeem Jeffries' congressional office, is a special assistant on Shaun Donovan's mayoral campaign.
Got tips? Email JColtin@CityandStateNY.com or dm me @JCColtin.
District Data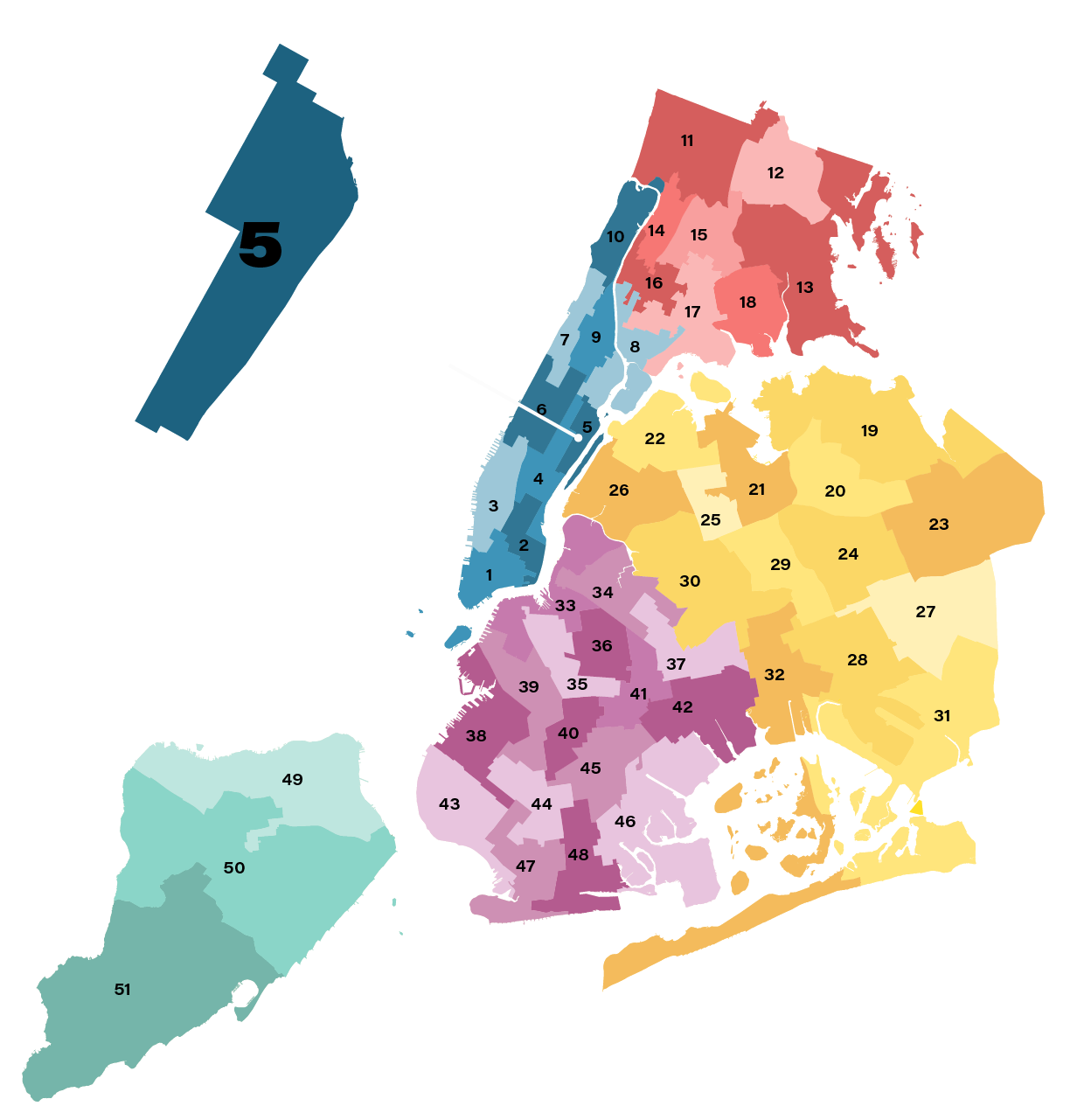 City Council District 5 in Manhattan, covering neighborhoods including the Upper East Side, Roosevelt Island and Sutton Place
Current council member: Ben Kallos, since 2014, who is term-limited at the end of 2021 
2010 census demographics: 78% white, 10% Asian, 7% Hispanic, 3% Black
Housing: 69.5% renter-occupied, 30.5% owner-occupied
2013 Democratic primary election results: Kallos 46%, Micah Kellner 39%, Ed Hartzog 15%
2017 Democratic primary election results: Kallos 75%, Gwen Goodwin 15%, Patrick Bobilin 10%
Who's running: Billy Freeland, Rebecca Lamorte, Julie Menin, Kim Moscaritolo, Tricia Shimamura and Christopher Sosa. Menin, who unsuccessfully ran for Manhattan borough president in 2013, has many friends in high places after seven years in the de Blasio administration, and she will be coming in with money and endorsements. But the other five younger progressives have deeper district ties, such as Moscaritolo, who is a district leader, and Shimamura, who was Rep. Carolyn Maloney's deputy chief of staff.