Joe Biden
New Yorkers who could fill Biden's cabinet
The incoming administration is pulling from the Empire State.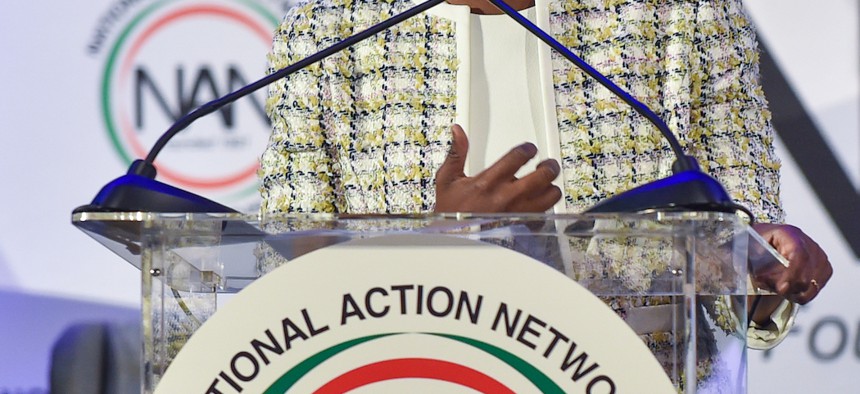 Since the defeat of President Donald Trump, political observers have been closely watching President-elect Joe Biden's cabinet nominations. Past administrations in both parties have drawn heavily from New York and this one is likely to be no different. 
This week, Biden appeared to have New Yorkers in mind for key economic and climate roles, including New York City finance executive Diana Taylor, who is reportedly being considered to head the Small Business Administration. Biden also plans to name New York state's current deputy secretary for energy and environment, Ali Zaidi, as deputy to Gina McCarthy, who will serve as senior White House adviser on climate change.
In late November, Biden announced born-and-raised New Yorkers Antony Blinken, Avril Haines and Janet Yellen would be his nominees for secretary of state, national intelligence office and secretary of the treasury, respectively. Thus far, most of Biden's picks have symbolized a more inclusive administration of "firsts" for race and gender, including an all-female and highly diverse communications team that features several women who have been involved in New York state politics. 
There are still an array of cabinet and sub-cabinet positions that need to be filled. Some contenders don't have a history of work in New York, but did hail from the state originally, including former U.S. Assistant Secretary of Energy for Energy Efficiency and Renewable Energy Dan Reicher and former Virginia Gov. Terry McAuliffe, who are both from Syracuse, and Chair of California Air Resources Board Mary Nichols, an Ithaca native. Others, like President of the American Federation of Teachers Randy Weingarten and New York City DOT Commissioner Polly Trottenberg, have spent their career here. Gov. Andrew Cuomo's name has been thrown around as a potential U.S. attorney general, but he has said he's not interested. 
City & State has compiled a list of the top New Yorkers who are contenders for Biden's cabinet, along with individuals who have already been appointed to their respective posts or who will be nominated. 
Nominated or appointed: 
Former Deputy Secretary of State Antony Blinken 
The soon-to-be Secretary of State"Tony"Bliken was born in New York City and grew up in the city and in Paris. He previously served as deputy secretary of state and Biden's deputy national security advisor during President Barack Obama's administration. Prior to that, he served President Bill Clinton in a variety of foreign policy roles. Blinken received his J.D. from Columbia University and has practiced law in New York. His father, Donald Blinken, is native to New York and served as chairman of the board of trustees of SUNY and member of the executive committee of the New York Public Library.
Former Federal Reserve Board Governor Janet Yellen
If confirmed, Janet Yellen will be the first female secretary of the treasury. Yellen wasborn and raised in Brooklyn and regularly explored New York City in her youth. She served as Federal Reserve governor under both Clinton and Obama. A labor economist by training, she was the first woman to lead the Fed. 
Former White House Deputy National Security Advisor Avril Haines
Avirl Haines was born and raised in Manhattan. If confirmed, she will be the first female director of national intelligence. She has previously served as the deputy director of the CIA and the White House's deputy national security advisor during the Obama administration. Haines is also a senior research scholar at Columbia University. Her father, Thomas Haines, has deep roots in New York as a founder of the CUNY Medical School.
Ali Zaidi
Biden plans to bring back Gina McCarthy, the former administrator of the Environmental Protection Agency under President Barack Obama, to serve as senior White House adviser on climate change, and install Ali Zaidi as her deputy. Zaidi, the deputy secretary for energy and environment for New York state, already has some experience in Washington. He worked in the Obama administration as a senior economic and environmental policy official in the Office of Management and Budget. 
Karine Jean-Pierre
Karine Jean-Pierre will hold the post as White House principal deputy press secretary for Biden's historic communications team. A Black lesbian, Jean-Pierre's placement is a victory for women of color and the LGBTQ+ community. Prior to working with Biden's team, she had managed an array of political campaigns, including now-state Attorney General Letitia James' successful run for New York City public advocate in 2011. She has a long history in New York, having worked as deputy chief of staff for then-New York City Council Member James Sanders Jr. and director legislative and budget affairs for then-Council Member James Gennaro. She also served as former Rep. Anthony Weiner's press secretary. Born in Martinique to Haitian immigrants, Jean-Pierre was raised in Queens. She stayed in New York to receive her masters in public administration at Columbia University.
Pili Tobar
Along with Jean-Pierre, Pili Tobar's placement as White House deputy communications director marks a historic appointment, she is a Latina lesbian. Tobar has a long history of working with Latino and Hispanic media, having served as director of Hispanic media for the Democratic National Committee and communications director of the Latino Victory Project, a progressive political organization looking to increase Latino representation in government. Although not from New York, in 2017, she served as Senate Minority Leader Chuck Schumer's Hispanic media director.
Winston & Strawn Partner Julissa Reynoso
Julissa Reynoso will serve as first lady Jill Biden's chief of staff. Reynoso has a long history of working in New York. Currently, she is a partner at the New York office of the international law firm Winston & Strawn. She had previously served as co-chair of the transition committee for James, clerked for a judge in the Southern District of New York and was deputy director of the Office of Accountability for the New York City Department of Education. She is a trustee for New York Presbyterian Hospital and Columbia University, along with having received her J.D. from Columbia. She has a range of experience in diplomatic practices having served as the United States ambassador to Uruguay, among other roles in the U.S. Department of State. 
Contenders:
President of the American Federation of Teachers Randi Weingarten
Weingarten wasborn and raised in Rockland County and currently resides in Long Island. A candidate for secretary of education, Weingarten has been the president of the American Federation of Teachers since 2012 after leaving her post as the president of the United Federation of Teachers, where she represented a majority of New York City's public school educators. Weingarten's years of experience in one of the most robust and largest public education systems in the nation have made her a top contender for secretary of education. Weingarten has said that she is "honored by the mention," but didn't say directly whether she was interested in the position. 
New York City Transportation Commissioner Polly Trottenberg
Trottenberg has run the New York City Department of Transportation since 2014, but she announced her impending resignation on Nov. 23. As the longest-serving commissioner under New York City Mayor Bill de Blasio, she has been a member of the transition team for transportation issues advising for Biden and Vice President-Elect Kamala Harris. Trottenberg is being mentioned as a possible secretary or deputy secretary of the federal Department of Transportation. Trottenberg has worked for Schumer as a legislative director and has a lifetime of experience in transportation and public policy. 
Attorney General Letitia James
As attorney general of New York, James continued her predecessors' use of the office to challenge corporations and is investigating Trump for potential tax fraud. Prior to her current position, she was New York City's public advocate. In both positions, she made history as the first woman of color to hold the posts. James could be considered for U.S. attorney general or another cabinet position. James was born and raised in Brooklyn. If she leaves New York, the New York state Legislature would need to decide on who would fill her seat.
Sen. Kirsten Gillibrand
After a failed attempt at the presidency, the two-term senator supported Biden, and her name has been floated for a position in the cabinet.Some surmised she could be secretary of defense due to her role in the Senate Armed Services Committee, but that looks unlikely. Nevertheless, there's still a possibility Gillibrand joins the Biden team and she has not ruled it out. The senator was raised and resides in the Capital Region, but she sold her home in Brunswick in June and has not bought a new home yet, stirring speculations on a possible appointment. 
Former New York City Mayor Michael Bloomberg
Along with Gillibrand, other former presidential candidates from New York may find a seat in Biden's cabinet. Bloomberg's name has been dropped. Although he seemed to have been a contender for secretary of the treasury, that position has since been given to Janet Yellen. According to the New York Daily News, Bloomberg would be "unlikely" to accept an offer for the cabinet, but New Yorkers will have to wait and see if that's the case.
Former U.S. Secretary of Homeland Security Jeh Johnson
Jeh Johnson, who has been considered for secretary of defense and attorney general, was born in New York City and raised in Wappingers Falls. A former New York prosecutor, he was assistant U.S. attorney for the Southern District of New York from 1989 to 1991 and chairman of New York City Bar Judiciary Committee. Johnson served as U.S. Secretary for Homeland Security from 2013 to 2017. 
President and CEO of National Wildlife FederationCollin O'Mara
A Syracuse-area native, Collin O'Mara has a lengthy history of working in New York state politics prior to his rise in the National Wildlife Federation and is being consideredfor director of the Environmental Protection Agency. O'Marainterned and served as a staffer for then-Rep. Jim Walsh, a Republican from Syracuse, in 1998. O'Mara later switched parties and worked for Democratic Syracuse Mayor Matt Driscoll. A graduate of Syracuse University, O'Maraaided Syracuse City Hallby helping create a computer efficiency program that has saved the city of Syracuse money, prompting the nickname "whizkid." Eventually, he left Syracuse and became Delaware's secretary of natural resources and environmental control, before being named to the top post in the National Wildlife Federation. 
Finance Executive Diana Taylor
New York City finance executive Diana Taylor is reportedly in the running for a number of cabinet roles, including administrator of the Small Business Administration, The New York Times reports. Taylor, who currently serves on the board of Citigroup, was previously the New York state banking superintendent under former Gov. George Pataki, a Republican. A potential appointment could rub the left wing of the Democratic party the wrong way, the Times notes, because of Taylor's ties to Wall Street. Taylor is also the longtime partner of former New York City Mayor Michael Bloomberg. Bloomberg may have failed in his presidential bid, but if he doesn't get his own appointment, at least he'd get to attend some White House functions on Taylor's arm.
Powered By
NEXT STORY: Meet NYC's first elected COVID-19 "long-hauler"