New York City
Stimulus clears Congress and state lawmakers consider a blanket eviction moratorium
Rounding up the week's political news.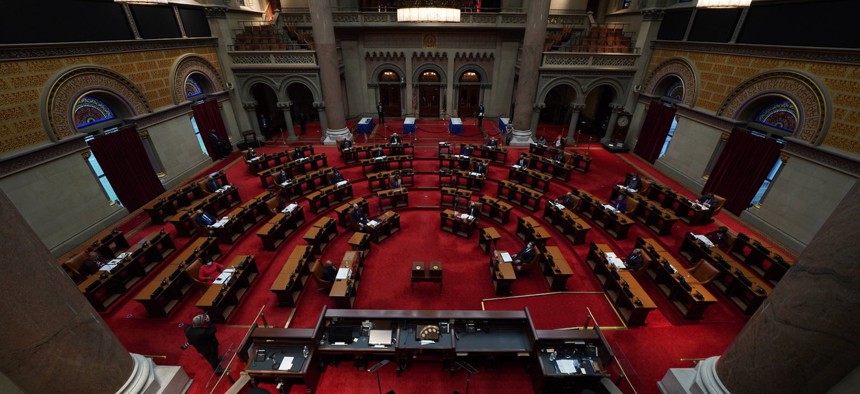 Ah, the holiday season. It understandably hits differently this year. Travel has been greatly curtailed, which means that many families won't be able to spend the holidays together. Vaccine distribution has caused some seasonal cheer, but a new coronavirus variant is putting a damper on the festive mood. That didn't stop the Whitestone Republican Club from partying like it's 1999 – sans masks. The Queens political group held an ill-advised holiday party and a video of attendees dancing in a conga line went viral. The gathering even drew scrutiny from Gov. Andrew Cuomo, whose blunt assessment was "COVID conga lines are not smart." While we may not see eye to eye about writing a book on tackling the pandemic while it continues to rage, he's on the money with this one. Keep reading for the rest of this week's news.
Stimulus bill clears Congress
After months of delays and significant debate, Congress finally agreed to a new $900 billion stimulus deal. It will send $600 direct payments to most Americans, which is half what people got in the first coronavirus relief bill. It also includes funding for an extra $300 a week in unemployment, again half of what the first stimulus package offered. New York can expect $54 billion across various programs. The Metropolitan Transportation Authority got $4 billion, well short of the $12 billion the agency sought but enough to avoid the deepest immediate cuts. The state is also set to receive another $250 million for rental relief, $1 billion in Federal Emergency Management Agency disaster relief funding, $1 billion for hospitals and $5.8 billion for education. However, the deal did not include funding for state and local governments despite pleas from the likes of Cuomo and New York City Mayor Bill de Blasio, leaving gaping budget holes that still need to be addressed. De Blasio criticized the deal, saying it was wholly insufficient, months too late and a "short-term survival plan" to hold people over until something better passes. But the deal hit a snag when President Donald Trump suggested that he would not sign it unless the bill gave people $2,000 instead of $600. Democrats, who originally asked for larger stimulus checks as part of the package, jumped on board immediately. Rep. Alexandria Ocasio-Cortez revealed an amendment she had already co-authored that would increase the direct payments, and Senate Minority Leader Charles Schumer joined her in calling Trump's potential bluff.
Chris Collins pardoned
Drawing every closer to the day he will leave office, Trump issued a slew of lame duck pardons, including for former Rep. Chris Collins. Collins pleaded guilty to federal insider trading charges last year and had been serving his prison sentence in Florida since October. He had also been the first member of Congress to back Trump in his 2016 presidential run and remained one of his staunchest supporters. The move drew outrage from Democrats and congressional ethics experts, and Republican Rep. Tom Reed praised Trump's decision to pardon Collins.
State Legislature may pass eviction moratorium
The state Legislature seems to be inching closer to a December session to pass an eviction moratorium before the end of the year, when protections for some renters are set to expire under an executive order from Cuomo. Although the governor has said he will renew the order, and a state law protects many tenants for the duration of the pandemic, the piecemeal protections have allowed evictions to continue for vulnerable families nonetheless. State law only offers a court defense for tenants and does not stop a landlord from filing an eviction notice. And renters facing evictions from before the pandemic started have even fewer protections. Cases are still making their way through housing court and several evictions have occurred since October, including over 100 in Rochester. Assembly Member Demond Meeks was arrested while protesting one tenant's eviction in Rochester. Lawmakers and tenant advocates have been pushing for a blanket moratorium on evictions for all renters, despite their financial circumstances or other factors, to ensure that all renters have the same protections and that no one falls through the cracks during the pandemic. A bill from state Sen. Zellnor Myrie and Assembly Member Karines Reyes has the support of tenant advocates, although it remains unclear if legislative leaders intend to pass that bill or introduce a different one based on current negotiations. They could begin the session as soon as Monday to pass a new moratorium. However, a new tax on the wealthy New Yorkers, which progressives have been demanding for months to help address the state's financial crisis, does not appear to be on the table. Originally, discussions about a potential December session revolved around the prospect of passing a new tax, although Cuomo was not on board with the idea.
Powered By
NEXT STORY: A timeline of the Chris Collins case