New York State
The 7 top issues facing the 2021 state Legislature
Landmark legislation in the months ahead could help New York recover from the pandemic.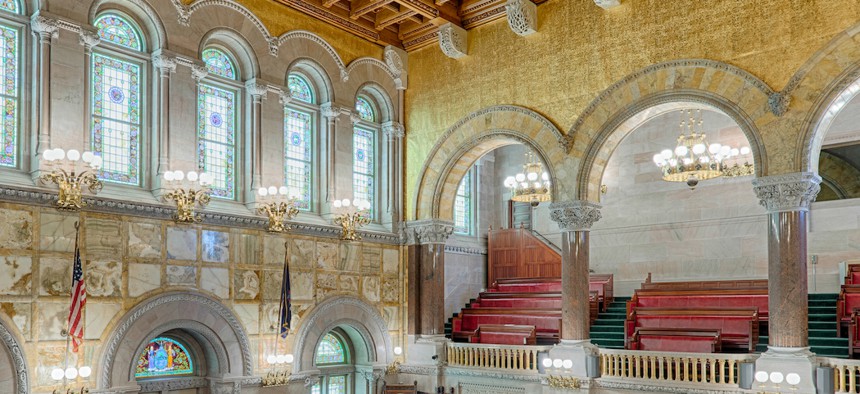 The confluence of a deadly pandemic, a multibillion-dollar state budget deficit and new Democratic supermajorities in the state Senate and Assembly suggest that the 2021 legislative session will be unlike any other in state history. Gov. Andrew Cuomo and state lawmakers say they are planning action on a litany of legislative proposals that could help New Yorkers recover from an unprecedented set of public health, social and economic crises over the past year. Here are the top issues to watch in the coming months as the state budget process begins. 
Single-payer health care
COVID-19 has created a new political opening for the decadeslong effort to establish a state-level single-payer health care system. Supporters say a government-run system would help address the economic and racial inequalities highlighted by the pandemic. Some experts say lower administrative costs and more buying leverage for prescription drugs are examples of the long-term benefits that make single-payer worth the huge upfront cost of implementation. A skeptical governor and skittish moderate lawmakers, however, will make it tough to get single-payer done next year, despite its potential long-term savings. Even if a Democratic White House were to grant a federal waiver that would make it easier to divert billions of dollars in Medicare, Medicaid and other funding to a single-payer system, Vermont offers a cautionary tale of just how hard it is to make it all work. Still, the issue gives an incoming class of leftist legislators a chance to demonstrate how they can translate electoral upsets into the social safety net expansion they've been selling on the campaign trail.
State aid for public schools
Education is one of the biggest chunks of state spending, and when it comes to funding public schools, legislators and allies including teachers unions, advocacy groups and local officials typically say the more money, the better. Money is going to be tight this year, though, which likely means state lawmakers will have to fight harder than ever for every dollar they bring to their local school districts. The political left is pushing for new taxes on the wealthy to avoid deep budget cuts. Additional federal aid for state and local governments could alleviate fears of catastrophic reductions in Foundation Aid and other state support for local districts, but it is unlikely to completely fill the multibillion-dollar budget hole left by the pandemic. 
Fulfilling long-running hopes to boost education funding by billions per year by changing the funding formula will be tough. If state finances remain as tight as they currently are before the April 1 state budget deadline, maintaining current levels of funding could be the goal in the end for state lawmakers.
Energy & the environment
Democratic state lawmakers passed a landmark law called the Climate Leadership and Community Protection Act in 2019 to reduce greenhouse gas emissions statewide by 85% before 2050. Now, activists and legislators have proposed the Climate and Community Investment Act to help pay for such efforts by imposing a new "fee" on methane emissions and "any carbon-based fuel sold, used or brought into the state," according to the legislative language. That money would then be reinvested into places that have been most damaged by the use of fossil fuels, like communities of color near power plants. A lot of tweaks are likely to happen to the bill before it would be able to get the votes and gubernatorial support necessary to become law, but its emphasis on making polluters foot the bill for addressing many of the effects of climate change could become increasingly attractive in a year when state finances are likely to remain tight. 
Labor
New York is the latest front in the ongoing national battle over whether gig workers deserve the same worker protections and benefits as regular full-time employees. While state lawmakers and the governor were not able to reach a deal on the matter before the pandemic derailed their efforts, they are likely to try again in the upcoming months. That could mean that app-based workers will not have to deliver food, drive cars and fulfill other tasks for less than minimum wage with no benefits, but that depends on whether proposed legislation is not once again overshadowed by other efforts. 
Infrastructure
The pandemic has made speedy and reliable internet service more vital than ever, while also expanding the digital divide between rich and poor. Newly introduced legislation aims to provide universal broadband service to students ages 5 through 21 through a proposed tax on telecommunications companies. Paying for it could get tricky, though, especially considering the lobbying power of the telecommunications industry in Albany. 
Criminal justice reforms
Left-leaning lawmakers and activists have a new "justice roadmap" that includes outstanding legislation that would impose new limits on solitary confinement, make more elderly prisoners eligible for parole and other changes to the criminal justice system. Such proposals are likely to face resistance from moderate lawmakers and the governor, who were instrumental earlier this year in amending 2019 reforms to cash bail and other parts of the pretrial system. Ongoing opposition from unions representing corrections officers adds additional friction to the legislative process. That suggests a tough road for reforms this year, though lower-profile bills that aim to raise the minimum wage in state prisons and keep more young adults out of prisons by making them eligible for "youthful offender" status could succeed after falling short this past year. 
Marijuana
State lawmakers have high hopes of legalizing recreational marijuana in 2021, especially considering how much the state needs new sources of green. The problems lie in sticky issues like hashing out control over future revenues and economic opportunities, concerns about people driving under the influence, and the expungement of past marijuana convictions. Albany was unable to work all of that out last year, but impending legalization in New Jersey doesn't leave lawmakers and the governor much time before New York misses out on a spark for its economic recovery.
Powered By
NEXT STORY: Ideas for a new New York