New York City
Vaccines on the way and New York's elections are certified
Rounding up the week's political news.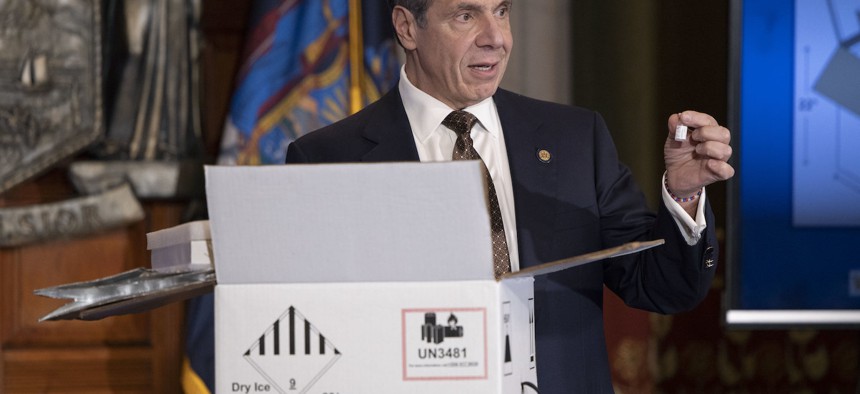 In late December 2018, a strange blue light lit up the sky over Queens. It quickly sparked theories about aliens or some astronomical event, although the cause was just a transformer fire. Two years later, another unusual occurrence – an enormous boom – caught upstate New Yorkers by surprise. And this time, the cause was far less mundane than a transformer. A meteor exploded over Syracuse, causing the loud noise and for some observers, a sky full of light as it disintegrated in the atmosphere. Perhaps unusual celestial events will be a biennial year-end occurrence in New York. Looking forward to seeing what happens in December 2022. Here's the rest of this week's terrestrial political news.
Vaccines on the way in New York
Although the Food and Drug Administration has not yet approved a COVID-19 vaccine, it's getting close, and Gov. Andrew Cuomo said that New York is set to receive its first batch of doses on Dec. 15, provided the approval happens. FDA officials will virtually meet on Dec. 10 to review both vaccine proposals. Cuomo said New York will receive enough vaccines from Pfizer in the first shipment to inoculate 170,000 people, with the second doses of the two-part vaccine arriving several weeks later. Cuomo also expects to get the first set of vaccines from Moderna later this month or early next year. Moderna submitted its proposal for emergency use after Pfizer. These first vaccines will not be widely available, instead going first to nursing home residents and health care workers. And that's just phase one – the general public won't have access to the vaccine until phase five under the state plan, which could be toward the middle of next year. Additionally, New York City expects to receive 466,000 doses from both companies this month, while Cuomo has so far only spoken about numbers regarding the first shipment from Pfizer.
New York elections certified
About a month after Election Day, the state Board of Elections has certified the results, with the exception of the 22nd Congressional District where Rep. Anthony Brindisi and former Rep. Claudia Tenney are still duking it out in court because they are separated by just 12 votes. But every other race was finalized. Democrat John Mannion won his bid for a Central New York state Senate seat, while Republicans Alexis Weik and Mike Martucci officially flipped two Democratic state Senate seats on Long Island and in the Hudson Valley. President-elect Joe Biden's margin of victory also widened in the state after election officials counted all the paper and mail-in ballots. The final presidential totals flipped four counties to Biden that had appeared to go for President Donald Trump based on the unofficial election night results.
Nurses strike over contracts and conditions
Nurses in two parts of the state held strikes over contract negotiations and concerns about safety as the number of new coronavirus cases begins rising again. Nurses at Albany Medical Center Hospital held a 24-hour strike, and hospital officials hired nearly 700 temporary staff members to handle work during that time and called the strike "irresponsible." This particular strike was contentious not just in the way that strikes generally are, but because the strike authorization was rushed by the New York State Nurses Association and perhaps not universally accepted. There was belief that some unionized nurses would break their own picket line and go to work, and that seemed to be the case. According to the hospital, the majority of nurses scheduled for work showed up. Downstate, nurses at Montefiore New Rochelle Hospital in Westchester County held a two-day strike, similarly over failed contract negotiations that have been ongoing for two years. After the strike ended, some nurses claimed that the hospital did not allow them to return to work as a form of retaliation.
New York City mayoral race grows wider
Two new contenders officially jumped into the race to be the next mayor of New York City – Ray McGuire and Isaac Wright Jr. McGuire is a prominent Wall Street executive who recently stepped down from his job as vice chair of Citigroup. He made the announcement with a video narrated by Spike Lee, although he had already raised a significant amount of money before making his candidacy official. Wright is a formerly incarcerated lawyer, imprisoned for a crime he did not commit, whose life story has been adapted into the ABC drama "For Life."
COVID-19 health restrictions spark protest at Staten Island bar
The New York City Sheriff's Office finally shut down a Staten Island bar located in an area subject to coronavirus-related restrictions that had been flouting public health regulations. They also arrested the bar's manager. Mac's Public House had declared itself an "autonomous zone" and continued to serve customers inside, despite indoor dining being prohibited in the area. The bar racked up fines, continued serving alcohol after its liquor license was revoked and ignored cease and desist notices. The bar's closure attracted protesters to Staten Island, including members of the far-right group the Proud Boys, demanding the bar be allowed to reopen while denouncing public health rules. Also present was state Sen. Andrew Lanza, who attempted to enter the bar as the owner's counsel, but was blocked by law enforcement.