Joe Biden
What NY's GOP members of Congress are saying about Trump's election loss
Silence, support and little dissent for baseless claims of election fraud.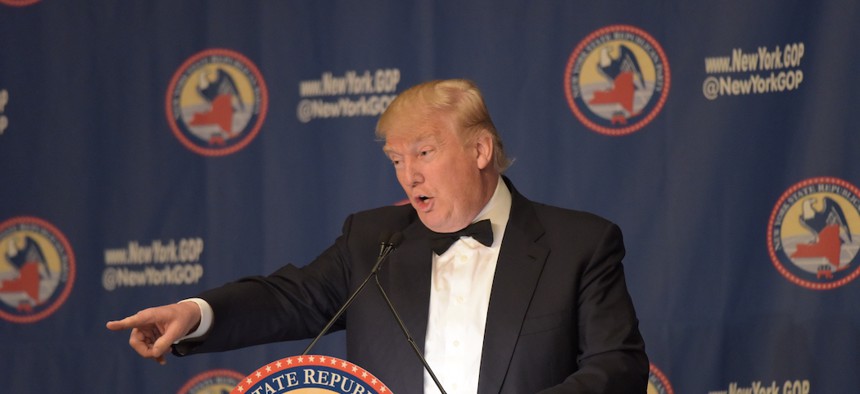 Nearly a month after Joe Biden was declared president-elect, President Donald Trump and his lawyers are continuing to pursue their largely baseless election fraud disputes. Along with the support of many nationwide Republicans, several New York leaders are backing his cause. 
Republican politicians in New York have been overwhelmingly cautious in declaring Biden the winner of the election. Many have fallen to silence as their default. Top New York Republicans like state party Chair Nick Langworthy, state Senate Minority Leader Robert Ortt and Assembly Minority Leader William Barclay have not made any public statement on the election and did not respond to City & State's request for comment. Assembly Member and Rep.-elect Andrew Garbarino has declared his own victory in the 2nd District, but remains silent regarding the presidential election. 
Others aren't so subtle. Manhattan Republican Party Chair Andrea Catsimatidis has consistently addressed her resounding approval for Trump's claims on Parler, an alternative to Twitter popular with conservatives. She differs from Bronx Republican Party Chair Michael Rendino, who has tweeted that Trump should either present evidence of election fraud or begin the transition. 
In particular, New York's Republican members of Congress have been speaking out in support of Trump's effort – with only one outrightly acknowledging Biden as president-elect. Here's what they all have – or haven't – said.
Assembly Member and Rep.-elect Nicole Malliotakis
Assembly Member and incoming Rep. Nicole Malliotakis of the 11th District used the narrow margins in her own race to bolster Trump's case for challenging the presidential count. Malliotakis told City & State that she wanted to ensure the validity of votes. "Here in my district, we found two dead Democrats that voted," Malliotakis said. "We want to make sure that all the ballots are counted, but that they're legitimate." (Though the person who lives at one of those Democrats' addresses is a Republican.) In an interview broadcasted on CNN, the Assembly member aligned herself further with the president. "I don't believe that the president is undermining anything," she said. "I believe that he is within his legal right to be questioning any irregularities that may have surfaced." She went on to note that she will follow the president's lead, once again, in accepting the results once the Electoral College finalizes the vote. 
Rep. Elise Stefanik 
After a concerning bout of silence, the soon-to-be four-term member of Congress spoke out in support for Trump's legal battles in an interview with Newsmax. "I believe it is very important to make sure every legal ballot is counted," Rep. Elise Stefanik said when asked if she believed Trump won the election. "I believe we need to play out the legal case, and as the president said, if the Electoral College and the vote is certified for Joe Biden, he will ensure a smooth transition, but the American people deserve to know there is integrity and ballot security and that in these key states with very thin margins, that we ensure that only the legal ballots are counted." Stefanik's loyalty to Trump makes sense, considering her rise to national political stardom after her defense of the president during the impeachment proceedings. She expressed concerns about the ballot verification process, citing "dead people who have cast votes" – though the instance she cited to support her claim was the fact that three people who voted by mail died before Election Day in the heated race between Rep. Anthony Brinidisi and Claudia Tenney in the 22nd District. That is not fraud, and those votes were cast away. 
Rep. Lee Zeldin 
Republican incumbent Rep. Lee Zeldin enjoyed a major victory in his Long Island district for a fourth term. Zeldin has aligned himself with the president on almost every issue, and this time around it's no different. In several Twitter posts, Zeldin has defended Trump's legal actions over ballots. "Ballot integrity matters and must be totally defended," Zeldin wrote on Nov. 18. "Our elections are not tamper proof and error proof. Confronting that reality head on is the only acceptable path forward in this moment and beyond. We MUST make the system stronger." In an interview with Newsday, Zeldin said that his stance is meant to show respect for his constituents, who are asking their representative to fight the fight. "The demand I'm hearing from the right is that I grab a pitchfork and go into the streets," Zeldin said. "The emotion level of the nation is extremely high, the stakes couldn't be higher. The pitchforks are on the fringe. But the demand of masses of mainstream Trump supporters is that they don't want us to be silent, they want us to stand with the president and support him."
Rep. John Katko 
Rep. John Katko just finished defeating Dana Balter for a second time in his largely Democratic district. In a statement released on Nov. 10, three days after Biden was declared the winner, Katko said there was no evidence of fraud, although he didn't mention the victory of the president-elect. "I continue to have faith in our democracy and in the integrity of our elections," said Katko, a Republican. "There has been no evidence of fraud. We must continue the process of counting votes, and, as we do in every election, rely on our legal system to adjudicate any instance of fraud, should legitimate claims emerge." Katko endorsed Trump for president, but has attempted to make the distinction that he supports his policies, not his personality. Maybe election fraud disputes fall under the personality part. 
Rep. Pete King 
Longtime Rep. Pete King is retiring, but he is still a prominent voice in New York politics. "I believe Joe Biden will be declared to be the next President," King wrote on a Dec. 1 Facebook post. "I also believe that President Trump should not be charging fraud without producing viable evidence but he has the right to pursue his case in court." Those two sentences followed remarks calling progressives hypocrites for demanding Trump's concession after making baseless claims of collusion with Russia, according to King. Although he acknowledged that he believes Biden will be declared a winner, King makes it clear that he is not on Democrats' side. "The hypocrites on the left should keep quiet and hang their heads in shame!" King wrote. 
Rep. Tom Reed 
The only Republican member of New York's congressional delegation to have called Biden "president-elect" is 23rd District Rep. Tom Reed. In a Twitter post on Nov. 7, when election results were confirmed, he congratulated Biden on his win. "To ensure the integrity of our electoral process, we must continue to transparently count and certify all of the American people's votes to its complete conclusion," Reed wrote. "However, out of respect and in deference to the moment, I extend my congratulations to President-elect Biden. We are ready to come together, work as one and help all Americans though the difficult times ahead." Despite having a large Trump supporter base, he repeated those remarks in an interview with Spectrum News, where he said he will work with Biden on bipartisan solutions. 
Rep. Chris Jacobs
Rep. Chris Jacobs won his district in a special election over the summer and defeated his opponent again in the November election, after shifting his moderate tone to be more supportive of Trump. In a Nov. 11 statement, Jacobs defended Trump's right to challenge the election results. "We need to let the process work to ensure accuracy and fairness," Jacobs said. "Every legal vote must be counted transparently – the health and integrity of our electoral process relies upon it. The president has the right to ask for every legal vote to be counted and the results of the election to be certified."
Powered By
NEXT STORY: New Yorkers who could fill Biden's cabinet