New York State
6 New York politicos who attended the Trump riot
These small-time political figures show even the Empire State was not immune from the president's lies.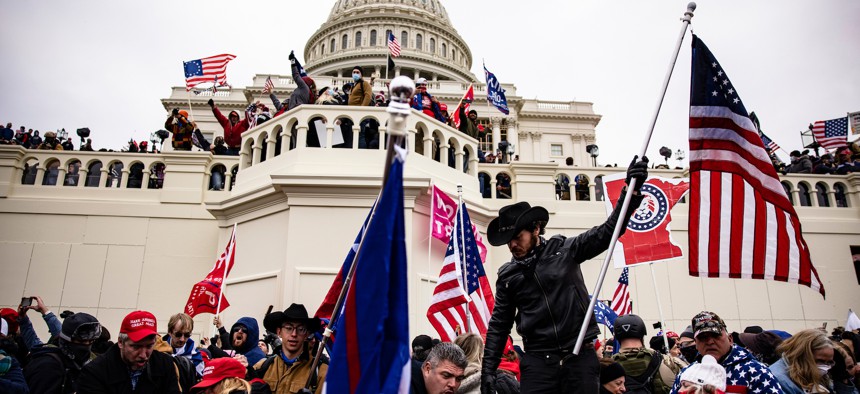 On Monday, House Democrats released an article of impeachment against President Donald Trump, and the New York State Bar Association said it will consider kicking out Rudy Giuliani as the fallout continues from last week's devastating riot at the U.S. Capitol. But if you thought the buck stopped at Trump's inner circle, or even with the four complicit members of New York's congressional delegation who voted to overturn the election after they were forced to hide from an attempted coup, you'd be wrong.
Here are some smaller New York political players who took an active role in last week's mayhem.
Mark Szuszkiewicz
This QAnon supporter was almost elected to a southern Brooklyn Assembly seat in 2020, and he has spent the past week posting a bunch of selfies from the Trump rally that preceded the Capitol riot. Mark Szuszkiewicz also violated the Washington, D.C., curfew to stick around past sundown, as seen below.
Szuszkiewicz claimed he was among the "peaceful protesters" outside the Capitol who were tear-gassed, and he seemed to flip back and forth between implying the rioters were fellow Trump supporters who went off message while also alleging that the rioters were actually left-wing antifa members – a popular right-wing conspiracy not supported by any evidence. Szuszkiewicz is no stranger to unfounded conspiracies. His Instagram bio includes this falsehood: "Ahead 9% on election night. Received more votes than any other candidate of any party in history but lost."
Elisa Nahoum
The latest Queens Republican candidate to run against state Sen. John Liu was also present outside the U.S. Capitol on Jan. 6. Elisa Nahoum claimed she didn't approach the building because she's "a married woman and (has) kids." She said she believes last week's rioters were antifa in disguise and were let into the Capitol intentionally by the police, according to an interview with the Queens Daily Eagle. She didn't come nearly as close to victory in her 2020 state Senate race as Szuszkiewicz did in the Assembly, but she still received 36.5% of the vote.
Sharon Pineo
A member of the Zoning Board of Appeals in the upstate town of Malta was not only present at the Trump rally last week, she helped organize a chartered bus trip! The cat was let out of the bag when The Associated Press published two photos of Pineo outside the Capitol. In one photo, she appeared to be in the process of being detained by several police officers. Although she hasn't been charged with a crime yet, a Republican Malta town board member and a Democrat from the zoning board have both called for her resignation.
Michael Sweet
The mayor of Bath, New York, went to Trump's rally as a chance to "set eyes on the 45th president" for the last time. Sweet told WETM 18 News in a lengthy interview that he left the rally that preceded the Capitol riot "15-20 minutes before Trump finished speaking" because the audio quality was bad and the crowds were too big. He added that he "never thought for once that the election results were going to be overturned." He went on to continuously absolve Trump of any culpability for the rioting, and tried to draw false equivalencies between last week's events and last summer's Black Lives Matter protests.
Aaron Mostofsky
This son of a Kings County Supreme Court judge breached the Capitol on Jan. 6 and gave a video interview with the New York Post from inside the building. Aaron Mostofsky said he believes the election was stolen, and he broke into the Capitol wearing dead animal pelts to "express (his) opinion as a free American." As reported by Gothamist, his father is Steven "Shlomo" Mostofsky, who was elected to the Supreme Court "with the backing of the Brooklyn Democratic Party," and his brother is a district leader in Brooklyn. On Tuesday morning, Mostofsky was arrested by the FBI at his brother's home in Brooklyn, according to the Daily News. He was charged with stealing government property, entering a restricted building without lawful authority, impeding government business as well as disorderly conduct. 
Sam Pirozzolo
Sam Pirozzolo, an optician and City Council candidate for District 50 on Staten Island, who is hoping to succeed Council Member Steven Matteo, went live on his Facebook page as he headed toward the U.S. Capitol following the Trump rally.
"We just left the staging area where Donald Trump made a speech, and we're heading over to the Capitol building, and we're still quite a bit away, but there's a lot of people," Pirozzolo said of the people walking from the rally to the Capitol. "And if those people from over there are coming over here, it's going to be tremendous."
Pirozzolo then flipped his camera around to show the mass of people in front of the Capitol, before proceeding to say that Trump laid out a convincing argument that voter fraud had taken place during the election. The City Council candidate also said he knows Rep. Nicole Malliotakis will be inside the Capitol and that he hoped she "does the right thing."
Others
The New York City Fire Department has already confirmed that multiple members of the department were at the riot, and it is cooperating with the FBI. An NYPD off-duty cop is also currently under investigation, according to Commissioner Dermot Shea. There was also a Metro-North Railroad worker who called out sick on Jan. 6 but was then photographed inside the Capitol, and "he has been suspended without pay as the agency seeks to fire him." And of course, Heshy Tischler was in Washington, D.C., that day, albeit outside of the rioting this time, because what else would you expect of him.
Powered By
NEXT STORY: Sepúlveda accused of strangling his wife