Campaigns & Elections
Brian Benjamin's week of bad news
And more coverage of key 2021 races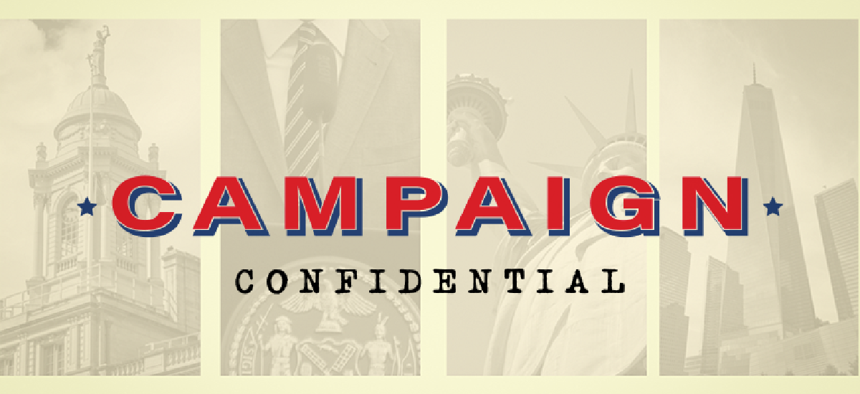 5 months and 1 week until the 2021 Democratic primaries
Welcome to City & State's Campaign Confidential newsletter, where Senior Reporter Jeff Coltin is covering the run-up to New York City's hugely consequential 2021 municipal elections for mayor, City Council and more.
Weekly, on Tuesdays. Sign up here.
This is getting out of comptrol
State Sen. Brian Benjamin needed some relief after a tough week for his comptroller campaign – and he got it at a Sunday forum hosted by the Downtown Independent Democrats. In almost 20 minutes on Zoom, Benjamin didn't get a single question about his potential straw donor scandal, as reported by The City, or his receiving outside income from a firm with ties to the subprime mortgage crisis, as reported by the Daily News.
He's returning the money, so maybe Benjamin will get lucky, and nothing will come of the fact he apparently took $250 donations from a 2-year-old and at least three other folks who didn't know they were donating. But it's certainly reminiscent of the circumstances that sent two of John Liu's associates to prison after his 2013 mayoral run. At the very least, we seem to have gotten an answer on why Benjamin's campaign missed out on public matching funds.
And with Benjamin's bad news, an outsider may be seeing an opportunity. Former CNBC contributor Michelle Caruso-Cabrera is poised to enter the Democratic primary, consultant Arielle Confino confirmed to Campaign Confidential. MCC, who got blown out by AOC in the 2020 congressional primary, sent an email to supporters last week saying she's considering a run and that "neither ideological warfare nor technocratic management are the answer."
By the Numbers
-$29,623
New York City Council candidate Moumita Ahmed's campaign is nearly $30,000 in debt with less than two weeks until early voting starts in the Queens District 24 special election. New York City Campaign Finance Board records show that Ahmed – who has earned high-profile progressive endorsements from the Working Families Party and others – hasn't yet received public matching funds, unlike five of her seven opponents. Ahmed wrote in a fundraising email that the CFB refused to disburse the matching funds until she could explain why 48 people with the same address made cash donations to her campaign. She said they were neighbors in her own apartment building, and the ruling was "deeply insulting."
Where were you during the coup?
Whoever gets the Republican line in the November mayoral election is going to have to answer for the Jan. 6 Capitol siege. Possible contender John Catsimatidis called for arrests and interrogations "like you see in the movies," but also pushed a conspiracy theory that some of the rioters were "antifa members." Of the siege, Cats questioned, "Was it worse than Black Lives Matter marching in Washington?" He then doubled down on the comparison, implying that it wasn't fair to ask Trump to condemn the mob: "Did you see a single Democrat condemn Black Lives Matter?" The billionaire then finished off his radio show on Wednesday with an awkward show of patriotism, standing in the studio, hand over heart, while "God Bless America" played.
Speaker's race is a-Brewer'in
There are way more unknowns going into the 2022 race for City Council speaker than there were in 2018, when the mayor and the vast majority of council members were essentially predetermined. This year, who knows? But Kevin Riley was a safe bet, and it looks like potential speaker candidates, Keith Powers, Carlina Rivera and Justin Brannan all campaigned last month with the newly elected Bronx City Council member, and Alicka Ampry-Samuel and Adrienne Adams both endorsed from a distance. In turn, Riley said he thinks the next speaker should have "experience" rather than be a potential newcomer. But hybrid old-guard/newcomer Gale Brewer raised some eyebrows at a City Council District 6 forum last week when asked if she'd run for speaker. "Everyone who knows me knows I do everything at the last minute, and I never make it known what I'm doing tomorrow, so the answer is, I hope to get elected to the City Council, and then, we will see," Brewer said. "I am not going to make any commitment."
Podcasting their votes
If you'd rather get your campaign coverage auditorily, listen to Campaign Confidential's Jeff Coltin on the great "FAQ NYC" podcast – one of the best pods on local politics. Come for the analysis, stay for the circumcision jokes. But some candidates for office are trying to get into the podcast game themselves. Amoy Barnes, a candidate for City Council District 49 on Staten Island, and Althea Stevens, running for District 16 in the Bronx, have teamed up for "On the Run NYC." Manhattan district attorney candidate Tali Farhadian Weinstein has interviewed big names like U.S. Sen. Cory Booker on her show "Hearing." And of course, likely mayoral candidate and Podcast Guy Andrew Yang co-hosts "Yang Speaks."
Endorsement Watch
The mayoral race has gone Hollywood. Actor Edward Norton endorsed Shaun Donovan and Maya Wiley got fundraising help from actors Chris Evans, Gabrielle Union, Rosie O'Donnell, Alyssa Milano, Patton Oswalt, Kathy Griffin, Yvette Nicole Brown and Jonathan Frakes … City Council Member Peter Koo endorsed Eric Adams for mayor, but he will not be his deputy mayor … and Kathryn Garcia got backed by three trash world unions: SEIU Local 444 – Sanitation Officers Association, New York City SEIU Local 246 (auto mechanics) and the Uniformed Sanitation Chiefs Association … the Manhattan district attorney race has gone Hollywood too with actor Michael K. Williams endorsing Dan Quart … and City Council District 3 in Manhattan? Hollywood, now that actor and rapper Common has endorsed Aleta LaFargue … in the District 24 special election in Queens, state Sen. Joseph Addabbo Jr. is endorsing James Gennaro and CWA District 1 is backing Moumita Ahmed … Mike Scala for District 32 in Queens was endorsed by state Sen. James Sanders Jr. and former Assembly Member Michael Miller … and New York Communities for Change endorsed seven more candidates, including both Shahana Hanif and Brandon West in District 39 in Brooklyn.
Poll Sight
We're short on public polls this week, but it shouldn't take polls to let the notorious Hiram Monserrate know that he's going to have a hard time running against Council Member Francisco Moya for District 21 in Queens. Since his expulsion from the state Senate in 2010 after being convicted of physically assaulting his girlfriend, Monserrate has lost five comeback attempts and won two low-profile district leader races. In the meantime, he also pleaded guilty to federal mail fraud charges in 2012.
Staffing Up
Leslie Joy, formerly Joe Biden's statewide field director in Michigan, is now the campaign manager for Manhattan district attorney candidate Dan Quart … Ben Silva will be the campaign manager for Julie Menin's City Council race in District 5 in Manhattan … Yarah Shabana is now communications director for Julie Won's City Council campaign in District 26 in Queens … Mino Lora (who recently tested positive for COVID-19 – get well soon!) has hired Carmen Kunkel-Quesada on communications and field in the special election in Council District 11 in the Bronx … Derrick Davis, a former executive director of the Brooklyn Dems, will be the political director for Ray McGuire's mayoral campaign and Rasheida Smith of Dunton Consulting will be McGuire's field director.
Got tips? Email JColtin@CityandStateNY.com or DM me @JCColtin
District Data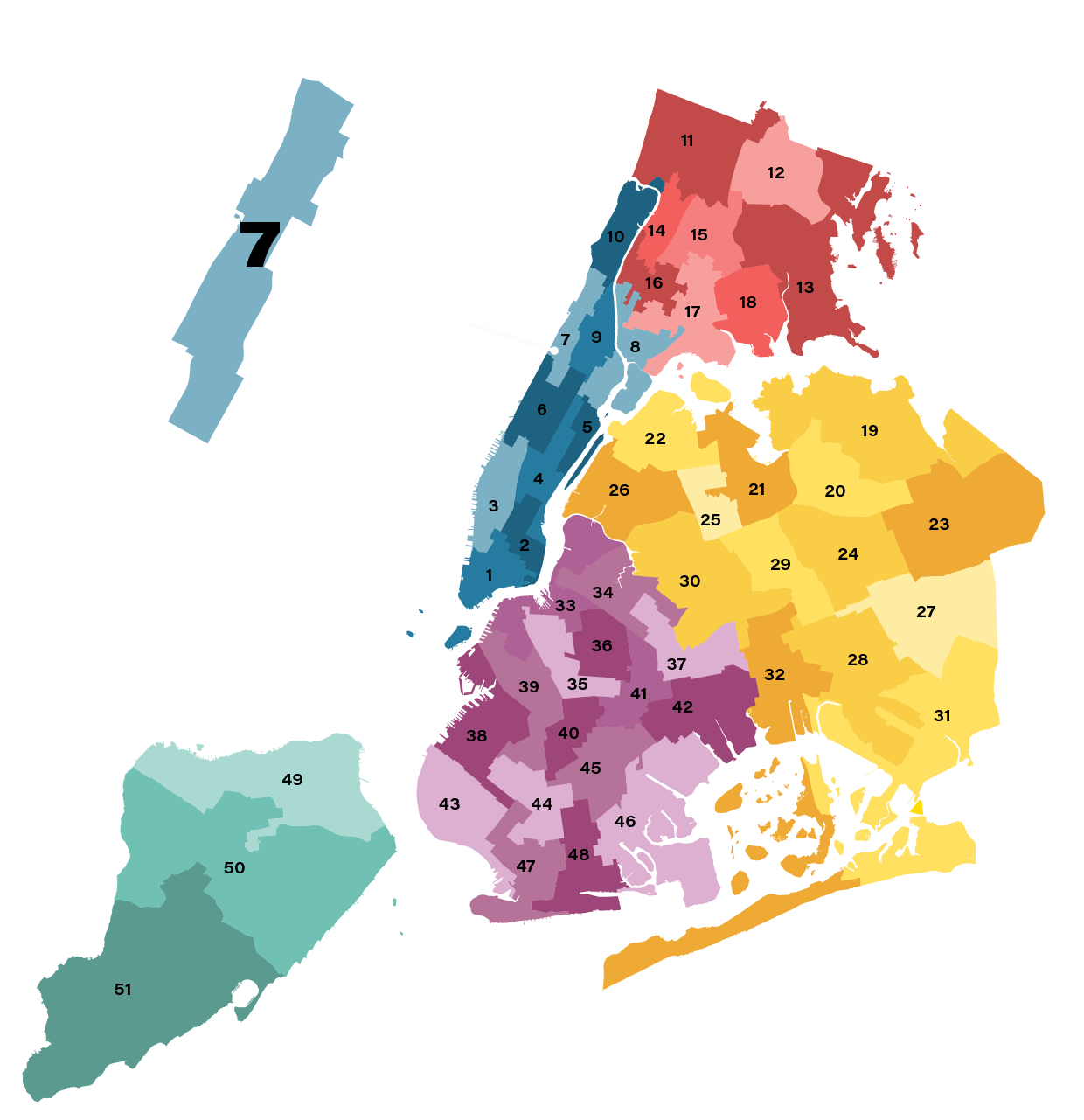 City Council District 7, in Upper Manhattan, covering neighborhoods including the Upper West Side, Morningside Heights and Hamilton Heights
Current council member: Mark Levine, since 2014, who's term-limited at the end of 2021
2010 census demographics: 49.1% Hispanic, 26.2% Black, 19.4% white, 3% Asian
Housing: 85.4% renter-occupied, 14.6% owner-occupied
2013 primary election results: Levine: 41.4%, Joyce S. Johnson: 17.3%, Luis M. Tejada: 14.2%, Manuel Lantigua: 7.5%
2017 primary election results: Levine: 74.1%, Thomas Lopez-Pierre: 25.4%
Who's running: Shaun Abreu, Alberto Aguilar III, Marti Allen-Cummings, Daniel Cohen, Miguel Estrella, Stacy Lynch, Lena Melendez, Maria Ordoñez, Corey Ortega, Carmen Quiñones, Raymond Sanchez, Luis Tejada and Jeanette Toomer. Abreu, Allen-Cummings and Cohen are all basically maxed out with matching funds and Abreu – a tenants rights attorney and ally of Rep. Adriano Espaillat – and Allen-Cummings – a nonbinary drag artist and ally of Speaker Corey Johnson – have gotten the lion's share of the endorsements so far. But Stacy Lynch, daughter of legendary operative Bill Lynch, is well connected from her time as an intergovernmental aide in City Hall, and Corey Ortega is a district leader with deep political ties.
Twitter Posting 
Council candidates/campaigns I've never interacted with asking for money via text.

— Michael Mallon (@MichaelJMallon) January 10, 2021
Correction: An earlier version of this story incorrectly stated the number of donors who confirmed they unknowingly contributed to Benjamin's campaign.
Powered By
NEXT STORY: 6 New York politicos who attended the Trump riot