Campaigns & Elections
The (Public) Match Game
And more coverage of key 2021 races.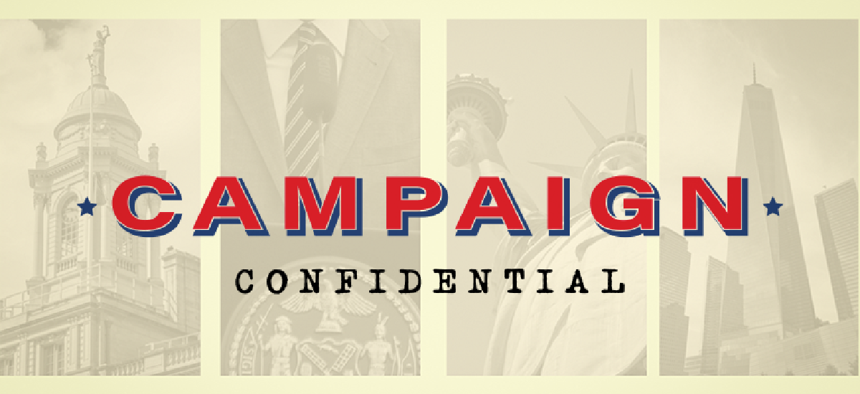 5 months and 2 weeks until the 2021 Democratic primaries
Welcome to City & State's Campaign Confidential newsletter, where Senior Reporter Jeff Coltin is covering the run-up to New York City's hugely consequential 2021 municipal elections for mayor, City Council and more.
Weekly, on Tuesdays. Sign up here.
Deadline ALERT
With less than a week to go until the Jan. 11 fundraising deadline for New York City candidates, we are in the midst of "ALERT," "critical DEADLINE," and "one last time" season. Campaigns are hustling for dollars, knowing that this filing, the first one in six months, is particularly crucial for candidates hoping to prove their viability through fundraising.
In that case, qualifying for public matching funds is a crucial target – and Maya Wiley's mayoral campaign might miss the mark. "The NYC $8-to-$1 public matching deadline is 7 days away and we are just shy of the threshold to qualify!" read a text from the Wiley campaign on Monday evening. Emails over the previous week gave the same impression: Wiley might not hit the mark of 1,000 donors from New York City giving a total of at least $250,000 in matchable donations. A Monday night email even said Wiley was $72,000 short – a significant amount to make up in just a week – and potentially a sign that MSNBC stardom doesn't equal local support.
But fundraising pleas often stretch the truth. "You can't trust any fundraising emails because there's a whole industry around desperation to raise money," said one staffer for a mayoral candidate. "Because they know it works." Wiley campaign spokesperson Eric Koch declined to comment.
So far, Scott Stringer and Eric Adams are the only mayoral candidates to qualify for public matching funds, but email inboxes across the city suggest other mayoral candidates are in danger of missing out.
"With the deadline at midnight tonight, we still need to raise $12,199 if we're going to stay on track to unlock the 6-to-1 NYC match funding," read a Dec. 31 email from the campaign of Shaun Donovan, who opted for the older 6-to-1 system with higher maximum contribution limits, rather than the newer 8-to-1 system with lower limits. It wasn't clear whether Donovan's campaign was short of the $250,000 threshold for matching funds, or a separate internal campaign goal, and the Donovan campaign declined to comment. Dianne Morales' mayoral campaign sent a Dec. 28 email saying she needed to "raise $40,000 by the end of the year to stay on track for 2021," and unlock matching funds. Does that mean she was at $210,000, or was the campaign referring to an internal goal? Her campaign didn't respond to a request for comment.
Candidates who don't qualify for matching funds won't get another shot until March 15, so while missing out might not be a death knell, it could seriously hinder any candidate who wants to keep pace with the top contenders. (Exceptions include Andrew Yang, who is expected to pull from a national fundraising base, and Ray McGuire, who opted out of public funding.)
Many questions will be answered soon after candidates file their financial disclosures on Jan. 15, including which candidates were actually in financial distress, and which may have been stretching the truth to nab some extra dollars.
By the Numbers
450
The number of signatures City Council candidates need to make the primary ballot (though really you should gather three times that to be safe). But a cadre of council candidates – including some in the just-announced March 23 Bronx special elections to replace Ritchie Torres and Andrew Cohen – are saying that it should be zero because petitioning in a pandemic is too dangerous. (Corey Ortega, a candidate for District 7 in northern Manhattan, said he contracted COVID-19 while gathering signatures in March.) As an alternative, Council Member Ben Kallos has a bill that would kill petitioning and instead tie ballot access to reaching fundraising thresholds. Candidates in the recent District 12 special election in the Bronx and the upcoming District 24 and 31 specials in Queens had to get 450 signatures, but for future races, Gov. Andrew Cuomo could cut that number by executive order, like he did for the 2020 primaries, or waive the signature requirement entirely. The specials are small potatoes, so the real deadline is sometime before Feb. 23, when petitioning is expected to start for the June primary.
Beware the donkey votes
The New York City Board of Elections just released the sample ballot for the City Council District 24 special election in eastern Queens – the first ballot of the new ranked-choice era. There are eight candidates (including "mystery" Manhattanite Michael E. Brown) and voters can rank up to five candidates. Everyone knows it helps to be listed first on the ballot – but will the novelty of ranked-choice voting benefit Moumita Ahmed more than usual? A 2010 study published in the academic journal Representation found that "ballot position has a clear and robust effect" in Switzerland's ranked-choice system. But a 2014 paper from the journal Political Behavior suggested ballot position may actually have less of an effect in RCV elections. And then there's "donkey voting," a well-known phenomenon where disengaged voters simply rank candidates top to bottom. The verdict? Who knows. Just one more thing to watch in that Feb. 2 special.
From CoJo to Yang Gang
The treasurer on file for Andrew Yang's newly formed mayoral committee is Mathew Bergman – an attorney at BMO Capital Markets, who previously served as treasurer for New York City Council Speaker Corey Johnson's 2013, 2017 and since-abandoned 2021 campaigns. Bergman was recruited by Tusk Strategies' Chris Coffey, another Johnson ally who's advising Yang on the mayoral race. And Johnson reportedly spoke with Yang about his candidacy last month. Was that conversation just a favor for Coffey, or something more? Johnson's endorsement will be one of the most sought-after in the mayoral race, but it's questionable whether the politically obsessive Johnson would throw in his lot with the neophyte Yang. Though Corey did tweet "YANG GANG" with three robot emojis during a Democratic presidential primary debate in July 2019.
Eric Adams wants to end summer as we know it
The words "year-round school year" may cause kids to have a tummy ache. But kids don't vote, and mayoral candidate Eric Adams thinks parents will like his proposal to get rid of summer break and replace it with shorter breaks throughout the year. It's one "big step" in the Brooklyn borough president's "100+ Steps Forward for NYC." The 106 steps, to be specific, are short on specifics, but Adams promises more details to come. The city's 1.1 million public school students did not immediately respond to a request for comment.
Endorsement Watch
Longtime fan and Tony Award-winning actress Scarlett Johansson is fundraising for mayoral candidate Scott Stringer – though the announcement stretched the truth on Stringer's history with real estate fundraising … Rep. Gregory Meeks, the Queens Democratic Party boss, is headlining a fundraiser for David Weprin's comptroller campaign on Wednesday … Actress Sigourney Weaver, producer Jon Landau and director James Cameron will attend a virtual fundraiser for Lucy Lang's Manhattan district attorney campaign … Queens United Independent Progressives endorsed City Council candidates Moumita Ahmed in the District 24 special election and Manny Silva in the District 31 special … and the Jim Owles Liberal Democratic Club endorsed a handful of candidates who all vowed to support legislation to strip Ed Koch's name from the Queensboro Bridge, including Queens Borough President Donovan Richards (over openly gay opponent Jimmy Van Bramer), Elisa Crespo in District 15 in the Bronx and Lynn Schulman in District 29 in Queens.
Poll Sight
What areas of New York City have the most chain stores? No surprise, it's midtown Manhattan. But second place? The middle of Staten Island, home to the Staten Island Mall. That's from the Center for an Urban Future's fascinating State of the Chains report, which also found that, despite some losses from the pandemic, Dunkin' is by far the city's most common national retailer.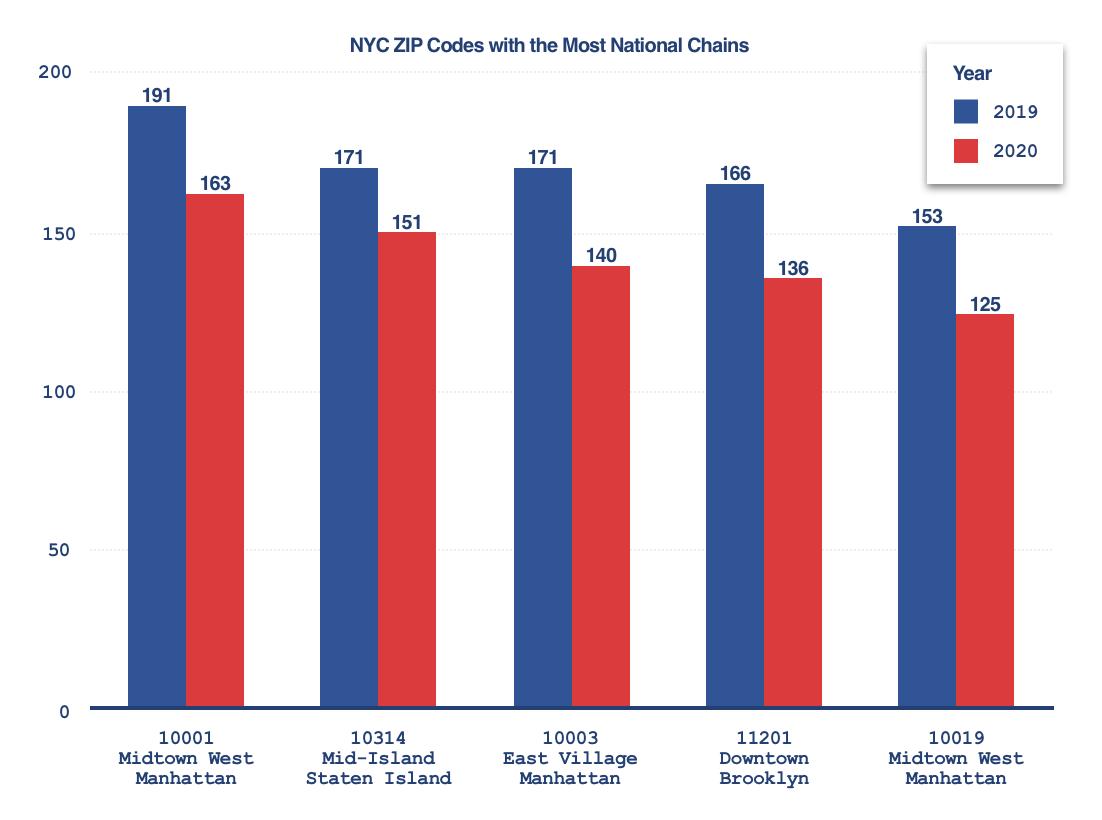 Staffing Up
Manhattan district attorney candidate Tahanie Aboushi has hired a campaign manager, Jamarah Hayner, who was previously the campaign manager for Los Angeles County District Attorney George Gascón – one of the "progressive prosecutor" stars Aboushi and several opponents are trying to emulate … Ben Kallos' Manhattan borough president campaign is staffing up, including Hannah Jeffrey, formerly of Nancy Goroff's House run, as campaign manager; Bill Hyers, campaign manager for de Blasio in 2013, on media; Lauren Dikis of New Blue Initiative on digital and Jeff Liszt of ALG Research on polling … Former public advocate candidate Ifeoma Ike is joining Dianne Morales' mayoral campaign as a senior adviser and former City Council candidate Whitney Hu will be Morales' interim campaign manager … Former Assembly candidate Cameron Koffman, political operative Martin Rather and election lawyer Willa Bernstein have founded a ballot access firm called The November Group, and its first clients are Diana Florence's Manhattan district attorney campaign, Chi Ossé's campaign for City Council District 36 in Brooklyn and Tamika Mapp in District 8 in Manhattan and the Bronx … Antonya Jeffrey, former press secretary for Jumaane Williams' public advocate campaign, will be deputy communications director for Ray McGuire's mayoral campaign … Allison Romer is the campaign manager for Richard Lee's City Council campaign for District 19 in Queens … and zoomer activist Katelin Penner is joining Tiffany Cabán's City Council campaign for District 22 in Queens.
Got tips? Email JColtin@CityandStateNY.com or DM me @JCColtin
District Data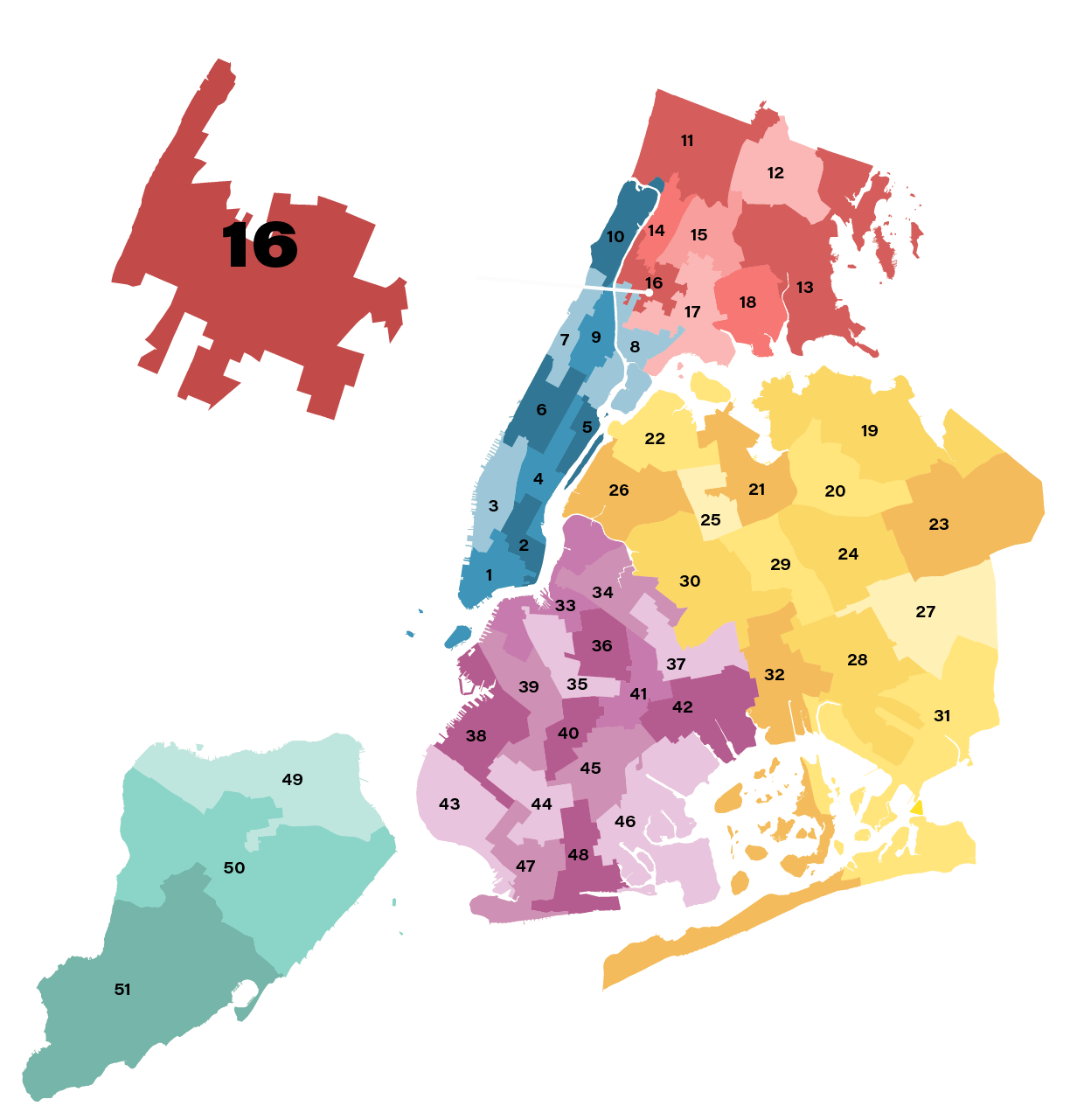 City Council District 16, in the South Bronx, covering neighborhoods including Highbridge, Mount Eden and Concourse
Current council member: Vanessa Gibson, since 2014, who's term-limited at the end of 2021
2010 census demographics: 57.7% Hispanic, 38.6% Black, 1.3% white, 1% Asian
Housing: 92.9% renter-occupied, 7.1% owner-occupied
2013 primary election results: Gibson: 44.1%, Pedro Alvarez: 16.8%, Carlos Sierra: 14.4%, Daryl Johnson: 7.7%, Naaimat Muhammed: 6.6%, Carlton Berkley: 5.9%, Bola Omotosho: 4.6%
2017 general election results: Gibson: 96.2%, Benjamin Eggleston: 3.6%
Who's running: Leonardo Coello, Abdourahamane Diallo, Ahmadou Diallo, Yves Filius and Althea Stevens. It's Stevens' race to lose at this point. She's the only candidate to qualify for public matching funds so far and she's loading up on endorsements including the Working Families Party, 1199SEIU and – just last week – former Assembly Member Michael Blake. But Filius has serious institutional connections as a district leader and former political director of the Bronx Democratic Party. Ahmadou Diallo, an accountant who is related by marriage to the Amadou Diallo killed by the NYPD in 1999, is active in the district and ran in 2013 but didn't make the ballot. A sixth candidate, Uniqua Smith, appears to have suspended her campaign.
Twitter Posting
City Council Commissar Caban: Tear down billionaires' row and use the expropriated materials to replace NYCHA roofs

MAYOR YANG: How about we give every NYCHA resident .025 #BTC

— Alex Yablon (@AlexYablon) December 24, 2020