New York State
Wait, why is indoor dining reopening again?
A new court ruling has pushed Gov. Andrew Cuomo to ease up on restrictions.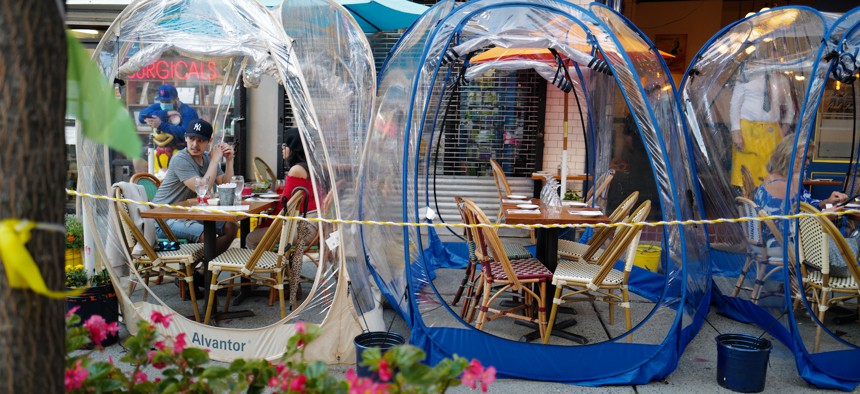 Despite the rising number of COVID-19 cases, hospitalizations and deaths in New York, the state is expected to temporarily resume indoor dining throughout most areas with the exception of New York City.
Gov. Andrew Cuomo will be easing up on indoor dining restrictions, following a court decision made on Wednesday that stated New York has no "rational basis" for imposing such strict guidelines on restaurants in certain areas, while restaurants operating in other areas with higher COVID-19 hospitalization rates have been allowed to continue indoor dining service.
About 100 Erie County dining establishments that currently operate within "orange zones," which have been restricted from offering indoor dining, sued the state over these dining regulations that have been in place since mid-December. Westchester County and cities including Syracuse, Rochester and Elmira, are currently classified as orange zones. The new court ruling, however, will allow restaurants in these areas to operate under "yellow zone" restrictions for the time being, which will enable them to provide indoor dining at 50% capacity.
While the state is complying with the new ruling it does not agree with the decision.
"We are reviewing the decision," Kumiki Gibson, one of the governor's counsels, said in a statement. "While that process is ongoing, to ensure uniformity and fairness, all restaurants operating in Orange Zones can now operate under rules governing Yellow Zones. We disagree with the court's decision and its impact on public health as Federal CDC data clearly demonstrates indoor dining increases COVID-19 spread. From the start of this pandemic, the State has acted based on facts and the advice of public health experts, and we will continue that approach."
New York City is under an entirely different classification, despite containing orange zones in parts of Staten Island, and will not be allowed to reopen any indoor dining in any of its five boroughs. Still, many restaurant owners are vexed at their inability to serve their patrons indoors.
The NYC Hospitality Alliance slammed the governor for keeping the city from allowing indoor dining along with other parts of the state following the court's decision this week.
"The court's preliminary decision and the governor's action to remove indoor dining restrictions in all 'orange zones' makes the status of the indoor dining ban in New York City all the more outrageous and destructive to thousands of restaurants across the five boroughs, especially when our infection and hospitalization rates are lower than most counties in the state where indoor dining is permitted at 50 percent occupancy," Andrew Rigie, the Alliance's executive director, and counsel Robert Bookman, said in joint statement, released on Thursday.
Powered By
NEXT STORY: Yang announces mayoral run without signature proposal