New York City
Yang announces mayoral run without signature proposal
His NYC basic income will be much smaller – and far from universal.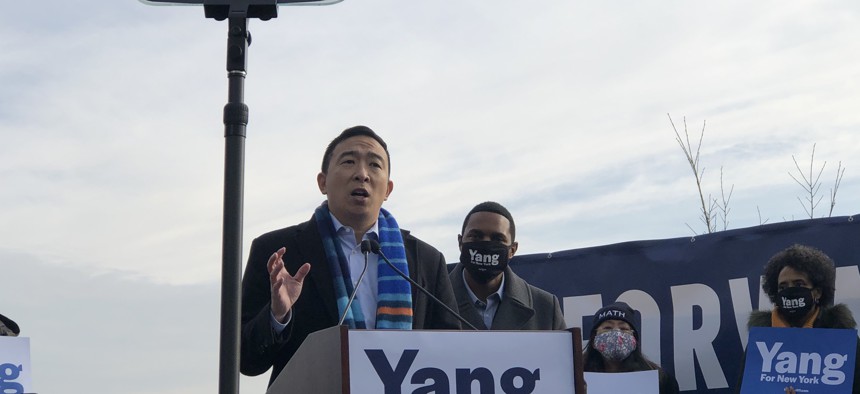 Andrew Yang gained national attention from his 2020 presidential run on the strength of his pitch for a Universal Basic Income – $1,000 a month to every American. No eligibility limits, no strings attached. 
Now, Yang is running for mayor of New York City without his signature proposal, instead pitching a much, much smaller targeted program of cash assistance. Instead of $1,000 a month for everybody, it's an average of $167 a month to the neediest 6% of New Yorkers. 
The Yang Gang is entering the mayor's race with a bang, but the proposal is more a whimper. 
Following weeks of planning and nearly a year of speculation, Yang officially launched his campaign Thursday morning, releasing a slick video and hosting a press conference in Morningside Heights, Manhattan. The neighborhood was Yang's first home in the city, where he moved in 1996 to attend Columbia Law School. He practiced law for just a few months before leaving to start a company, then led a series of businesses and a nonprofit that helps recent college graduates work at startups, before earning the national spotlight from a campaign best described by The Washington Post Magazine as "Random Man Runs for President."
Yang is no longer a random man. Now, he's a celebrity who outlasted two New York City mayors and one of its senators in the presidential primary, qualifying for debates that put him on stage with the former vice president. A CNN contributor who heard "Good luck, Yang!" shouted from car windows in Harlem as he walked from the kickoff event. 
Competing with first-time candidates and longtime local officials, he's entering with a professional, web-savvy campaign team. His launch speech was held in front of a statue of 19th Century U.S. Sen. Carl Schurz, with a sweeping view behind him, and Yang walked up to the speech to the sounds of rapper Drake's song "God's Plan." Yang bounced up and down while a couple dozen of his fans cheered from outside the barricades. The candidate, 46, was joined by his wife, Evelyn, and their two sons, but also Rep. Ritchie Torres, a newly elected member of Congress from the Bronx and a fellow political wunderkid, who gave Yang his first formal endorsement for the Democratic nomination for mayor. Torres has been steeped in local politics since he was in high school, while Yang has never shown any previous interest in New York City politics, and has never even voted in a mayoral election. When Yang was asked how many seats were on the City Council, Torres butted in with the correct answer – 51 – before Yang could repeat it. Later, Yang said he did know that one, but admitted he might not know some other basic trivia. But Torres said Yang was an "idiosyncratic progressive," just like him. Left unsaid was that Yang has also topped two recent public polls of likely Democratic primary voters. 
But will Yang be able to stay at the top, even without pushing a Universal Basic Income?
Yang is instead proposing "a basic income for NYC." 500,000 New Yorkers "with the greatest need" – and regardless of immigration status – would be given an average of $2,000 a year. The program would be administered through the New York City Human Resources Administration, and it would be added on top of all other existing benefits, such as SNAP and Medicaid. Yang said the whole program would cost $1 billion a year.
The city already has a direct cash assistance program, administered by the HRA, which this would supplement rather than replace. And it goes to about the same number of people – 561,000 New Yorkers were enrolled at some point in the last 12 months. But the payments given are "insanely low," said Helen Strom, benefits unit supervisor at the Safety Net Project of the Urban Justice Network, an anti-poverty advocacy organization. A single New Yorker can get about $183 a month in cash, and an additional $215 for rent. Yang's $2,000-a-year average works out to $167 a month, which would nearly double the assistance for a single adult. 
But Strom is hesitant to call that meager amount "a basic income," given the high cost of living in New York City. Critics pointed out the same about the $12,000 per year payments Yang ran on, and this is even smaller. Still, she says she would welcome higher payments, and she's glad that Yang has started the conversation.
"People need more money for sure," Strom said. "The issue of the crazy low amounts that people receive on cash assistance is something that a lot of times, politicians aren't willing to talk about or bring up."
That may no longer be the case, at least in the mayoral primary. A number of his opponents in the race have talked up a basic income on the campaign trail, at least in theory, including Brooklyn Borough President Eric Adams, New York City Council Member Carlos Menchaca and Dianne Morales, former leader of a social services nonprofit. Other top contenders in the Democratic primary include New York City Comptroller Scott Stringer; former White House Budget Director Shaunn Donovan; former Sanitation Commissioner Kathryn Garcia, former Veterans' Services Commissioner Loree Sutton; Ray McGuire a former Citigroup executive; Maya Wiley, former counsel to Mayor Bill de Blasio and Zach Iscol, founder of a digital media company.
Other key government officials were interested to hear more about Yang's proposal, like City Council Member Steve Levin of Brooklyn, who oversees the HRA as chair of the General Welfare Committee. "I would want to look to see whether it's hitting the goals that the UBI would seek to achieve. Whether it's big enough, honestly. I know a billion dollars sounds like a lot, but does it really achieve a goal of basic income?" 
Levin has already endorsed Wiley for mayor, but he acknowledged the need to reform the system of applying for benefits with the HRA. "It's a friggin nightmare," he said. "I've gone step by step with people trying to apply, and it's not a pleasant experience."
A true UBI program of the scope that Yang proposed as president couldn't work within a city government, even one as large as New York City. Giving $12,000 a year to New York's 8.4 million residents would cost $100 billion – before administrative costs. The entire city budget this year is $88.2 billion and it can't divert all of its spending on public schools, firefighting and street repairs to cash assistance. New York City also lacks the authority under state law to raise taxes. 
Yang conceded as much on Thursday in response to a question from a reporter, saying that he couldn't propose his same presidential race plan in this campaign. "I'm a numbers guy," he said. "I'm not going to come and say that we're going to give every New Yorker something that I know is not feasible." Calling himself a "numbers guy" fits with Yang's lighthearted self-description during the presidential campaign as "the opposite of Donald Trump... an Asian man who likes math." (Yang, who grew up in Westchester County, is the son of immigrants from Taiwan.)
But he said that his supporters will still be energized by the smaller plan he proposed. "I think that every New Yorker can see that this city is struggling with rising homelessness, with the results of extreme poverty, public safety issues that are resulting from that," he said. "So every New Yorker is going to be excited that we're doing more for the people that need it most."
Powered By
NEXT STORY: State of the State, coda