What Democratic Senate wins in Georgia mean for New York
Likely U.S. Senate Majority Leader Charles Schumer could make a big difference in the state's pandemic recovery.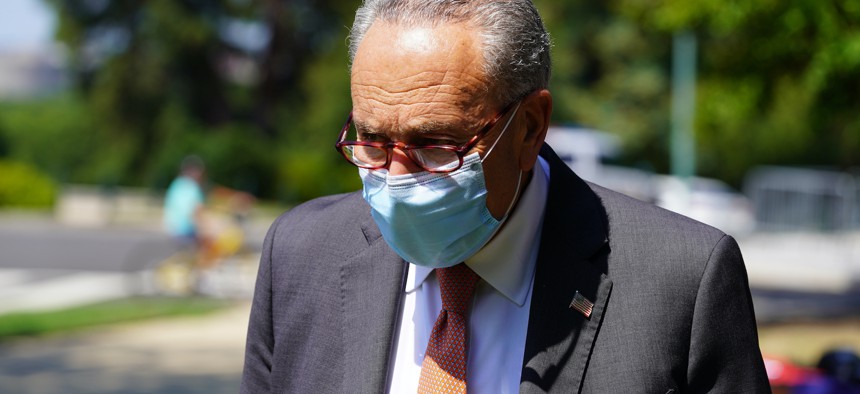 U.S. Senate Minority Leader Charles Schumer could become the most powerful person in the Senate now that Democrats appear likely to win two runoff elections in Georgia. "For too long, much-needed help has been stalled or diluted by a Republican-led Senate and President Trump," Schumer said in a Wednesday morning statement. "That will change with a Democratic Senate, Democratic House and a Democratic president."
The ascendance of Schumer to majority leader could mean billions of dollars in new federal aid to address the economic damage wrought by the pandemic. It also provides an additional dose of political energy for state Democrats as they convene Wednesday for the first day of the 2021 state legislative session. "It's really feeling like this country is about to get a fresh start," first-term state Sen. Samra Brouk tweeted Wednesday of the effects that progressive organizing in Georgia has had on the Empire State. "Buckle up," Schumer added this morning, when he reportedly spoke with House Speaker Nancy Pelosi.
The 2021 legislative session looks likely to be a contentious one for the governor and legislative leaders. The state faces a multibillion-dollar budget deficit. Millions of people are hurting from the struggling economy. Vital infrastructure like the New York City subway system seemingly is either on the brink of historic decay or revival. Republican legislators meanwhile are picking a fight with Democrats over the emergency powers the Legislature granted the governor at the beginning of the pandemic while progressive legislators and activists are pushing for new taxes on the wealthy. Cuomo and legislative leaders have until the April 1 state budget deadline to figure out all of that.
The governor has argued that negotiating tax increases should wait until after it becomes clear whether additional aid is coming from a Democratically controlled White House and Congress. More federal money would also mean less new revenue would be needed to close the budget deficit while funding political priorities like public schools and health care. Cuomo has said he would start unveiling his budget plans next week. "I have to rewrite the State of the State," Cuomo said Wednesday of the effect that the Georgia election results will have on his own budget plans. He now has less than a week left to ponder how his ability to address the budget deficit depends on Schumer. "They have to make it right," Cuomo added of outstanding congressional requests, such as a repeal of a cap on state and local tax deductions.
Dealing with a fellow Democrat undoubtedly beats having to work with Senate Majority Leader Mitch McConnell, a Kentucky Republican who Cuomo has accused of waging economic war on the Empire State. "It's been devastating for the state," Cuomo said Wednesday. "They have used New York as a political piñata." Yet, Schumer has been a longtime rival of the governor's for the political spotlight. "Gonna need a live shot of Andrew Cuomo realizing he's going to have to treat Chuck Schumer with reverence," Ben Max of Gotham Gazette tweeted Wednesday on what lays ahead for a governor who will likely not be as powerful in state politics as he was earlier in the pandemic. Even as minority leader, Schumer recently was an important part in saving the Metropolitan Transportation Authority from fiscal ruin by negotiating billions in new aid. Schumer is now talking big about what Democrats can do on other issues like climate change and the ongoing response to the pandemic that continues to push hospitals across the country to their limits.
He is hardly the only state Democrat feeling optimistic. "America is about to find out just how much better things get when you put a Brooklynite in charge!" as unusually "pumped" New York City Mayor Bill de Blasio tweeted Wednesday morning. Schumer is the one best positioned to validate the idea that slender Democratic majorities in the U.S. Senate and House can save the Empire State from the monthslong specter of a doomsday budget, just as the coronavirus pandemic would seemingly begin drawing to a close.
Becoming Senate majority leader might make fellow Democrats forget all the grief Schumer was getting weeks ago for failing to lead his party to a clear majority in November. But new power also means expectations are higher than ever of what Schumer should be able to get done. "We get to say goodbye to Mitch because we won Georgia," state Senate Majority Leader Andrea Stewart-Cousins said in her opening remarks of the 2021 legislative session. "Chuck, we need you."