New York City
What does New York City's mayor do?
Sure, it's an important job, but will there still be time for naps?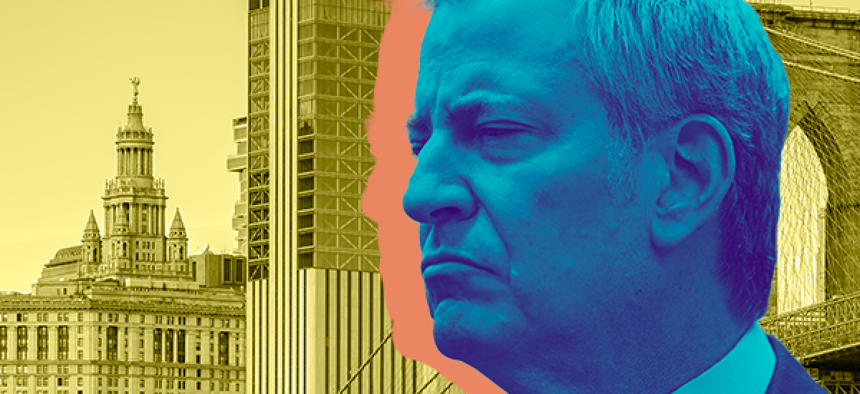 The "second-hardest job in America"
The New York City mayoral race is already heating up with more than 30 candidates. But what does the city's mayor even do, besides show up at ribbon-cuttings with a pair of absurdly large scissors?
Well, the mayor, very generally speaking, is in charge of the city's various public services, including running the city's public schools, its police department and providing help to homeless people, just to name a few. The mayor also oversees all city legislation that is introduced or passed by the City Council and can either sign legislation into city law or veto it. And most importantly the mayor is in charge of the city budget – which happens to be the largest municipal budget in the U.S. – and prioritizes what programs are funded.
Of course, given the current public health crisis, the mayor's job has become considerably harder over the past year. The city is also in debt, looking for an equitable way to provide adequate health care to its many residents and trying to overcome the fallout from the summer's Black Lives Matter protests.
"The person who emerges in this campaign will have the toughest job that I can remember," Sid Davidoff, who started his political career as an aide to then-Mayor John Lindsay, told The New York Times in November.
This race should also play out differently because this will be the city's first year using a ranked-choice voting system. Instead of selecting just one candidate, voters will be able to select up to five candidates by order of preference. Proponents of the new system believe that it will lead to fewer negative campaign ads and more choices for voters.
"It's affecting how people are campaigning, and thus far we really haven't seen people attack one another," Christina Greer, a political science professor at Fordham University, told Politico. "I think it ultimately will devolve as people get desperate."
Brooklyn Borough President Eric Adams, who is running for mayor, has been pushing to delay the use of the new voting system which he, as well as other local Black politicians, feel could disenfranchise Black and Latino voters. However, there is no evidence to suggest that would be the case.
Who's in the running?
The top 10 contenders for mayor
While I would love to provide you with more than a brief rundown of who's vying for the role of mayor, Excelsior is only so big. Lucky for me and you, City & State senior reporter Jeff Coltin has already done most of the heavy lifting for us. (Thanks, Jeff!)
 Here's a super-speedy rundown of the top 10 current mayoral hopefuls:
Eric Adams: The Brooklyn borough president and former NYPD officer and state senator has been appealing to the city's outer borough residents – and he's also the author of a vegan cookbook.
Shaun Donovan: Donovan formerly worked as the senior strategist to Harvard University's president, he was the budget director under President Barack Obama, secretary of Housing and Urban Development and New York City Housing Preservation and Development commissioner under then-Mayor Michael Bloomberg, making him an ideal candidate to sort out the city's budget and housing crisis.
Kathryn Garcia: The city's former sanitation chief wants to run the city, but considering this is her first foray into electoral politics, she may not be able to pick up enough voters.
Ray McGuire: Looking to fill the billionaire void that Bloomberg left, the former vice chair of Citigroup is hoping to boost the city's bruised economy with his financial know-how.
Carlos Menchaca: The Brooklyn council member worked as the LGBTQ and HIV/AIDS community liaison to then-Council Speaker Christine Quinn and as the budget coordinator to then-Brooklyn Borough President Marty Markowitz. He's hoping to win over voters with his progressive campaign.
Dianne Morales: With demonstrated expertise in the city's nonprofit sector, having worked as the executive director and CEO of social services provider Phipps Neighborhoods, Morales is hoping to create participatory processes, such as community-led discussions around new housing.
Scott Stringer: The city's comptroller, whose term will be up at the end of the year, is running on a progressive platform aimed at tackling climate change, affordable housing and policing reforms.
Loree Sutton: As a former brigadier general in the U.S. Army and city Veterans' Services commissioner under de Blasio, Sutton is running a more centrist campaign aimed at creating bipartisan solutions to the city's biggest problems.
Maya Wiley: Wiley's résumé includes working as the senior vice president for social justice and professor of urban policy at The New School, an on-air political analyst for MSNBC, the chair of the Civilian Complaint Review Board and a top counsel for de Blasio. 
Andrew Yang: The former presidential hopeful, known for his universal basic income proposal, has promoted putting a casino on Governors Island and using ice cream trucks as mobile coronavirus vaccination sites in the early days of his campaign.
Gang of New York
Tammany Hall
From 1789 into the 1960s, the political organization known as Tammany Hall played a dominating role in New York City's politics, controlling the machinations of the city's Democratic Party. While Tammany Hall is now probably best known for the many charges of corruption brought against it and its leaders, it also aided many immigrants – Irish immigrants, in particular – by helping them acquire social services and adapt to urban life.
When it came to mayoral elections – and city elections in general – the political machine was known for altering the outcomes to their liking. However, as the group's predilection for corruption became more well known and apparent to voters, its powers began to weaken. Fiorello La Guardia's mayoral win in 1934 is said to have marked the beginning of Tammany Hall's fall from power.
Power Players
NYC's most notable mayors
Everyone hates Bill
Is de Blasio actually that bad?
Bill de Blasio has become one of the most hated political figures in the city for a variety of reasons, ranging from the very serious – his handling of Eric Garner's death – to the niche complaints by reporters when he arrives late for press conferences. And then there's his insistence on visiting his favorite Park Slope gym, despite living at Gracie Mansion on the Upper East Side – though the COVID-19 pandemic has interrupted his daily gym routine.
Throughout the past year, the mayor has become the subject of criticism for his mismanagement of Black Lives Matter protests over the summer and his slow handling of the coronavirus pandemic. In June, over 400 of de Blasio's past and present staffers joined together to write an open letter to the mayor stating that he has failed to protect peaceful protestors and control the city's police force.
De Blasio has done some good during his time in office, such as expanding paid sick leave, increasing the minimum wage and introducing universal child care. But unfortunately for the mayor, his triumphs in office have been outweighed by his shortcomings. Still, he can't be worse than Mayor Fernando Wood, who in 1861 proposed that the city secede from the U.S. so it could continue to do business with the South. Yikes.
Powered By
NEXT STORY: Queens contest offers the first test of ranked-choice voting