New York City
Carlina Rivera, likely speaker candidate, endorses 13 women for City Council
Potential speakers are maneuvering to build support and Rivera is the first to endorse a slate.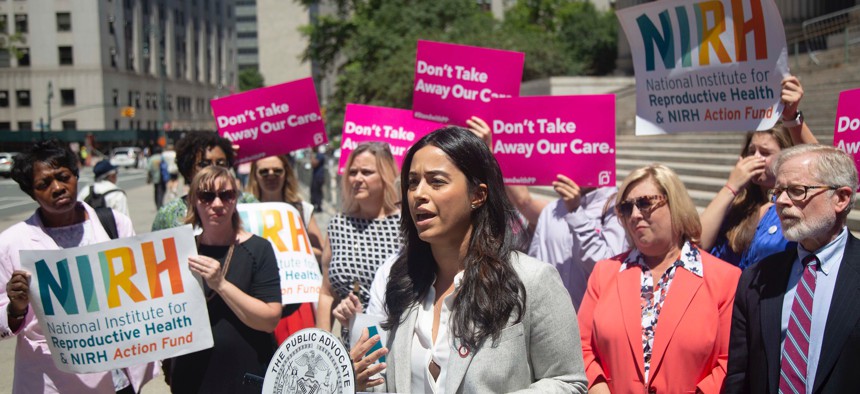 New York City Council Member Carlina Rivera, a leading contender to be the next Council speaker, is endorsing a slate of 13 women running for City Council this year. It's the latest sign that Rivera is working to win support from colleagues to succeed current City Council Speaker Corey Johnson, who is term-limited out at the end of 2021.
Most of the endorsed candidates are women of color, and Rivera, who is Latina and from Manhattan, said the list "represents the diversity of representation we need in the Council – especially with the diminishing number of women over the last few terms, which is alarming."
There are 13 women on the 51-seat Council right now, down from a high of 18 in 2009. 
Rivera's slate, shared exclusively with City & State, includes Jenny Low in District 1, Julie Menin in District 5 and Carmen De La Rosa in District 10, all in Manhattan. In the Bronx, Rivera is backing Marjorie Velázquez in District 13, Pierina Sanchez in District 14, Althea Stevens in District 16 and Amanda Farías in District 18. In Queens, Rivera is endorsing Sandra Ung in District 20, Lynn Schulman in District 29 and Jennifer Gutiérrez in District 34, which covers parts of both Queens and Brooklyn. Elsewhere in Brooklyn, Rivera is supporting Crystal Hudson in District 35, Sandy Nurse in District 37 and Alexa Avilés in District 38. 
None of Rivera's endorsed candidates are incumbents, and in one race, Rivera is actually supporting a candidate who is challenging an incumbent. Nurse is running against Council Member Darma Diaz, who has served alongside Rivera in the Council since winning a November 2020 special election. Velázquez was expected to challenge Council Member Mark Gjonaj, but City & State reported last week that the one-term lawmaker will not be seeking reelection after all. 
Nurse is challenging Diaz from the left, as an anti-establishment candidate running against the incumbent, who is backed by the county Democratic Party. Many of Rivera's endorsed candidates are the consensus progressive choices in their district, which reflects Rivera's own possible path to the speakership. She voted against the city budget in 2020, in large part because the cuts to the New York City Police Department were not deep enough. She was the only likely speaker candidate to do so. 
But Rivera didn't always back the furthest-left candidates. Rivera is endorsing two candidates, Sanchez and Hudson, who are running against candidates backed by the New York City chapter of the Democratic Socialists of America. And other candidates Rivera is endorsing, like Low and Menin, face opponents to their left. 
Many sitting Council members endorse candidates across the city, but announcing them all at once is rare. Rivera appears to be the first potential speaker candidate to do so. But it reflects a strategy that many recent speaker contenders have adopted: help other candidates get elected, and hope that they'll remember your support once the speaker race really picks up in the last few months of the year. Nobody embodied that more in 2017 than Johnson, who was seen in every corner of the city, and whose name could be found in the donor rolls of more than 20 candidates.
Speaker candidates this year are making the same moves. "Who's on the ground helping candidates right now is the best indication of who's building support from the bottom on up," said one Council member, who asked for anonymity to discuss a race that is rarely discussed publicly. 
And a number of current members have been helping candidates, most recently lining up behind Selvena Brooks-Powers, who is expected to win the District 31 special election that finished earlier this week. A source close to Brooks-Powers campaign said that Rivera came to southeast Queens and brought her own volunteers to help. Council Member Keith Powers also campaigned for "the other Powers," and Council Member Adrienne Adams, who represents a neighboring district, went all out, endorsing Brooks-Powers, recording a robo-call and bringing out volunteers. Council Member Justin Brannan, who has been sick with COVID-19, couldn't come in person but sent his own supporters to help Brooks-Powers in his stead, and Council Member Alicka Ampry-Samuel has also been publicly supporting Brooks-Powers for months. 
Those five Democrats – Rivera, Powers, Adams, Brannan and Ampry-Samuel – are considered by most to be the serious contenders to be the next speaker, who would take on the role in January of 2022. Other current members who may throw their hats in the ring include Rafael Salamanca, who recently decided to run for reelection, rather than Bronx borough president, and Francisco Moya, who may himself have an easier path to reelection now that his potential primary opponent, Hiram Monserrate, is barred from running for office because he pled guilty in 2012 to felony charges involving public corruption. Brannan was the lead sponsor of the bill that blocked Monserrate, which some political observers saw as yet another way to win over potential supporters for his speaker candidacy. 
When looking at Rivera's Council endorsements through the lens of the speaker race, it's also notable who she didn't endorse. Rivera declined to back Gale Brewer, the current Manhattan borough president who's running in District 6, or Tiffany Cabán, the former candidate for Queens district attorney, who is now running for City Council in District 22. Both Brewer and Cabán's names have been raised in political circles as potential speaker candidates. Brewer already served 12 years in the City Council, from 2002 to 2013, and is seen as an honest broker who really understands government. And Cabán is a Democratic Socialist who almost upset then-Borough President Melinda Katz in the 2019 Queens district attorney race. While Cabán may draw support from the Council's left wing, her being chosen as speaker seems highly unlikely, since many of her political views, such as defunding the police, are not likely to be aligned with the majority of the Council. Brewer too would face an uphill battle convincing colleagues who don't like the idea of an eight-year speaker. If elected, Brewer would be eligible to serve through the end of 2029, while the current members who are interested in running for speaker could only serve through the end of 2025. 
"I'm open to anyone's pitch and ideas for leading," Rivera said, but added that "the Council is an incredibly nuanced body and experience is going to be key," when looking for the next speaker. Rivera also noted that this is just her first round of endorsements, and that more may be coming. For example Rivera – and four other likely speaker candidates – all helped elect Council Member Kevin Riley in his December special election to replace Andy King in District 12 in the Bronx, and Riley is up for election again this year. 
That just shows the complexities of the speaker's race. An endorsement cannot guarantee an eventual vote for speaker if all the speaker candidates are endorsing the same people. But Rivera said she welcomed any of her colleagues to publicize their support of other candidates. 
"I think it's incredibly important that potential second term Council members are using their position and experience to make endorsements in races that matter," she said. "I hope my colleagues running for reelection follow my lead in making this kind of step and being very public about who we think can and should win."
Powered By
NEXT STORY: Cuomo faces sexual harassment allegations