New York City
Cuomo accused of sexual harassment and no charges in Daniel Prude's death
Rounding up the week's political news.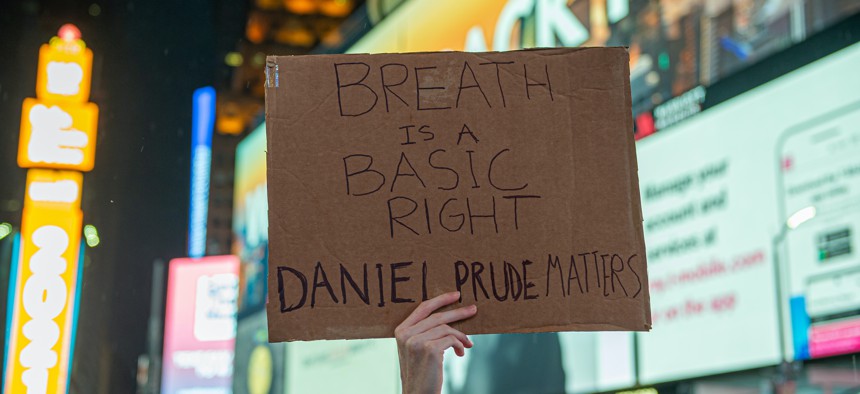 It's been a busy news week, but just in case anyone has forgotten: we're still in a pandemic. Of course no one forgot, but as more restrictions ease and more people gain access to vaccines, it's important to remember that New York is hardly out of the woods yet. This week, two separate groups of researchers identified a potentially troubling coronarius variant spreading in New York City. That's on top of other variants from England and South Africa popping up around the state. It's still too soon to know just how worrisome these new findings are, but at the very least, it's a reminder that now is not the time to grow complacent. Masks are and will remain the most important piece of anyone's wardrobe for quite some time. Keep reading for the rest of this week's news.
Cuomo accused of sexual harassment 
Lindsey Boylan, a former aide to Gov. Andrew Cuomo, has accused the governor of sexual harassment during her time in his office. In an essay posted to Medium, Boylan detailed inappropriate behavior by Cuomo and several uncomfortable situations, including an unwanted kiss. Boylan first went public with more general sexual harassment accusations against Cuomo in December. The Cuomo administration denied Boylan's allegations, though Cuomo did not immediately offer public comment on Boylan's essay – skipping the press briefing that he said would be scheduled for the day Boylan went public with her accusations. The essay comes as the latest in what can only be described as a reckoning about Cuomo's alleged abusive behavior toward lawmakers, staffers and journalists. His domineering personality and penchant for allegedly threatening critics has long been an open secret in Albany, coming more into the public eye after Assembly Member Ron Kim said he was the recipient of one such call. Kim – a frequent critic of the governor's handling of nursing home deaths during the pandemic – said that Cuomo threatened to "destroy" him. Since then, more stories of this kind of behavior by Cuomo – old and new – have come up. Although many people have accused Cuomo and his administration of being generally abusive, Boylan is the first to make specific sexual harassment claims. Former Cuomo aide Karen Hinton also published an op-ed that, while not explicitly saying that the governor harassed her, said he practiced "penis politics" and likened working for him to a 1950s marriage. In the wake of Boylan's accusations, several lawmakers have called for an investigation into Cuomo, or expressed belief in Boylan's claims.
No charges for officers in the death of Daniel Prude
Months after disturbing body camera footage showed the death of Daniel Prude at the hands of police, a Monroe County grand jury decided that none of the Rochester police officers involved in his death would face criminal charges. Prude's death sparked national outrage after the footage showed police pinning a naked, hooded and handcuffed Prude into the pavement until he lost consciousness. He never regained consciousness and later died from complications of asphyxiation related to the arrest. Although Prude died in March 2020, the circumstances surrounding his death did not emerge until September. Some accused the city and police department of covering up Prude's death, and documents made public as part of an investigation into the matter seemed to indicate officials suppressed widespread distribution of videos of the incident for months. State Attorney General Letitia James convened the grand jury to investigate Prude's death, and expressed disappointment that it did not result in charges.
Second test of ranked-choice voting 
New York City held its second ranked-choice voting election in Queens, and this time, voters will truly be able to see the new system in action. Unlike the first special election in Queens on Feb. 2, when James Gennaro won more than 50% of the first-place vote, no one in the special election in City Council District 31 received a majority of the vote. In a crowded race, candidate Selvena Brooks-Powers came out of election night with 38%. Pesach Osina finished in a close second place with 35%. Since no one got a majority, the city will begin the process of redistributing the lower-ranked votes and eliminating candidates in each round of voting. Although the tabulation process itself does not take extra time, further counting can't start until all absentee and military ballots are received, meaning that the tallying of ballots may not start until March 10.
Carranza steps down
With just under a year left in New York City Mayor Bill de Blasio's tenure, schools Chancellor Richard Carranza announced that he's stepping down. He oversaw an incredibly turbulent time for schools during the pandemic when schools initially went remote, and more recently began the process of reopening for in-person learning. Carranza did not offer a specific reason about why he decided to take his leave now, but said that the pandemic has been personally difficult for him as well – 11 of his family members and close friends have died of COVID-19 in the past year. Replacing him is Meisha Porter, a veteran Bronx educator who was previously the executive superintendent for the borough.
Powered By
NEXT STORY: New state lawmakers from Rochester spearhead policing reform