Andrew Cuomo
Cuomo's New Year's blues
Political setbacks, a new president and expiring emergency powers present new challenges to the governor.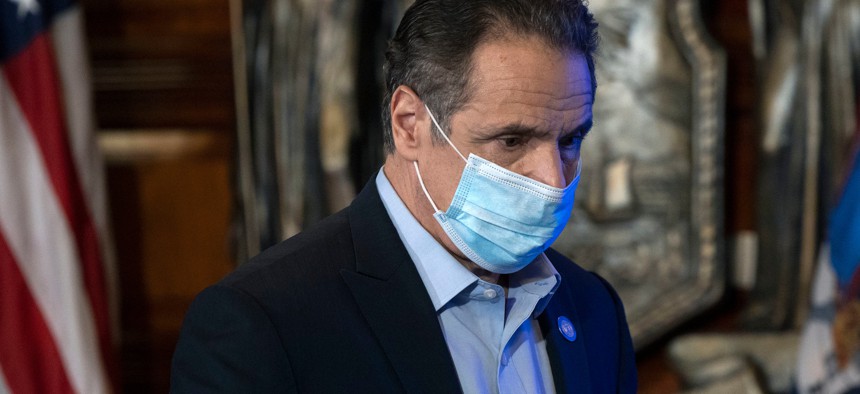 A new year has already featured more than a few setbacks for Gov. Andrew Cuomo and his oft-repeated statements that New York mobilized a nation-leading response to the coronavirus pandemic based on science and facts. Problems have hampered the distribution of vaccines across the state, and New York has fallen behind many states in the percentage of distributed vaccines that have actually been administered. Daily deaths remain in the triple digits. While recent data shows caseloads are dropping, the governor's political problems keep getting worse.
The New York Times reported that his micromanaging tendencies have driven nine top public health experts out of state government. State lawmakers had been increasingly vocal about his handling of nursing home deaths during the pandemic before state Attorney General Letitia James released a scathing report that nursing home deaths were undercounted by the state by as much as 50%. Reports of racial inequities in the vaccine distribution effort continue to surface despite Cuomo's assertions that the situation is improving. "I think New York was the first state to predict this was going to happen," Cuomo told reporters Monday of ongoing problems with distributing vaccines. "We have greatly increased access … but there is still this trust (issue with vaccines) and cynicism."
Recent polling shows the governor still remains popular, but recent setbacks suggest that the governor has receded somewhat from the political heights he reached last year. A lot of it has to do with how Cuomo compared to the president. There were more than a few examples of how Cuomo looked good last year compared to then-President Donald Trump, whose rejection of scientific expertise undoubtedly made the pandemic worse. President Joe Biden, however, is now creating a very different juxtaposition between the respective heads of the New York state and federal governments.
Biden has been emphasizing transparency and public health expertise while the governor has faced criticism for withholding data on nursing home deaths and the racial breakdown of the people who've received vaccines. "When I say 'experts' in air quotes, it sounds like I'm saying I don't really trust the experts," Cuomo said at a Friday virtual news conference. "Because I don't." The #PresidentCuomo of 2020 was saying very different things. "Be smart, follow the numbers, follow data, talk to experts," he said in April during one of the many press conferences that helped win him an Emmy Award.
Television appearances might also have diminishing returns for the governor. Trump would create controversies on nearly a daily basis via his media appearances and tweets. Biden has yet to give any sit-down interviews since becoming president, letting agency heads and leading scientists like Dr. Anthony Fauci, director of the National Institute of Allergy and Infectious Diseases, take the lead on informing the public. Cuomo, meanwhile, remains the undisputed center of the state's COVID-19 briefings, which members of the state Capitol press corps have criticized as tightly controlled by the governor.
Cuomo has his own way of explaining his way of doing things. What the media called a scathing report on nursing home deaths and efforts by the Cuomo administration to withhold data, the governor said actually showed how his administration wasn't hiding anything. Of reportedly missed opportunities to distribute vaccines faster, the governor said were evidence of just how well Cuomo was doing at rising to the challenges of COVID-19. "If Times reporters think I push hospitals too hard and local governments too hard, I say I'm a fighter for the people of New York and I believe I'm saving lives," Cuomo told The New York Times in response to questions about how he has overruled public health experts and local officials throughout the pandemic. Ongoing declines in hospitalizations and infection rates suggest that, despite some political setbacks, the governor remains on the cusp of getting some very big things done. "We're focused on fighting this pandemic and getting the vaccines and funding New Yorkers need and deserve from Washington – period," Cuomo spokesperson Rich Azzopardi told City & State in an email. "We're (leaving) the palace intrigue to others."
After this story was published, Azzopardi provided an additional statement about the state lagging behind other states in terms of administering the vaccines that it has received: "The CDC website overstates the number of vaccines that are actually in the state's possession and includes some second shots that you have to wait to administer and also includes data form the federally run nursing home program that routinely lags behind the state."
The change in federal leadership last month marked a new beginning in the state's response to the pandemic in many ways. There are no longer daily controversies over Trump's treatment of his native state. An announced increase in vaccine supplies to the Empire State highlighted how Cuomo's personal friendship with Biden (who he sort of endorsed early in the 2020 Democratic primaries) might be paying off. His chances of getting billions in new funding from the federal government are looking better than ever as the April 1 state budget deadline looms. Yet, Biden's arrival to the White House also brought the beginning of the end of Cuomo as the all-powerful pandemic fighter.
Critics no longer have to consider how the governor's approach contrasted with Trump's. The reputation that Cuomo cultivated for years as a can-do crisis leader is taking a hit as political controversies over vaccines, nursing homes and other aspects of the state's response continues to rage. State lawmakers appear unlikely to strip the governor of his emergency powers before they expire at the end of April, but it is looking more and more like New Yorkers are just months away from seeing a very different type of pandemic response. The big question is who – whether they be state legislators, local leaders or anyone else – will be joining Cuomo as the top decision-makers as the push continues to end the pandemic once and for all.