Campaigns & Elections
Déjà vu in Council District 31, with an RCV twist
And more coverage of key 2021 races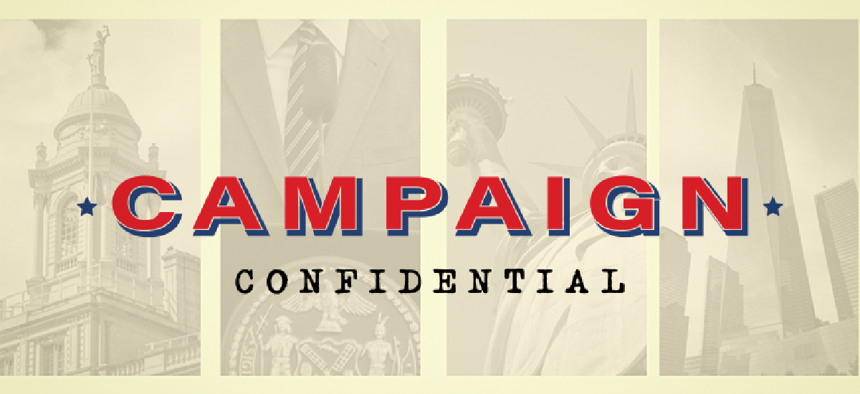 4 months and 1 week until the 2021 Democratic primaries
Welcome to City & State's Campaign Confidential newsletter, where Senior Reporter Jeff Coltin is covering the run-up to New York City's hugely consequential 2021 municipal elections for mayor, City Council and more.
Weekly, on Wednesdays. Sign up here.
Will the Queens special election be a 2013 replay?
When supporters of ranked-choice voting make their case for why the new voting system is good for Black and Latino New Yorkers, they'll often point to a specific race: the February 2013 special election in City Council District 31 in Queens. There, a white, Orthodox Jewish candidate named Pesach Osina came within 79 votes – less than 1 percentage point – of winning a Southeast Queens district that – as of the 2010 census – was 68% Black, 16% Hispanic and just 11% white. Besides Osina, the other seven candidates on the ballot, including the winner Donovan Richards, were Black. The numbers showed that the Black vote was split among several candidates, while the parts of the district with a large Orthodox Jewish population voted overwhelmingly for Osina.
Eight years later, there's another special election in the 31st District, and Osina is once again on the ballot – the only white candidate, facing off against seven Black candidates and one Latina. But this time, there's ranked-choice voting, which – in theory – means the vote of the district's Black majority won't be split nearly as much.
Who else is back from 2013? And who did Donovan Richards endorse? 
Osina denied that this would be a problem for him, telling City & State that he's a stronger candidate than he was eight years ago. Since then he has worked for Richards' council office and was Queens borough director for City Comptroller Scott Stringer – jobs that "really allowed me to build bridges and to build coalitions with diverse groups of stakeholders." 
Osina said he thinks ranked-choice voting is a "great idea" because it means candidates have to engage a wider range of voters. "It allows me to continue doing the work that I've been doing over the past seven years of building bridges," he said.
A consultant who asked for anonymity to speak freely agreed that RCV wasn't the biggest problem for Osina. "He's screwed in that race not because of demographics," they said. "It's the fact that Donovan (Richards) got involved and endorsed someone else."
Yes, although Osina worked for Richards, the former council member who was elected Queens borough president last year instead endorsed Selvena Brooks-Powers in the upcoming Feb. 23 special election. Brooks-Powers also ran in the 2013 special election, finishing in fifth place. But this time, she's the favorite. Brooks-Powers, who was most recently the manager for external affairs and community outreach for the JFK Redevelopment Program, has more money on hand than any of her opponents. She's got the support of Richards as well as the Queens County Democratic Party and nearly all the city's biggest unions including 1199SEIU.
With such a crowded field, it would be unlikely for any candidate to get more than 50% of the votes on the first round of voting – like what happened with James Gennaro's apparent victory in the District 24 special election earlier this month. That means the District 31 special election could be the city's first to test the new instant-runoff system where voters' secondary choices also play a factor in the outcome.
But Brooks-Powers says there hasn't been enough voter education, and she doesn't think a lot of voters will bother ranking candidates. "Some voters are just going to vote for one candidate that they know, and not necessarily vote for multiple," she said. "The new process has not been socialized well enough with the community." 
A race that looks more like 2013 could be good news for Osina. And supporters have noted that strong turnout in the Orthodox Jewish community seems to have been a decisive factor in Gennaro's race just two weeks ago.
So Brooks-Powers, who is Black, is still worried that the district's Black majority would not be represented by a Black council member. "I think that is a concern. We don't know what the turnout is going to be," she told City & State. "Time will tell, but I know for me, what I'm focusing on is reaching out to everyone. All the voters in our district regardless of race, gender, anything."
By the Numbers
$2,296,104
That's how much Maya Wiley's mayoral campaign thought it was going to get in public matching funds on Tuesday. Turns out Wiley got $0. These things happen when the Campaign Finance Board audits donations, and sources say Wiley's issues were easily fixable and that she's likely to get that $2.3 million on the next go-round on March 15. Other opponents that haven't hit the threshold yet, like Andrew Yang, won't be eligible for matching funds until April 15. But Wiley has been spending a lot, and this delay could slow down a campaign just as opponents are starting to hit TV. More details on the Campaign Finance Board's $18.7 million payout here.
Coreytroller
The political cynics responded as soon as Corey Johnson told the Times he was "considering" running for comptroller. "He has no future after this and he wants to remain relevant," said one anonymous operative. "Corey has a lot of money. He's got to use it," said another. But hey, running for comptroller isn't everybody's first choice, and even though Johnson has limited fiscal experience, political rivals concede that he'd have the highest name recognition in the race and – once the $4.9 million in matching funds hit – more money than anyone else too. Insiders are also whispering about potential strategy. With Johnson's former treasurer and former strategist both now working on Andrew Yang's mayoral campaign, would CoJo and the Yang Gang form an informal "Happy Warrior" ticket? Both Team Johnson and Team Yang declined to discuss if any discussions had taken place.
#LaborWeak2021
A couple weeks after five of New York City's most powerful labor unions released their 31 #LaborStrong2021 endorsements, 32BJ SEIU, CWA District 1, DC 37, HTC and NYSNA each released additional City Council endorsements on their own. "What is the point of 'labor strong' if everyone goes their own way?" asked one anonymous consultant. But you could draw some interesting conclusions from the new endorsements, since these were candidates that all five unions couldn't agree on. 32BJ SEIU was the only one of the five to not endorse Marjorie Velázquez in District 13 in the Bronx. Maybe they couldn't turn on longtime ally Council Member Mark Gjonaj – but the union didn't endorse him either. Similarly, CWA was the only one of the five not to endorse Crystal Hudson in District 35 in Brooklyn, and NYSNA was the weak link when it came to backing Pierina Sanchez in District 14 in the Bronx. Notably, both Hudson and Sanchez are running against opponents endorsed by the New York City chapter of the Democratic Socialists of America.
Who's your No. 2?
In the ranked-choice era, candidates who honestly share who else they'll rank on their ballot should be lauded. But is it too much to ask for a little consistency? At a mayoral forum on Feb. 10, Carlos Menchaca said Dianne Morales would be his No. 2. Asked the same question at a City & State forum the next day, Menchaca name-dropped Art Chang as his second pick. "It just changes," Menchaca admitted. "And I want to vote for someone that I can work with." Ranking opponents can get touchy. After Morales called Scott Stringer "my No. 2" at their January co-endorsement presser, her campaign clarified she was kidding. At the Feb. 10 forum, Morales said Wiley would be her second pick. Unlike Stringer, Wiley returned the favor.
Endorsement Watch
Petitioning will likely start March 2, so political clubs are announcing endorsements left and right … Pretty much all the Manhattan clubs are going with Scott Stringer for mayor (at least nine, at last count), but the Village Reform Democratic Club endorsed Eric Adams for mayor and the Uptown Democratic Club is backing Andrew Yang … Alvin Bragg is also most clubs' choice for Manhattan district attorney, picking up at least eight, including Three Parks Independent Democrats and Village Independent Democrats … though VRDC went with Tali Farhadian Weinstein … the clubs were more evenly split on the comptroller race – Brian Benjamin, Brad Lander and David Weprin have each picked up at least three Manhattan political clubs' endorsements in the past couple weeks … and for Manhattan borough president, the Grand Street Democrats endorsed Lindsey Boylan over any of her elected official rivals … In a Campaign Confidential exclusive, Manhattan's delegation in Albany is endorsing Brad Hoylman for Manhattan borough president, including state Sens. Robert Jackson, Brian Kavanagh and José M. Serrano as well as Assembly Members Harvey Epstein, Deborah Glick and Richard Gottfried … state Sen. Andrew Gounardes, who once worked for Eric Adams, also endorsed him for mayor … and activist Gwen Carr, mother of the late Eric Garner, endorsed Ray McGuire for mayor … The United Federation of Teachers announced a new round of council endorsements, including Mike Scala in District 32 in Queens and Nikki Lucas in District 42 in Brooklyn … Public Advocate Jumaane Williams announced a slate of council endorsements, including Edwin Raymond, an active NYPD lieutenant, in District 40 in Brooklyn … Rep. Grace Meng endorsed Sandra Ung in District 20 in Queens … the New Kings Democrats endorsed a slate of council candidates in North Brooklyn, including Crystal Hudson in District 35, but stayed out of District 36 in Bed-Stuy … 1199SEIU endorsed Selvena Brooks-Powers in the District 31 special election in Queens … the Queens County Democratic Party endorsed a council slate, including Brooks-Powers in District 31 and Ebony Young in District 26 … Citizen Action released a couple of ranked endorsements – Pierina Sanchez first and Adolfo Abreu second in District 14 in the Bronx and Shahana Hanif first and Brandon West second in District 39 in Brooklyn … and – in a Campaign Confidential exclusive – the Working Families Party is also endorsing Hanif for City Council. It's the WFP's 17th council endorsement, but the first race they're going up against NYC-DSA, which is supporting West.
Poll Sight
Another mayoral poll is out, meaning another week of excitement from Andrew Yang supporters met with reminders from hardened operatives that five months out from the 2013 primary, Christine Quinn and Anthony Weiner were polling first and second. This is the first "Pulse of the Primary" poll conducted by Core Decision Analytics and commissioned by consulting firm Fontas Advisors. They polled 842 likely primary voters between Jan. 20-25. Lots of interesting data, but notice the 19% undecided is lower than the 32% to 40% undecided we've seen in past polls. Did Fontas just ask the question better, or are more voters tuning in?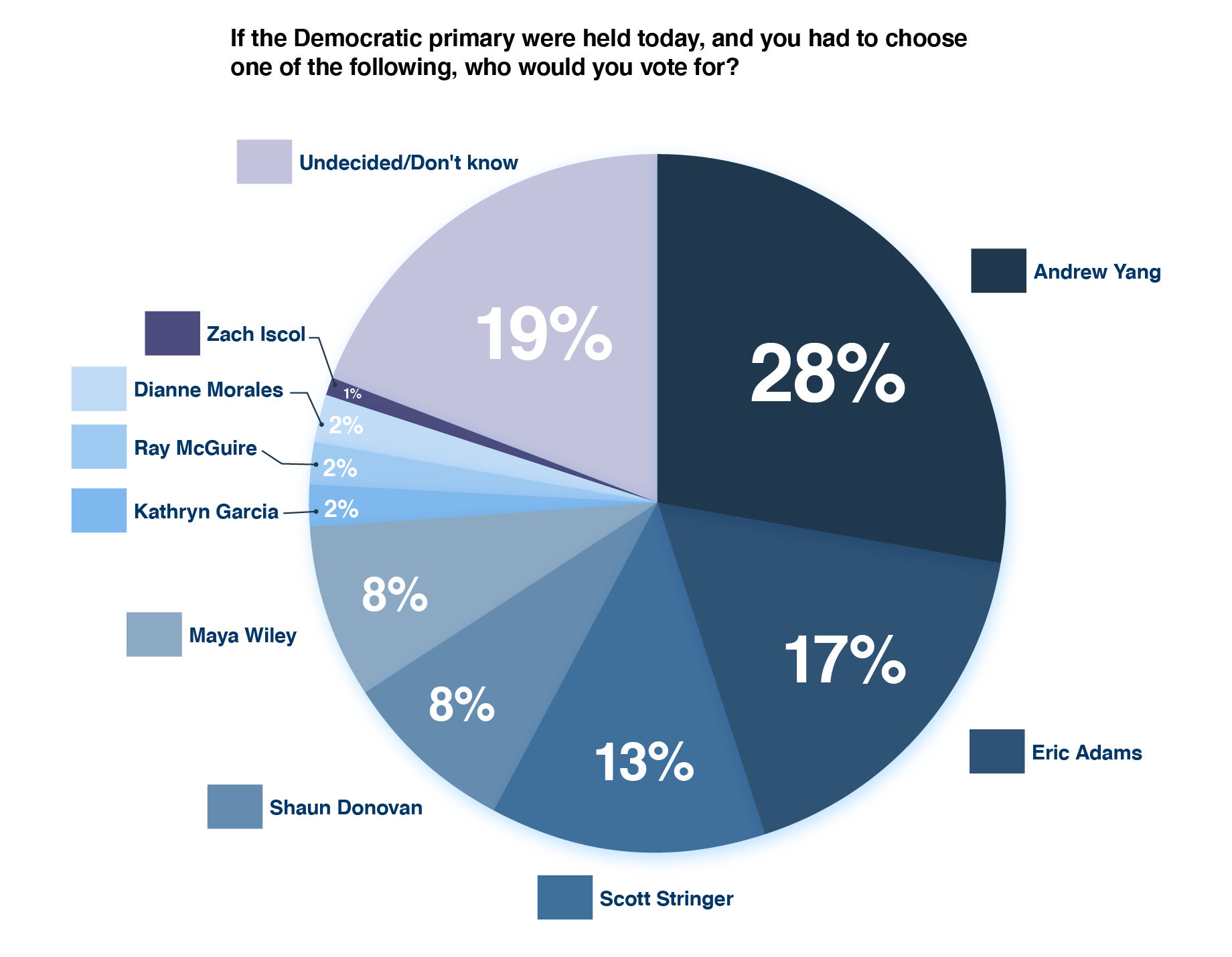 Staffing Up
Andrew Yang's mayoral campaign has hired Democratic District Leader David Schwartz as its Jewish community outreach director … Justyn Díaz is joining Maya Wiley's mayoral campaign as Manhattan borough lead … Kristina Naplatarski, Antonio Reynoso's government communications director, is joining his Brooklyn borough president campaign as communications director … Jay Satterfield is campaign manager for Ray Sanchez's council campaign in District 7 in Manhattan … El Smith is joining Billy Freedland's council campaign in District 5 in Manhattan as field director … Cristina Gonzaléz is joining Rodrigo Camarena's campaign for Brooklyn's District 38 as campaign manager … Ben Shanahan is joining Tiffany Cabán's District 22 campaign in Queens … Lorenzo Rosas is joining Lincoln Restler's campaign in Council District 33 in Brooklyn as field director … and in case you missed all the oppo, Yang also named Sasha Ahuja and Chris Coffey as dual campaign managers, Ericka McLeod as deputy campaign manager for organizing and Trip Yang as field director. Zach Graumann, who was once listed as campaign manager, is now a senior adviser to Yang.
Got tips? Email JColtin@CityandStateNY.com or DM me @JCColtin
District Data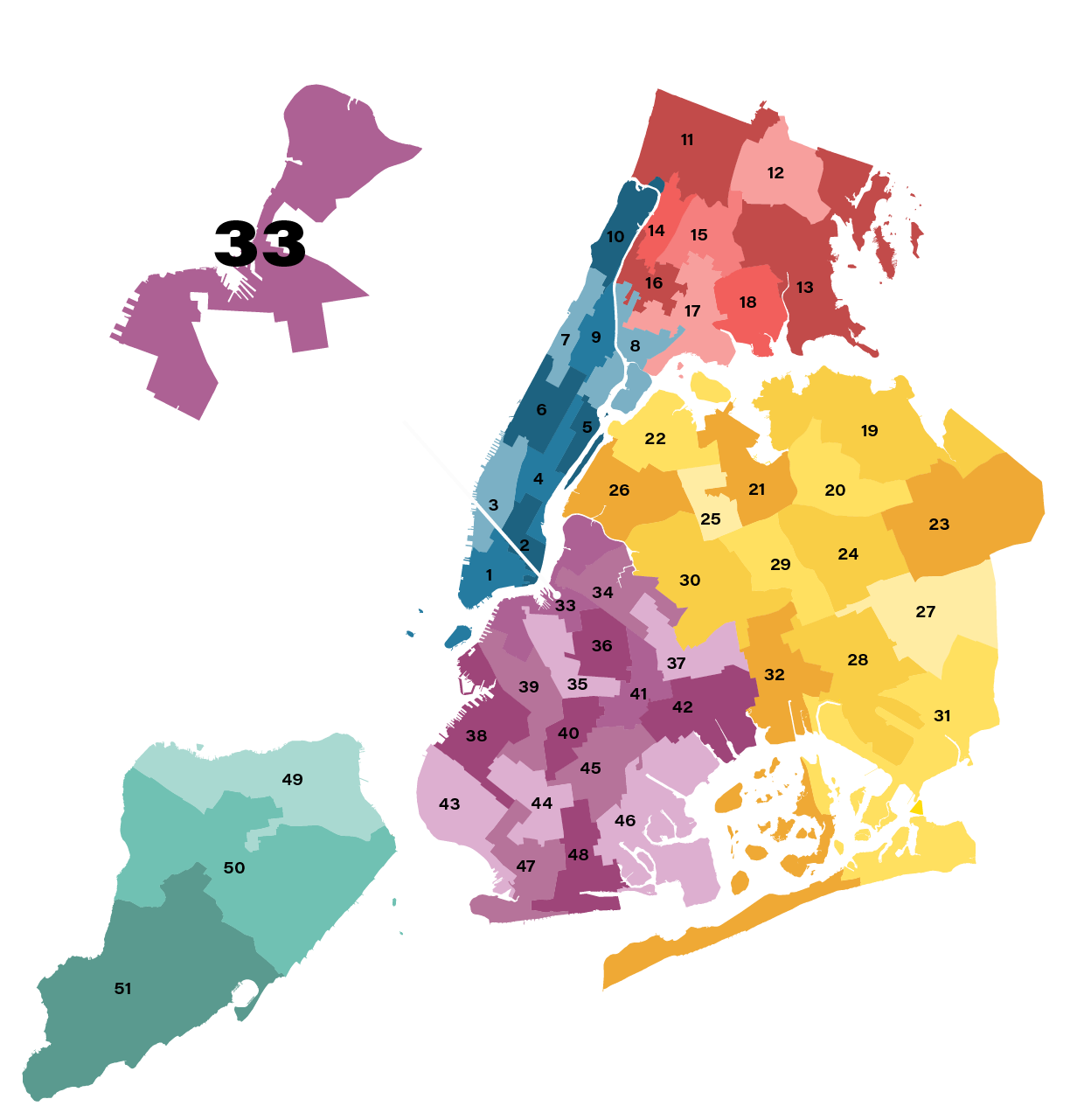 City Council District 33 in North Brooklyn, covering neighborhoods including Greenpoint, Williamsburg and Brooklyn Heights
Current council member: Stephen Levin, since 2010, who's term-limited at the end of 2021
2010 census demographics: 73.6% white, 13.5% Hispanic, 5.7% Black, 4.8% Asian
Housing: 71.9% renter-occupied, 28.1% owner-occupied
2009 primary election results: Levin: 33.9%, Jo Anne Simon: 20.5%, Evan Thies: 12.9%, Isaac Abraham: 12.6%, Ken Diamondstone: 7.8%, Doug Biviano: 7.3%, Kenneth Baer: 5.0%
2017 general election results: Levin: 88.2%, Victoria Cambranes: 11.3%
Who's running: Elizabeth Adams, Victoria Cambranes, Stephen Finley, Sabrina Gates, Toba Potosky, Lincoln Restler, Stuart Sherman, Benjamin Solotaire, and April Somboun. Armed with major endorsements, the most in private contributions and a long progressive political résumé – most prominently as a de Blasio administration operative – Lincoln Restler is the candidate to beat. Adams, a top aide to Levin and a good fundraiser, is also running a strong campaign. Solotaire also worked in Levin's office. And Cambranes has some experience, having challenged Levin four years ago.
Twitter Posting 
Congrats, you did it guys. Youve made the words "communities" and "grassroots" have almost no meaning whatsoever.

— Josmar Trujillo (@Josmar_Trujillo) February 16, 2021
Powered By
NEXT STORY: Cuomo's proposed pot amendments don't appease advocates