Campaigns & Elections
Democratic activist enters Staten Island's borough president race
Lorie Honor, a veteran of former Rep. Max Rose's 2018 campaign, would be the borough's first woman borough president.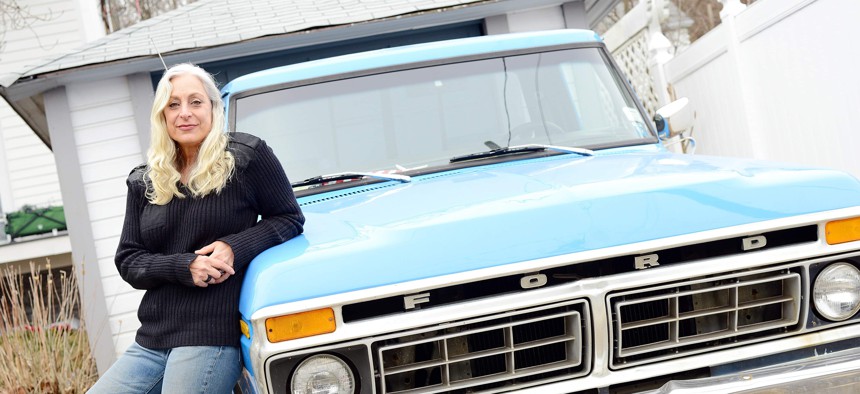 In 2018, Staten Island native Lorie Honor introduced former Rep. Max Rose, then a first-time Democratic candidate for Congress, to communities across Staten Island. She fundraised for his campaign as his director of community outreach and helped build the volunteer base that eventually led to Rose's upset victory. Progressive grassroots groups, including the one Honor helped co-found, Staten Island Women Who March, are considered by local Democrats as being instrumental to Rose flipping the Republican-held seat. (Rose lost the seat to Republican Rep. Nicole Malliotakis last year.) 
Now, equipped with the experience of running a successful grassroots campaign for a novice candidate, Honor is trying to replicate the feat herself: she is running for Staten Island borough president, a position no woman has ever held – and no Democrat has either since 1989. 
Honor's intention to run has not been previously announced or reported. New York City's Campaign Finance Board confirmed that her filing will be active on Wednesday afternoon. There had been no Democrat in the race since Jan. 15, after Staten Island Democratic County Committee member and former political organizer, Tom Shcherbenko, dropped out. Shcherbenko told City & State he decided to step aside to let Honor run. 
Honor, who has never held elected office, believes her Staten Island roots and experience as a local business owner, former teacher, activist and homeowner who can relate to Staten Islanders and the borough's unique issues, make her a qualified candidate for the job. Instead of seceding from New York City, as Staten Islanders are famous for frequently considering, she said she wants to fix Staten Island's "image problem" and work more closely with the other four boroughs, while listening to the needs of the community coming out of the coronavirus pandemic to understand what it needs. 
"It's a level playing field now," Honor told City & State. "We've had success in getting a populist person elected in Max Rose. I believe I know how that was done. I'm not going to be a hard sell to many Staten Islanders, I think many people are going to recognize me as a businesswoman, as a teacher, as a Marine mom, as a parent, as a homeowner."
She also thinks it's time for someone new to politics to lead Staten Island. Staten Island's borough presidents have a history of coming from careers in politics. Current Borough President James Oddo was the chief of staff to former Republican City Council Member John Fusco, before Oddo himself became a City Council member. Former Borough President James Molinaro, the only member of the Conservative Party ever elected to boroughwide office, served as deputy borough president to his predecessor, former Borough President Guy Molinari, a Republican who was an Assembly member and Congress member before he became borough president.  
Staten Island Democrats with greater name recognition have been long rumored to be getting into the race but have yet to do so. In November, term-limited Council Member Debi Rose told City & State she was still weighing whether to run for the seat after being non committal to a run for nearly two years. She could not be reached for comment at press time this week to provide an update on her plans, nor could Assembly Member Michael Cusick, Staten Island's Democratic Party boss, who has also been rumored to be considering a run. 
On the Republian side, City Council Minority Leader Steven Matteo, the former chief of staff to Oddo, is running, as is Leticia Remauro, a political consultant who worked on Rep. Nicole Malliotaikis' 2020 congressional and 2017 mayoral campaign and the former chair of the Staten Island Republican Party, who recently faced backlash for saying "Heil Hitler" at an anti-coronavirus lockdown rally. 
But local Democrats say they do not foresee Cusick or Rose getting into the race so late, especially Cusick, a conservative-leaning Democrat, who narrowly won in November against a less-known Republican. They also believe Honor could have a shot at winning, especially if she is able to energize the progressive base she helped build, who are reeling from Rose's loss. 
The ongoing radicalization of the Staten Island Republican Party could also be an asset for the Democratic candidate, especially if Remauro is the GOP nominee. Malliotakis has controversially supported former President Donald Trump's widely debunked lies about election fraud, and Remauro attended the pro-Trump "Stop the Steal" rally outside of the U.S. Capitol that preceded Trump supporters violently overrunning the U.S. Capitol in an attempt to stop certification of the election of President Joe Biden. After the coup attempt, Malliotakis voted to object to Arizona and Pennsylvania's electoral votes on Trump's behalf, despite a total lack of evidence to support Trump's claims of fraud in those states.
There may be two other candidates who emerge in the Democratic primary race for the seat, but if they, Cusick and Rose do not, Honor could be the nominee by default. 
"(Cusick) had a near death experience from the right … that race was pretty close from someone who I've never even heard of," said a source within Staten Island's Democratic Party who requested anonymity to speak candidly about the party. The source also noted that, while Cusick's moderate politics could make him a strong candidate in the general election, he could be vulnerable in a boroughwide primary against a progressive candidate like Honor. Whereas Cusick represents a mostly white, suburban, swing-district in the middle of Staten Island, many votes in a boroughwide Democratic primary would come from the more diverse, progressive North Shore. "He's also got a lot of grief from progressives from the party because he's an anti-choice, kind of middle of the road guy," the source said. "So I don't think he's going to want to take on a progressive activist who looks like she could get some steam."
Progressive Democrats from Staten Island Women Who March had objected to an elected official heading the party before its local elections in 2019, when Cusick was elected chair. They wanted local attorney Laura LoBianco Sword as their chair, but a deal was reportedly cut with Cusick, who agreed to a number of party reforms to prevent a challenge from Sword. Honor said Sword is now working on her campaign. 
On Monday, Honor interviewed with Staten Island's Democratic Party Executive Committee to seek their endorsement. Though she said she would hope to have support from the party and from Rose, Honor said she is prepared to work on her own."Endorsements are great … but it's essentially an outreach job," Honor said of the job of borough president. "And I do outreach like nobody else can do on Staten Island." 
Rose's new job as a special assistant to the U.S. secretary of defense, may prevent him from publicly endorsing in the race. Rose told City & State he cannot endorse nor comment on anything related to politics because of his new job. The federal Hatch Act prevents some federal government employees from engaging in political activities. 
A source on Staten Island's Democratic County Committee said Honor and two other candidates interviewed with the executive committee on Monday, including Radhakrishna Mohan, who ran in the Democratic primary for Congress on Staten Island in 2018 and a board member on the Staten Island Democratic Association, and Mark Murphy, a Democrat who ran against former GOP Rep. Michael Grimm for Congress in 2012. Mohan confirmed he interviewed with the county committee for the seat on Monday but Murphy could not be reached to elaborate on his plans.
"I would imagine that Lorie Honor would get some support from the executive board, but I would also imagine that Mohan will get one or two votes and so will Mark Murphy, but if I had to be a betting man … I would assume that we either go with Lorie or Mark or go with nobody," the source said, who noted that either way, it will be an  "uphill battle" for any candidate if they have to challenge Matteo, likely the favored candidate of the Staten Island Republican Party. 
The local party told City & State it will not endorse candidates until its convention on Feb. 18. 
"(Honor) understands public policies, she knows how to articulate a message, she understands that the key to a successful race is dealing with issues that affect people in the conduct of their daily life," said Allen Cappelli, a former staffer to several Democratic elected officials and a New York City planning commissioner from Staten Island. "She's not going to be running a pie-in-the-sky crazy campaign, it's a campaign-financed race, so she's got access to people who can give her money and get the matching funds and be able to run a formidable race," he said of the city's public matching funds program. 
College of Staten Island Professor Richard Flanagan said a potential victory for Democrats in the borough president's race on Staten Island will largely depend on who the city's top of the ticket mayoral candidate is and whether more progressive or "run-of-the-mill Democrats" show up at the polls. 
"It's a tough nut to crack for a Democrat," Flanagan said of the island's borough president seat. "Tough, but there's a first time for everything. A lot of that Republican registration surge was connected to Trump, so if there's no Trump at the top of the ticket will they come out or will they stay home in the general? I guess that's the big question mark." 
Correction: Allen Cappelli is a former staffer to Democratic elected officials.