Coronavirus
New York political figures infected by the coronavirus
A running list of who's been diagnosed with COVID-19.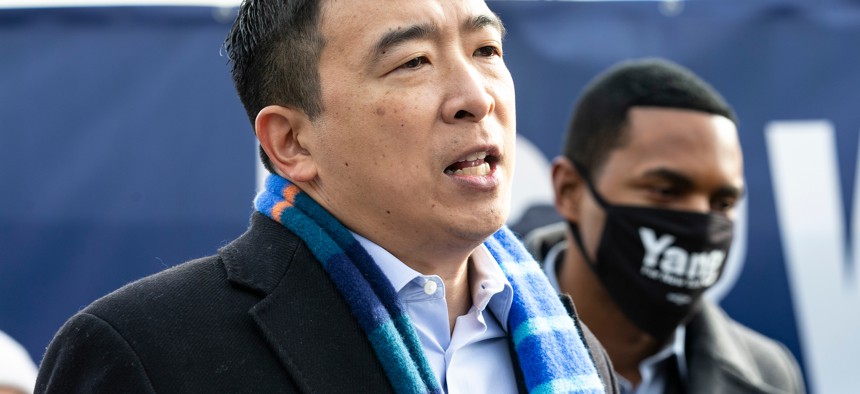 New York City Council Member Justin Brannan has joined exclusive groups before, including the Freemasons and a death metal band called Caninus. Joining the ranks of people infected by the coronavirus, however, is one club he never planned on joining.
As COVID-19 has ravaged New York, the hardest hit state, a number of prominent New York political figures have also tested positive for the virus, or apparently had it based on their symptoms and exposure. Here is a list of some of the most notable ones:
Justin Brannan: The New York City Council Member tweeted Feb. 10 that he and his wife had tested positive for the coronavirus and were experiencing mild symptoms. Now, the longtime punk guitarist is vowing to rock quarantine with public health guidelines in mind. 
Dr. David Chokshi: The New York City health commissioner announced on Feb. 3 that he was experiencing mild symptoms after testing positive for the coronavirus. His diagnosis doubled as a teaching moment for New Yorkers who have watched Chokshi's regular appearances at mayoral briefings over the past year. "We all must continue to wear masks, wash our hands, socially distance and stay home if feeling ill," Chokshi said in a statement.
Andrew Yang: After receiving a negative COVID-19 test just days before, Democratic New York City mayoral candidate Andrew Yang announced on Feb. 2, 2021 on Twitter that he had a positive rapid test. Yang reported that he has mild symptoms and is quarantining, but will continue to attend virtual campaign events.
Zellnor Myrie: The state senator announced in Jan. 15 that he had tested positive days after appearing on the floor of the state Senate to speak in favor of voting reforms. It appears that no additional lawmakers or staff present that day later got the virus and the Brooklyn Democrat was discharged from a hospital by the end of the month. 
Adriano Espaillat: On Jan. 14, Rep. Adriano Espaillat announced on Twitter that he tested positive for COVID-19. Although Espaillat received the second dose of the coronavirus vaccine shortly before testing positive, he noted that the vaccine takes time to take effect. It also, while being unusually effective for a vaccine, at 95% reduction in risk of developing COVID-19, still leaves some potential for contracting the virus. 
Donald Trump: The then-president announced last fall that he and first lady Melania Trump both tested positive for the coronavirus. After a brief hospitalization and experimental treatments, he eventually recovered, to much praise and controversy. 
Rick Cotton & Betsy Smith: On March 9, Gov. Andrew Cuomo announced that Rick Cotton, the executive director of the Port Authority of New York and New Jersey, had contracted the coronavirus. Cotton, who is in charge of the region's airports, bus terminals and tunnels, was one of the most high-profile public officials to test positive in the early stages of the outbreak. Cuomo suggested that Cotton might have been exposed while on the job at JFK Airport. On March 26, Cotton announced that he and his wife, Central Park Conservancy President and CEO Betsy Smith, who also tested positive, had recovered. 
Charles Barron & Inez Barron: On March 14, Assembly Speaker Carl Heastie tweeted that Brooklyn Assemblyman Charles Barron had tested positive for the coronavirus, one of the first state lawmakers to do so. A week later, Barron's wife, New York City Councilwoman Inez Barron announced that she too had contracted the virus. While the 69-year-old assemblyman had to be hospitalized, he and his wife have since recovered.
Helene Weinstein: When he tweeted the news about Charles Barron, Heastie said that Assemblywoman and Ways and Means Committee Chair Helene Weinstein had also tested positive for the virus. Shortly after the announcement, Brooklyn Democratic Party Chairwoman Rodneyse Bichotte said she had been in contact with Weinstein and that the lawmaker was in good shape.
Ritchie Torres: After experiencing symptoms for several days and learning that a senior staff member had tested positive, New York City Councilman Ritchie Torres tweeted that he had tested positive for the coronavirus on March 16. The first member of the City Council to test positive, he is now symptom free, though he said in early April that he was still anxious about leaving his Bronx apartment, where he had been self-isolating. 
Kimberly Jean-Pierre: On March 19, Assemblywoman Kimberly Jean-Pierre became the third state lawmaker to test positive for the coronavirus, but she made good on assurances that she would continue to work remotely from home. 
Brian Miller: On March 20, two days after being in the state Capitol to vote on a paid sick leave bill, Assemblyman Brian Miller, a Republican representing the Catskills, became the fourth state lawmaker to test positive for the coronavirus. The assemblyman was hospitalized in St. Luke's Hospital in Utica following his diagnosis and has since recovered.
Melinda Katz: Queens District Attorney Melinda Katz tested positive after learning on March 21 that she had been exposed to someone with the coronavirus. After a few days of a low-grade fever, the former Queens borough president said she was no longer experiencing any symptoms. 
Mark Levine: On March 23, New York City Councilman and Health Committee Chairman Mark Levine tweeted that he was experiencing coronavirus symptoms, namely a fever and a dry cough. Levine subsequently emerged as a staunch advocate for preserving test kits for those most in need, saying that he would not be seeking a test for himself and would instead shelter at home.  
John Miller: On March 27, NY1 reported that John Miller, the NYPD's intelligence and counterterrorism chief, had tested positive for the virus. 
Johnny Lee Baynes: New York Supreme Court 2nd Judicial District Judge Johnny Lee Baynes, who worked in Brooklyn, died of COVID-19 complications on March 26 at 64 years old.
Pat Foye: The Metropolitan Transportation Authority announced on March 28 that its leader, Pat Foye, has tested positive for coronavirus. A spokesperson said he was isolating at home but "feeling good and maintaining his full schedule." He has subsequently recovered.
Nydia Velázquez: On March 30, Rep. Nydia Velázquez was diagnosed with a presumed coronavirus infection only a few days after sharing a podium and microphone with other U.S. representatives during the debate on the $2 trillion stimulus bill. She said in a statement that her symptoms were mild and that she is self-isolating. She encouraged others to "stay at home and continue practicing social distancing" and has since recovered.
James Seward: State Sen. James Seward and his wife tested positive for the coronavirus on March 30. It was originally reported that Seward, who is also battling bladder cancer, had a mild case of the virus and was expected to leave Albany Medical Center shortly. According to Seward's wife, for a while his condition was critical and he was on a ventilator in a medically induced coma, but the state senator later recuperated at home. While some health problems remain, he has continued to do interviews in recent weeks.  
Chris Cuomo: Host of CNN's "Cuomo Prime Time" – and Gov. Andrew Cuomo's younger brother – became one of the most high-profile individuals to test positive for COVID-19 when he announced the news on March 31.
Paul Vallone: On April 1, New York City Councilman Paul Vallone posted on Facebook that he had tested positive for the coronavirus after experiencing mild symptoms. He said thaI he feels blessed "to have had manageable symptoms" and to have already gotten on the "road to recovery."
Barry Grodenchik: On April 2, New York City Councilman Barry Grodenchik became the latest politician who tested positive for the coronavirus. He said in a tweet that he had been self-isolating since March 14 and had no contact with anyone besides family members since that date. 
Costa Constantinides: On April 10, Queens borough president candidate, Costa Constantinides took to Twitter to announce that his wife Lori, who is diabetic and in need of a kidney transplant, had been hospitalized for the coronavirus after he experienced mild symptoms the week before.
Noach Dear: New York Supreme Court judge and former New York City Council Member Noach Dear died of COVID-19 complications on April 19. He was 66 years old.
James Skoufis: State Sen. James Skoufis tested positive for COVID-19, his office announced on April 24, just three days after first experiencing symptoms of the virus. Skoufis reported that he had nearly every symptom of the illness and said that it was "the sickest I've ever felt in my life." The state senator had made a full recovery by early May and said that experiencing the virus reinforced his position on reopening the state based on the opinions of public health experts and not for the sake of the economy.
Julia Salazar: On July 2, the state senator announced that she had contracted the virus. Salazar said she had been experiencing mild symptoms of the virus, which led her to get tested, and began quarantining after receiving her results. She has since made a full recovery from the virus.