alessandra biaggi
One woman who could bring down Gov. Andrew Cuomo
No matter what happens to the governor, state Sen. Alessandra Biaggi will likely play a big role.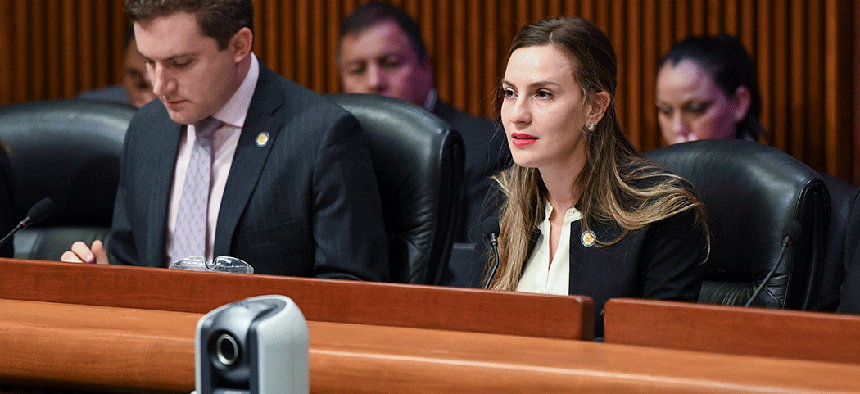 Things just keep getting worse for Gov. Andrew Cuomo. Women in politics are a big reason why.
Attorney General Letitia James sparked his current troubles by releasing a damning report on COVID-19 deaths in nursing homes nearly one month ago. Allegations of sexual harassment made by former staffer Lindsey Boylan, a candidate for Manhattan borough president, have led to increased scrutiny of the governor's personal behavior and style of leadership. A Cuomo spokesperson has denied the allegations, but gubernatorial critics like state Sen. Alessandra Biaggi say a moment of reckoning is coming for the three-term governor.
The Bronx Democrat once worked in the governor's office, which she says allowed her to see first hand how he treats subordinates. She – along with state Sen. Jessica Ramos and Assembly Member Yuh-Line Niou – got a taste of the gubernatorial wrath two years ago when the legislative trio questioned the ethics of the governor holding a fundraiser during budget season. Chairing the state Senate Committee on Ethics and Internal Governance might even give Biaggi a chance to oversee a future investigation into the governor. 
What happens next for the governor depends on a multitude of factors, including the outstanding question of who can best investigate Cuomo on nursing homes and the sexual harassment allegations. James has to decide whether to launch her own investigation into the governor. Democratic leaders in the state Legislature are still seeking consensus on possibly repealing the emergency powers granted to the governor last spring. Federal investigators might release damning information on nursing home deaths. And more allegations of sexual harassment could still come out.
City & State spoke with the two-term legislator to hear her thoughts on possible investigations, impeachment and what she views as "sociopathic" behavior on the Second Floor as well as allegedly "borderline criminal" behavior by Department of Health Commissioner Howard Zucker. The interview has been edited for length and clarity.
Where do you see things standing right now?
The behavior by the governor and his administration has really prevented New York from having good governance. There's a culture of belittling people, there's a culture of screaming at people, and really just making people feel badly. It's definitely come from the top and it is perpetuated by those who are most closely surrounding him.
Keep an eye out on more people coming forward in the next few weeks. A lot of people have reached out to me and two other legislators to share that they experienced similar behavior that was berating or belittling or toxic. They're just afraid right now.
Should he resign?
Well, here's what I think needs to happen on both issues we're dealing with. There has to be an independent investigation. That's number one. If there is evidence of misconduct or wrongdoing, then that would lead to impeachment. We have to follow the process. The avenue of investigation is tricky. We have the Joint Commission on Public Ethics, the attorney general's office, DAs' offices … there are flaws in a majority of them. Even look at my committee. We're continuing to look at it. How it's interpreted today is that it is limited to members of the legislature. Could that interpretation change? Maybe. If it does, to the legislature pursue a route of independent investigation with regard to the governor's behavior? Yes – but only if we have the jurisdiction to do that. 
This is not a very easy thing to determine in terms of where the independent investigation will take place, but it doesn't mean that we won't get to an answer. I feel very confident that we will.
You worked in the governor's office before you were elected to the state Senate. What sort of troubling behavior did you witness or experience?
The counsel's office was doing this little spoof of the budget process. It's like a tradition that happens after the budget is over. Cuomo walked up to some of use and he walked over to me, grabbed my elbow and said: "nice dance moves." I didn't perceive it as "he's sexually harassing me" but I thought to myself "that is a weird thing to say to somebody."
One Cuomo spokesperson Rich Azzopardi said top staffers barely knew about you during your time in the administration …
It's very sociopathic. I worked for (Counsel to New York Governor Alphonso David) for eight months. He was one of the most senior people there. I was also the lawyer who was responsible for the Council on Women and Girls, which was led by (Secretary to the Governor) Melissa DeRosa. It's just sad they are lying about it. My interactions with the governor were very brief and very intermittent. He's not somebody who spends time with staff or walks into your office and starts talking to you. He's very much shielded from most of the people in there because that's how he chooses to run his office. 
And what about Department of Health Commissioner Howard Zucker? You were pressing him at a legislative hearing about the legal immunities granted to nursing homes in the state budget … 
I asked him: Do you think it is time to repeal corporate immunity for directors and shareholders of nursing homes and hospitals? He said he still supports it, which I find to be borderline criminal. That was a provision slipped into the budget in the 11th hour. Nobody knew where it came from. We later learned the Greater New York Hospital Association championed this provision in the budget. Who gave them access to the budget? This is so outrageous.