Campaigns & Elections
Unions aren't expected to unite in the mayoral race
And more coverage of key 2021 races.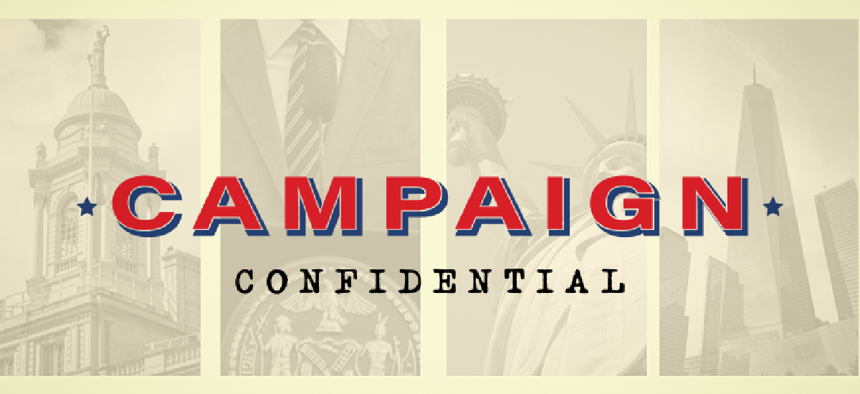 Welcome to City & State's Campaign Confidential newsletter, where Senior Reporter Jeff Coltin is covering the run-up to New York City's hugely consequential 2021 municipal elections for mayor, City Council and more.
Weekly, on Wednesdays. Sign up here.
Wednesday, February 24, 2021
4 months until the 2021 Democratic primaries
Won't you be my labor?
Normally, Maya Wiley wants to avoid Bill de Blasio comparisons. But when 1199SEIU, the city's biggest local union, announced it was endorsing Wiley for mayor on Friday, supporters couldn't help but note that 1199SEIU had backed de Blasio relatively early in 2013, when he trailed in the polls. If you read enough Sally Goldenberg, you've been expecting this for months, but it's still a huge endorsement, backed by money and members. And now all eyes are on the city's other major unions, most of which have yet to endorse.
In 2013, the city's "Big 4" unions were split: 1199SEIU with de Blasio, the United Federation of Teachers with Bill Thompson, District Council 37 with John Liu and 32BJ SEIU with Christine Quinn. Expect that again in 2021. Union sources and political insiders think DC 37 and UFT will probably back Stringer, while 32BJ SEIU may like Eric Adams best. But none have made a final decision. And they're not feeling pressure yet either. "Nothing's going to happen in February," a source said. 32BJ SEIU and DC 37 may announce in early March, though, and UFT is doing its own thing, hosting a series of mayoral town halls before it endorses – probably somewhere in late March to mid-April. Once they do, UFT wants to be a big player in the race, using its well-funded independent expenditure committee in both the mayoral race and in City Council races. An insider called it the "biggest election for UFT ever."
Other unions to watch include the New York Hotel and Motel Trades Council, which has been weakened by the pandemic, the New York State Nurses Association, which has been strengthened, and the New York City Police Benevolent Association, which has become toxic to voters on the left. But some unions aren't stressing at all: RWDSU and CWA District 1 both endorsed Stringer months ago, and the Building and Construction Trades Council of Greater New York joined them Tuesday.
By the Numbers
38.07%
Selvena Brooks-Powers' percentage of top-ranked votes, with nearly 98% of the in-person ballots tallied up in the City Council District 31 special election in Queens. Polls closed at 9 p.m. Tuesday, and her nearest opponent, Pesach Osina, was close behind with 35% of the first-place votes. The other seven competitors trailed significantly. Since nobody cracked 50%, the race will go to an instant runoff, with voters' ranked choices being counted. But don't hold your breath – the Board of Elections says that won't start until at least March 10.
Republicans love their red hats
Forget the Republican Cuomo challengers for a sec – we still don't know which GOP candidate will almost certainly lose to the Democratic nominee for mayor in November. Radio host and civilian subway patroller Curtis Sliwa has a good shot, after winning the Staten Island GOP's endorsement Friday night over Wall Streeter Sara Tirschwell and entrepreneur Fernando Mateo. Sliwa says he's the right pick in part because he's "never been a Trumper," but GOP sources say the other borough parties, which are meeting later this week, are leaning toward Mateo, hoping he could appeal to Latino voters. Could there be yet another contender? John Catsimatidis is unlikely to run, but somebody apparently ran a phone poll feeling out a candidacy for Giuliani-era deputy mayor and Yankees President Randy Levine. Levine has been silent on politics since writing an Empire Report column in December that would have doubled as a campaign launch … if not for the disclaimer that he wasn't running for mayor. Said one Republican: that's one of the clearest signs someone's interested in running for mayor.
McGuire the donor
Mayoral candidate Ray McGuire has never worked in politics, but he's an experienced donor, having personally given some $394,925 to federal candidates and PACs since 1989. The vast majority went to Democratic candidates and causes, including a $30,800 donation to the Obama Victory Fund 2012, but not all. McGuire has given $65,639 to the Citigroup federal PAC, which supports both Democrats, such as Rep. Gregory Meeks, and Republicans, such as Rep. Elise Stefanik. And in July 2005, McGuire donated $500 to the unsuccessful reelection campaign of Republican George Allen, then a U.S. senator representing Virginia. McGuire's campaign said McGuire didn't personally know Allen but must have been asked to donate by a friend. And the campaign made it clear the donation came long before Allen notoriously used "macaca" as a racial slur in August 2006.
Shrinking returners
Now that New York City Council Member Mark Gjonaj decided not to run for reelection, only 12 city lawmakers who held office at the beginning of 2020 will be on the ballot in 2021. Robert Holden probably has the toughest race of the dozen, since progressive Democrats in the borough are lining up behind challenger Juan Ardila, hoping to unseat the centrist Holden who actually won on the Republican line in 2017. This year, the Queens Dems are declining to endorse in the race – a clear snub of the incumbent – but heavy hitters like the UFT and the New York City Central Labor Council are backing Holden. That has earned both organizations an open letter from the Ridgewood Tenants Union demanding they withdraw their endorsement of the man who has been "downright hateful towards our immigrant neighbors," citing his support for Trump's immigration policies.
Endorsement Watch
New York City Council Member Francisco Moya – one of the few members running for reelection – endorsed Eric Adams for mayor, and Adams reciprocated, distancing himself from his old ally Hiram Monserrate, who wanted to run against Moya but may be legally barred from doing so … The Downtown Independent Democrats endorsed Dianne Morales for mayor – her first organizational endorsement … The Queens County Democratic Party and its leader, Rep. Gregory Meeks, endorsed Queens lifer David Weprin in the comptroller race … But the congressional delegation is split in the comptroller race. Reps. Jamaal Bowman and Jerry Nadler are with Brad Lander, Rep. Adriano Espaillat is backing Brian Benjamin and Rep. Tom Suozzi is also with Weprin … Espaillat also endorsed Oswald Feliz, who once worked on Espaillat's campaign, in the District 15 special election in the Bronx … the New York City Central Labor Council announced a second round of endorsements, including Mark Levine for Manhattan borough president … Jaslin Kaur, running in District 23 in Queens, rolled out some endorsements, including state Sen. Michael Gianaris and CWA District 1 … state Comptroller Thomas DiNapoli and former Comptroller H. Carl McCall are both endorsing Julie Menin in District 5 in Manhattan … former City Council Speaker Melissa Mark-Viverito is backing Jessica Haller in the Council District 11 special election in the Bronx … The Jewish Vote (Jews for Racial and Economic Justice's political arm) released a slate of council endorsements, including ranked endorsements in District 5 with Tricia Shimamurafirst, Rebecca Lamortesecond and Billy Freedlandthird … and the Road to Justice NYC coalition of 1199SEIU, Make the Road Action and Community Voices Heard Power announced a second round of council endorsements, including a co-endorsement of Ischia Bravo and Elisa Crespo in the District 15 special election in the Bronx and ranked endorsements of Shekar Krishnan first and Carolyn Tran second in District 25 in Queens … and, in a Campaign Confidential exclusive, NYIC Action, the New York Immigration Coalition's political arm, announced a second round of council endorsements: Carlina Rivera in District 2, Erik Bottcher in District 3 and Shaun Abreu in District 7 in Manhattan; Kevin Riley in District 12, Adolfo Abreu in District 14 and Ischia Bravo in the District 15 special election in the Bronx; Amit Bagga in District 26, Adrienne Adams in District 28 and Felicia Singh in District 32 in Queens; and in Brooklyn, Farah Louis in District 45 and Lincoln Restler and Elizabeth Adams in a co-endorsement in District 33.
Poll Sight
Who needs a poll when you have the cold, hard results in the City Council District 24 special election … which only took 16 whole days to finalize and post? But the final result was anticlimactic. Since James Gennaro got more than 50% of the 6,783 total votes, there was no instant runoff tallying of voters' rankings. Plus, the absentee vote almost exactly followed the in-person votes counted on Election Day – unlike in last year's primaries, where we saw huge swings after mail-in votes were counted. Which way will the mail-in votes go in next month's special elections? And for the June primary? We'll see.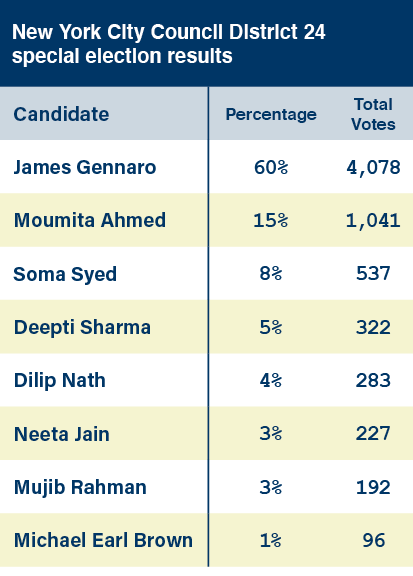 Staffing Up
Abby Glime is joining Maya Wiley's mayoral campaign as deputy press secretary … Erika Tannor is policy director for Andrew Yang's mayoral campaign, and Alyssa Cass is Yang's communications director … Michael Lambert, a former deputy comptroller for public affairs, has joined Terri Liftin's comptroller campaign as a strategic adviser … Lucy Lang's Manhattan district attorney campaign has hired Matthew Koos, formerly of Rep. Carolyn Maloney's team, as campaign manager and Madison Goodrich as field director … Kevin Ralph is finance director for Mark Murphy's campaign for Staten Island borough president … Graham Nolen is campaign manager for Elizabeth Crowley's Queens borough president campaign … Vigie Ramos is joining Chris Sosa's Council District 5 campaign in Manhattan as executive campaign adviser … and Justin Chae of Meridian Strategies is general consultant on Alfonso Quiroz's campaign in Council District 25 in Queens.
Got tips? Email JColtin@CityandStateNY.com or DM me @JCColtin
District Data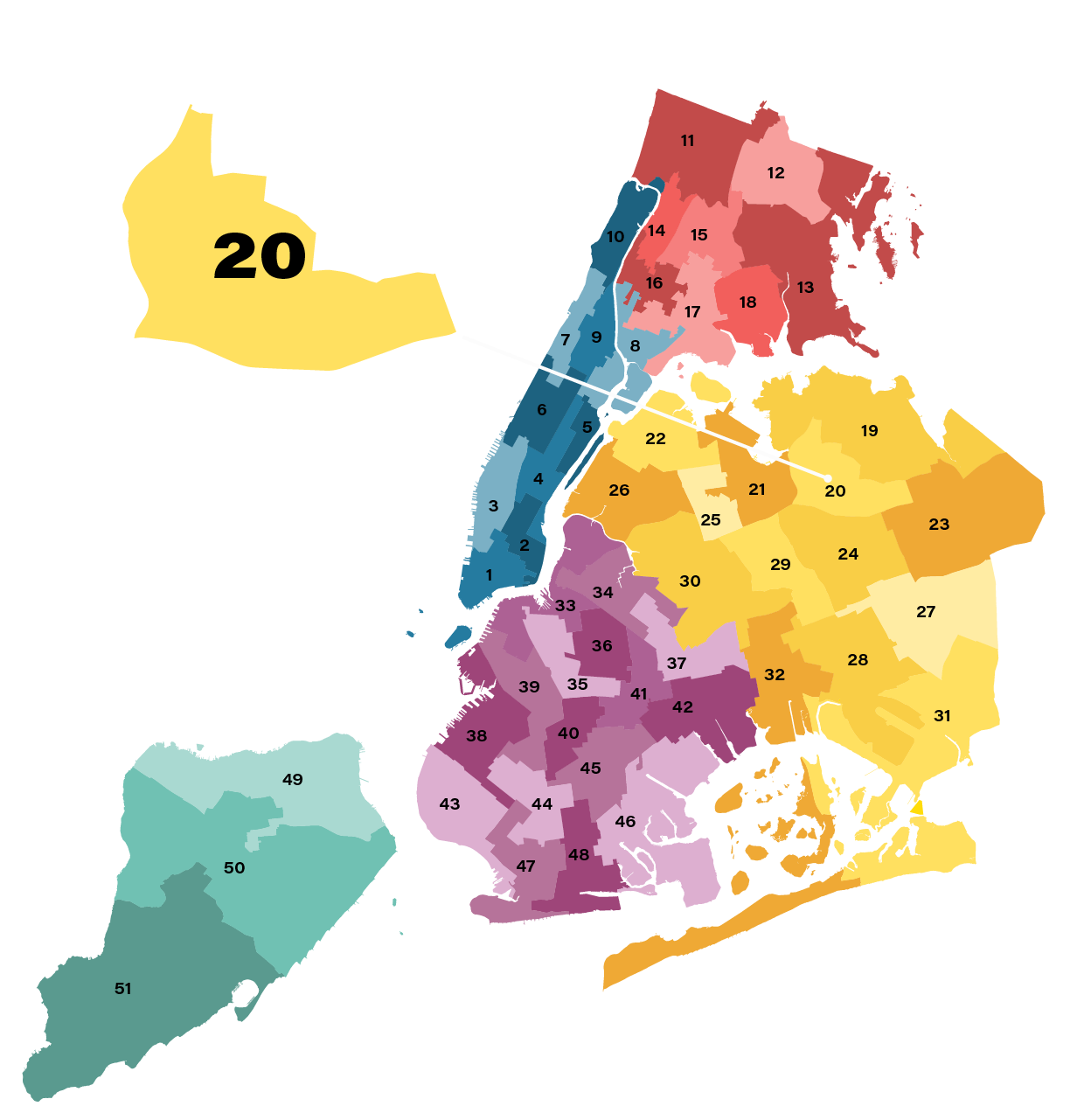 City Council District 20 in Queens, covering neighborhoods including Flushing and Murray Hill
Current council member: Peter Koo, since 2010, who's term-limited at the end of this year.
2010 census demographics: 64.1% Asian, 15.6% Hispanic, 15.4% white, 2.7% Black
Housing: 61.5% renter-occupied, 38.5% owner-occupied
2009 general election results: Peter Koo (Republican, Independence, Conservative): 49.1%, Yen Chou (Democrat): 45.2%, SJ Jung (Working Families Party): 4.1%, Evergreen Chou (Green): 1.6%
2017 Democratic primary election results: Koo: 58.2%, Alison Tan: 41.4%
Who's running: Hailing Chen, John Choe, Anthony Miranda, Sandra Ung, Neng Wang, Sam Wong, Dao Yin and Ellen Young. Ung, an attorney and aide to Rep. Grace Meng, is leading the pack with the most money raised and endorsements from almost all of the city's biggest unions. Choe, who leads the Greater Flushing Chamber of Commerce, is also a major contender, thanks to key progressive endorsements and connections he's made since his fourth-place finish in the 2009 Democratic primary. Miranda and Yin both ran for Queens borough president in 2020, and while each did well in this council district, neither looks like they'll be major players in the council race. And Ellen Young, who served in the Assembly in 2007 and 2008, filed recently and appears to be attempting a political comeback.
Twitter Posting
please do not thank me for "joining your campaign" when the first line of your fundraising email admits you bought me off a list
Powered By
NEXT STORY: What does the New York City Council do?