New York City
Racial disparities in vaccinations and Cuomo sidelines health experts
Rounding up the week's political news.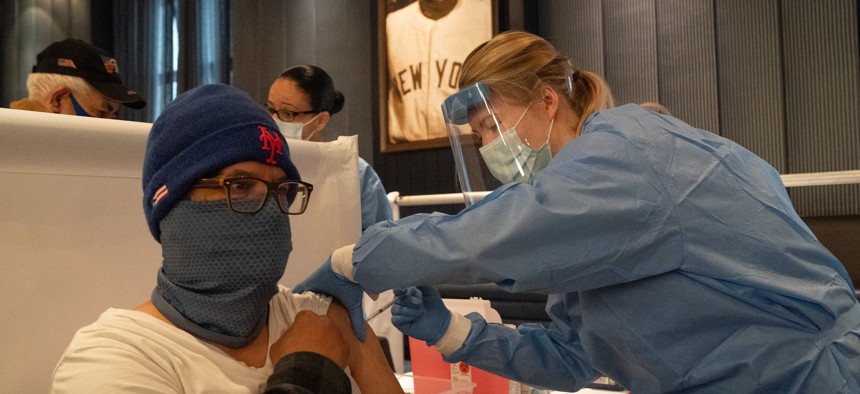 They said snow! A nor'easter blanketed New York City and other parts of downstate with up to 20 inches of snow. The storm snarled public transit, with above-ground subway service temporarily suspended. But even as trains weren't running, nets installed under the tracks to catch dangerous falling debris were doing an excellent job catching falling snow. By the time the storm subsided, the nets sagged under the weight of mounds of snow. A much less pleasant use of the snow than skiing through Times Square. Keep reading for the rest of this week's news.
Racial disparities in vaccinations
New York City has, at long last, released demographic data on vaccinations, and it revealed stark racial disparities. Only 11% of vaccine recipients were Black, while Black residents make up 22% of the city's population. Similarly, 15% of vaccines went to Latinos, who make up 29% of the population. Meanwhile, 48% of recipients were white, while they are only about one-third of the city's population. Public health officials and racial justice advocates have raised concerns for weeks about equity in the vaccination process, and the new numbers confirm their fears that Black and Latino New Yorkers, who have been disproportionately impacted by the pandemic, were being left out of the vaccination process. The trend has been a common one across the country, in part due to higher levels of increased vaccine hesitancy in Black communities, but also for other reasons that have prevented willing Black and Latino people from getting a coveted appointment. New York City Mayor Bill de Blasio said the best way to fix the disparity was to have more vaccines available – which depends on the federal government – and to improve outreach and trust among those who have been reluctant to get the two shots. At the state level, Gov. Andrew Cuomo has not yet released vaccination demographic data, though he has said that he plans to. However, he did further expand vaccine eligibility to include restaurant workers, taxi drivers and people with developmental disabilities since more doses are coming from the federal government. But the governor left it up to localities to decide if they have the supply and means to actually make appointments available to those new groups. Some leaders in the Hudson Valley said they were awaiting further guidance and aid from the state before moving forward. And in Erie County, officials have said that much of February will simply be spent rescheduling canceled appointments when there was a vaccine shortage in January.
Cuomo sidelined health experts
On the heels of the bombshell state attorney general report on nursing home deaths, Cuomo drew fresh criticism when a New York Times piece revealed that the governor had sidelined public health experts in the state Department of Health not only during the preparations for the vaccine rollout, but throughout the pandemic. According to the story, many health department officials learned of policy changes only when Cuomo announced them at press conferences. And he reportedly shelved existing and in-the-works mass vaccination plans – which for weeks frustrated county leaders whose health departments have prepared for decades for this scenario – and instead turned to politically connected hospital executives, outside consultants and Albany lobbyists to help craft the vaccine rollout plan. Morale in the department has reportedly been low, and contributed to a spate of high-ranking health officials leaving. Meanwhile, every state Senate Republican called on state Health Commissioner Dr. Howard Zucker to step down over the nursing home death revelations, and Democrats criticized him behind closed doors.
Rochester police pepper-spray child
As Rochester continues to reckon with the fallout from the death of Daniel Prude in March 2020 and an alleged cover-up, the city has once again made national news for police brutality. This time, body camera footage showed police handcuffing and pepper-spraying a 9-year-old girl. Police had been responding to a domestic disturbance between the girl – who was in a state of emotional distress – and her mother. The footage, released just days after the incident as part of a bid to increase transparency in the police department, sparked immediate outrage. One officer has since been suspended, and two others were placed on administrative leave.
'Walking while trans' ban repealed
New York has repealed a law commonly referred to as the "walking while trans" ban. The 1976 statute prohibited "loitering for the purpose of prostitution," but transgender activists have said it has more commonly been used to harass and arrest trans women just for the way they looked. Advocates have been trying to repeal the law for years and view the recent passage as a major equal rights victory. The legislation also seals the convictions of those who had been charged with crimes related to the law.
First ranked-choice election
New York City got its first taste of ranked-choice voting, even if the new system likely won't get fully utilized. In the Council District 24 special election in Queens, voters were allowed to rank up to five of the eight candidates running in order of preference. Former City Council Member James Gennaro wound up with about 60% of first-choice votes on election night, well surpassing the 50% threshold to prevent the initiation of instant runoff counting. There are still absentee ballots that must be counted, but it's unlikely that Gennaro will dip below 50% of the vote, which means he's all but assured to win without any additional rounds of counting.