New York City
Richard Carranza's biggest moments
The defining events of the New York City schools chancellor's tenure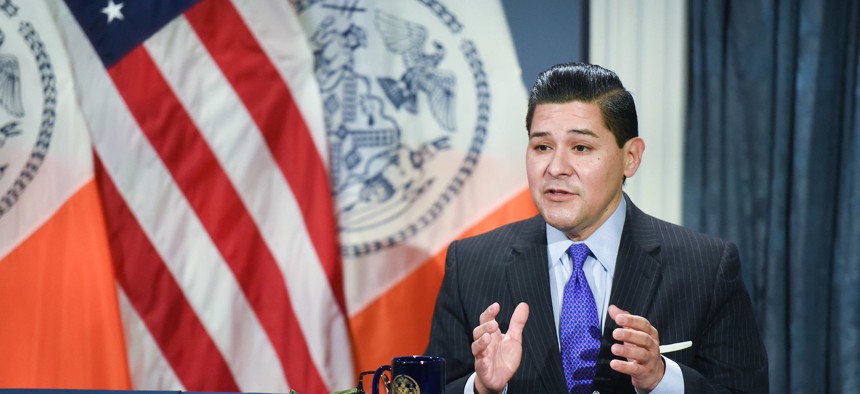 After three years leading the nation's largest school system, New York City Schools Chancellor Richard Carranza announced his resignation on Friday. The New York Times reported that Carranza had drafted a resignation letter this month following a heated debate with New York City Mayor Bill de Blasio over the future of the city's Gifted & Talented programs. But Carranza, who is leaving in the middle of the school year and says he doesn't have another job lined up, said his stepping down shouldn't be seen as a protest against de Blasio. Rather, he'd lost many close friends and family members to COVID-19 in the past year. "I'm leaving because I need to take care of me," Carranza said at a press conference Friday. "I need time to grieve. And this city, this school system deserves a chancellor who 100% is taking up the helm and leading the charge to bring everybody back in September."
Carranza will be replaced by Meisha Porter, who's currently the executive superintendent for the Bronx. 
Carranza's three years were by no means easy, as he dealt with the coronavirus pandemic as well as increasing pressure to integrate the racially segregated school system. The difficulty of that ongoing battle led City & State to – only half-jokingly – name him one of New York's most politically powerless people. Here are some of the defining moments of Carranza's tenure. 
March 2018: Carranza gets the job
Carranza was, quite publicly, not de Blasio's first choice, following the retirement of his first-term schools chancellor Carmen Fariña. The city had first asked Miami's top educator, Alberto Carvalho, who turned down the job in a dramatic hearing carried live on TV. So while every schools chancellor gets put under the microscope, Carranza accepted the job with even more scrutiny than usual – and it didn't help that he was an outsider, who never worked in New York, and hadn't appeared on many folks' shortlists. But de Blasio's City Hall emphasized that Carranza, who had previously led school systems in Houston and San Francisco, was up for the job. 
June 2018: De Blasio proposes eliminating the SHSAT
Early in Carranza's tenure, de Blasio announced a long-awaited proposal to eliminate the Specialized High School Admissions Test, or SHSAT, that is the sole criterion for admission to some of the city's most prestigious high schools. Critics of the test say it disadvantages Black and Latino students and keeps them out of the city's best schools. Carranza stood by de Blasio, and also talked about school segregation more broadly – an issue that would come to define his time as schools chancellor. But integration isn't easy, and many parents and advocates prefer the status quo for a variety of reasons. Nearly three years later, nothing about the specialized high school admissions process has changed. 
June 2019: Graduation rates continue to rise
The schools chancellor has a massive portfolio, but to many observers, the most important thing is graduation rates. So despite the controversies over everything from school integration to chocolate milk Carranza was able to stay in his job in part because high school graduation rates rose in his first full year, 2019, and again in his second. 
March 2020: School goes remote
When the city's school system faced one of its biggest challenges in history, Carranza was at the helm. Facing the global coronavirus pandemic, public school got called off completely for just a week – then class resumed, virtually, on Monday, March 23. The transition was bumpy, as hundreds of thousands of students lacked the resources to join in. And among many other challenges, the moves to remote learning, then part-time "blended learning," and back again has raised concerns of racial disparities in the school system. 
Sept. 2020: Principals cast vote of no confidence in Carranza
New York City officials had all summer to decide what public education would look like in the fall. They didn't. And students, teachers, guardians and more were all left confused and wondering whether schools would reopen, and how. The city delayed in-person learning in September, then delayed it again and the tension, among other ongoing issues, led to the principals union's unanimous vote of no confidence in Carranza and de Blasio. Things have calmed down significantly since then, and while criticism has continued over specific issues, de Blasio and Carranza have received praise for their efforts to keep schools open and kids learning in-person.
Powered By
NEXT STORY: One woman who could bring down Gov. Andrew Cuomo